From DSC:
Some items that caught my eye (so far) from CES 2012:
CES 2012: The convergence of TV and mobile platforms — from readwriteweb.com by Dan Rowinski
…mobile operating systems are on a path to fundamentally change how content is delivered.


.

Prepare yourself: Kinect is coming to Windows Feb. 1 — from Mashable.com by Sarah Kessler


.

LG unveils giant 84″ TV with voice, gesture control — from Mashable.com by Samantha Murphy



.

Introducing The MakerBot Replicator™
January 10, 2012 (Brooklyn, NY) – MakerBot Industries is excited to announce the launch of its latest product, The MakerBot Replicator™, which will debut at CES in Las Vegas, NV on Tuesday, January 10th.  The MakerBot Replicator™ is the ultimate personal 3D printer, with MakerBot Dualstrusion™ (2-color printing) and a bigger printing footprint, giving you the superpower to print things BIG! Assembled in Brooklyn by skilled technicians, the MakerBot Replicator™ is ready within minutes to start printing right out of the box. Starting at $1749, The MakerBot Replicator™ is an affordable, open source 3D printer that is compact enough to sit on your desktop. Want to print in two colors? Choose the Dualstrusion™ option!


.

USA Network taps Yap.tv for branded social TV app
Yap.tv said the deal will make it the first independent social TV developer to create a custom-branded version of its app for the iPad and iPhone for a major network.??
NEW YORK – NBCUniversal's USA Network has partnered with Yap.tv, a maker of a social TV guide app for mobile devices, to launch a USA-branded app for its shows and fans as it and other channels continue to expand the use of social media to reach and engage viewers.


.

Samsung unveils a motion-controlled TV and the U.S. Galaxy Note [PICS]— from Mashable.com by Sarah Kessler
During its keynote address at CES on Monday, Samsung unveiled a connected TV with voice and gesture recognition, WiFi-enabled cameras and its thinnest ultrabook yet. It also introduced its Galaxy Note smartphone to the U.S. for the first time.
.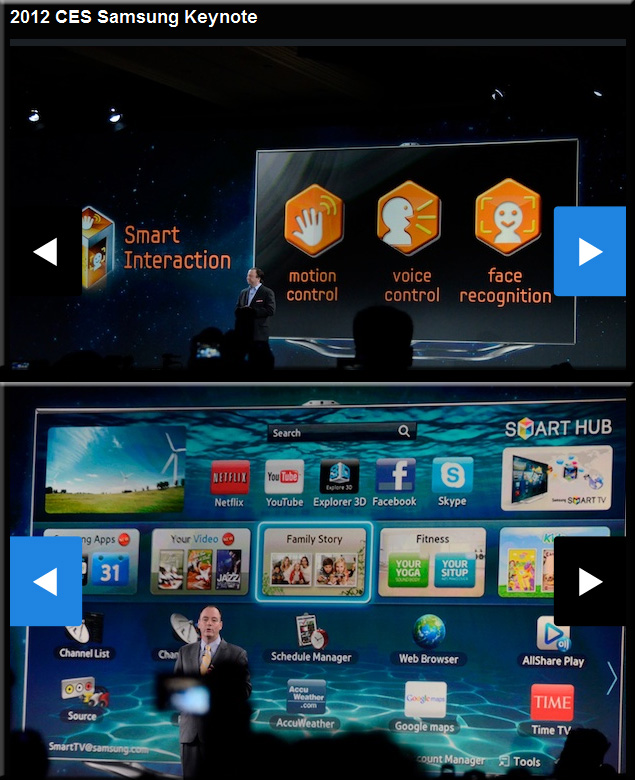 Coincident announces ScreenSync TV Technology — from marketwatch.com
New solution allows companies to create interactive experiences for viewers that synchronize their tablets with shows they are watching on their televisions


.


Also see:


.
.