Incredibly beautiful fractal flowers — posted by Alice over at mymodernmet.com
Example:
Also from Alice at mymodernmet.com:
.
On 08/17/2012, in Europe, future, global / globalization, interactivity, policy, research, science, society, technology (general), vision, by Daniel Christian
.
.
Also see:
Scientists aim to predict the future with $1 billion Earth simulator — from dvice.com
Excerpt:
Imagine what would happen if you had a computer program that could take in data from sensors everywhere on Earth and then plug that data into a detailed simulation for the entire Earth all at once. If you're imagining being able to predict the future, you're imagining correctly, and E.U. researchers want to make it real.The Living Earth Simulator is a billion-dollar proposal to spend ten years developing a computer environment that can simulate everything. And not just simulate, but also explore predictive models of how everything going on in the world interrelates with everything else, deriving connections and correlations that we never knew existed.
…
In order to get that billion dollars, the Living Earth Simulator has to beat out four other future and emerging technologies projects that are all trying to win funding from the European Commission.
On 07/24/2012, in Apple, Artificial Intelligence / Machine Learning / Deep Learning, Asia, Australia, convergence, cost of getting a degree, Daniel S. Christian, digital audio, digital learning, digital storytelling, digital textbooks, digital video, education technology, educational games / serious games, elearning, emerging technologies, Europe, future of higher education, game-changing environment, higher education, human-computer interaction (HCI), India, innovation, learning agents, learning ecosystem, Learning from the Living [Class] Room, lifelong learning, machine-to-machine communications, mirroring and/or multiple devices, MOOCs -- Massive Open Online Courses, multi-touch, multimedia, smart/connected TV, streams of content, teaching online, technologies for your home, by Daniel Christian
From DSC:
Apple has been putting together a solid ecosystem of hardware and software that allows for the creation and distribution of content.  "Easy is hard" I like to say and Apple's done a great job of creating easy-to-use devices and apps. They have a long way to go before iTunes U has all the built-in functionality needed to replace a Blackboard Learn or a Moodle type of CMS/LMS.  But given their solid history of creating highly-usable hardware and software, they could deal a smashing blow to what's happening in the CMS/LMS world today. 
Plus, with Apple TV, Airplay mirroring, the growth of second screen-based apps, and machine-to-machine communications, Apple is poised to get into this game…big time. If my thoughts re: "Learning from the Living [Class] Room" come to fruition, Apple would be positioned for some serious worldwide impact on lifelong learning; especially when combined with the developments such as the use of MOOCs, AI and HCI-related innovations, learning agents, web-based learner profiles, and potential/upcoming changes to accreditation.
Too far fetched do you think? Hmmm….well considering that online learning has already been proven to be at least as affective as f2f learning — and in some studies has produced even greater learning outcomes/results — I wonder how things will look in mid-2015…? (That is, where is the innovation occurring?)

 Addendum:
Connected TV penetration to top 50% by 2017 — from worldscreen.com by Mansha Daswani
Excerpt:
SCOTTSDALE: ABI Research forecasts that more than 50 percent of television homes in North America and Western Europe will have Internet-connected TV sets by 2017, up from just 10 percent last year, while Blu-ray player penetration is expected to rise to more than 76 percent from about 25 percent. The report notes that the popularity of connected TV is not limited to developed markets—there have been increasing shipments to China, ABI notes.


.

Advertisers need to pay attention to connected TV [INFOGRAPHIC] — from Mashable.com


.

The future of TV is two screens, one held firmly in your hands — from FastCompany.com by Kit Eaton
Excerpt:
The connected TV, sometimes called the smart TV (and even branded as such by Samsung) is a growing phenomenon: TV makers are adding limited apps, Net connectivity, and even streaming media powers to their newer TVs in the hope they'll persuade you to upgrade your newish LCD for a flatter, smarter unit. They're desperate to, given how flat this market is. But according to new research from Pew, the future of TV may actually be a little more closely aligned with the notion of a "connected TV viewer," an important distinction. Pew spoke to over 2,200 U.S. adults a couple of months ago and discovered that 52% of all adult cell phone owners now "incorporate their mobile devices into their television watching experiences."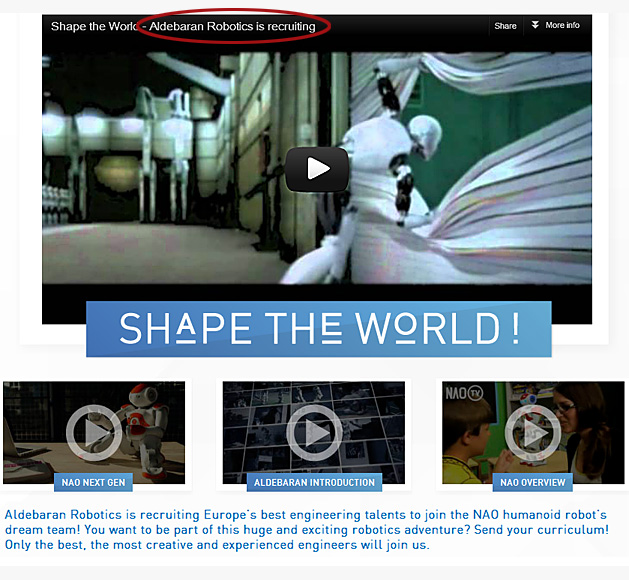 .
From DSC:
Note the job descriptions further on down the page at shapetheworld.fr!  These are the types of jobs that may likely be in demand in the near future. Are we ready?
See also:
From DSC:
The above video reminds me why I posted this one.

Open Goldberg Variations: free, open source recording and modern score of classical masterpiece — from boingboing.net/ by Rob Beschizza
.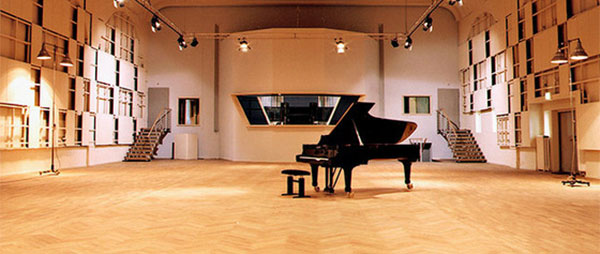 .
Excerpt:
Performed by Kimiko Ishizaka on a Bösendorfer 290 Imperial in Berlin's Teldex Studio, there's already plenty to love about a new cut of Bach's Goldberg Variations. But this one is also the first fan-funded, open source, and completely free recording of it.
"Every part of it is free for you to use, share, and copy," said Robert Douglass, who launched the successful Kickstarter project behind Werner Schweer's new version of the classic score and its production.
In cloud computing moves, money isn't everything — from gigaom.com by Barb Darrow
Excerpt:
While saving money is a commonly reason cited for moving IT to the cloud, it is really not the overriding driver at all for most companies, according to new research.
What's more important than cost savings for companies — at least in the U.S. and Asia-Pacific regions — is the ability to standardize their software and business processes across the company, according to a new survey of 600 large companies by Tata Consultancy Services, the $8 billion IT service provider. In Europe and Latin America, the primary rationale was the ability to ramp systems up and down faster.
According to the survey:
The factors driving companies to launch entirely new applications in the cloud are quite different – to institute new business processes and launch new technology-dependent products and services.
On 02/22/2012, in 24x7x365 access, 3D, animation, creativity, digital audio, digital learning, digital video, elearning, engagement / engaging students, Europe, innovation, multimedia, online learning, presentations, productivity / tips and tricks, by Daniel Christian
Plural Bookshop  — from Fubiz.net
Excerpt:
Installée à Bratislava en Slovaquie, voici cette construction imaginée par Plural et TotalStudio pour un établissement doté à la fois d'un café et d'une librairie. Une structure en escalier et une large bibliothèque occupant l'ensemble de espace. Plus d'image dans la suite de l'article.
.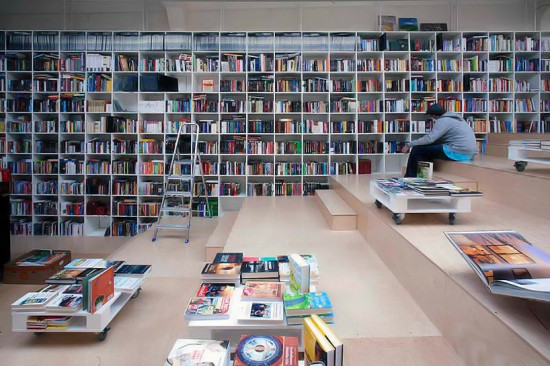 The Future Classroom has a large reconfigurable space divided into five 'zones' plus an interactive classroom.
.
Background
The original concept of Future Classroom Lab is based on the REAL centre created by the RM Education, a leading provider of ICT software, infrastructure and services to the educational sector in the UK. Along with RM, key industry partners supporting the Future Classroom Lab include: Acer, DYMO/ Mimio, Fourier, Microsoft, Panasonic, Planet PC, PolyVision, Promethean and SMART Technologies.
About European Schoolnet – www.europeanschoolnet.org
European Schoolnet is a network of 30 Ministries of Education from across the European member states, leading educational innovation at European level. As a major international think tank, European Schoolnet operates key European services in education on behalf of the European Commission, member Ministries of Education and industry partners.
Also related:
The Cole Hall "Collaboratory" classroom
has 6 separate learning pods, each seating 8 students.
(Rob Winner – rwinner@shawmedia.com)
Children have wild imaginations. Take Max from Maurice Sendak's illustrated classic Where the Wild Things Are, whose mischievous tantrums cause his room to sprout into a lush, inhabited forest. In a similar experience of my own, I can recall a particular elementary school gym class, in which the gym was transformed into the perilous domain of a sword-wielding 'gorilla'—played by my gym teacher. The masked predator hid behind colossal trees of rolled blue gymnastic mats and tangled cargo net vines before springing out to prey on us hysterical, spritely youth.
[All photos © Kim Wendt and Rosan Bosch]
.
Addendum on 1/12/12: