On 04/13/2012, in animation, art, cloud-based computing / apps / other cloud-related, creativity, media/film, music, productivity / tips and tricks, storytelling, tools, transmedia, by Daniel Christian
Animator creates incredible musical painting with $5 iPad app [VIDEO] — from Mashable by Christine Erickson
Excerpt:
"I really recommend it to anyone who does storyboards, concept art and animators, filmmakers, producers, whatever — this is the future," says the video's lead animator and director, Whitney Alexander. (You can see the full making-of here.)
Also see: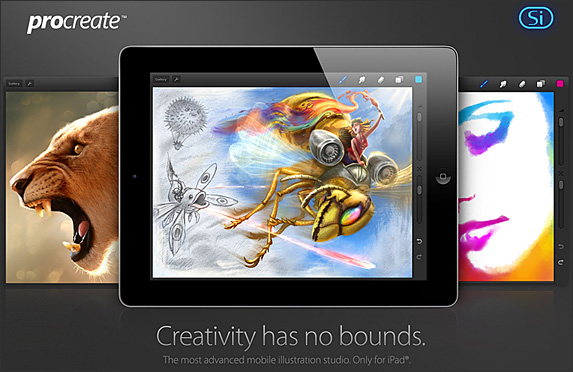 Description (from iTunes)
Paper is where ideas begin. It's the easiest and most beautiful way to create on iPad. Capture your ideas as sketches, diagrams, illustrations, notes or drawings and share them across the web.
Mobile creation done right.
Paper was designed from the ground up for touch and creating on the go. No fussy buttons, settings or other distractions. Paper works the way you think, like a familiar notebook or journal. Have all of your ideas with you in one place.
Essential tools, settings-free.
Productivity meets beauty. No settings. Always beautiful—like great tools should be. Just pick up a tool and instantly begin to Sketch, Write, Draw, Outline and Color. Draw comes free with Paper.
Purchase additional tools from the in-app store:
Sketch. Ideas start here. The pencil blends from light to dark for sketching scenes, objects, and thoughts in rough form.
Write. Words never looked so beautiful. Write messages, add captions, or create lists with this quality ink pen.
Outline. Think bold. Graph insights, create a storyboard, or outline a presentation with this marker. Black lines stay black.
Color. Give color to your ideas. Move from a light wash to deep, rich color in one stroke with this watercolor made easy. You've got to try it.
Expressive Ink Engine.
Our custom ink engine reacts to your movements to optimize each tool for the process of creation. Get a range of expressions from a single tool without fussing with settings for great handwriting, beautiful coloring, and sketching that just works.
Retina Resolution.
Built for the new iPad's brilliant display. With a full 2048×1536 canvas, see stunning details in your creations you couldn't before—like pencil texture and watercolor edge bleed.
Paper the web.
Share your ideas instantly. Stream pages to Tumblr, send them over email, or share pages with your friends on Facebook and Twitter.
---
Also see:
Excerpt:
Let's be real about this. You can't do everything on an iPad. As Shawn Blanc pointed outthe other day, you can't make iOS apps on it, for example. But you might be surprised by how much real work you can do on it with the right tools. If your work requires generally office-like capabilities, there are definitely iPad solutions.
Here are five road-tested apps for getting things done on an iPad. It's not meant to be a complete list, but it's meant to be a flexible one. These are tools that are not tied to any particular method of working. They'll help any digital worker stay sane and accomplish things, and you might find that the iPad is a surprisingly nice device to use for them.
On 02/22/2012, in 24x7x365 access, 3D, animation, creativity, digital audio, digital learning, digital video, elearning, engagement / engaging students, Europe, innovation, multimedia, online learning, presentations, productivity / tips and tricks, by Daniel Christian
On 10/28/2011, in 21st century, 24x7x365 access, A/V -- audio/visual, accessibility / UDL, Artificial Intelligence / Machine Learning / Deep Learning, assistive technologies, Augmented Reality (AR), cloud-based computing / apps / other cloud-related, collaboration, communications, convergence, corporate / business world, creativity, digital audio, digital learning, digital storytelling, digital textbooks, digital video, e-books, e-readers, education technology, educational games / serious games, elearning, emerging technologies, engagement / engaging students, future, homeschooling/homeschoolers, human-computer interaction (HCI), innovation, intelligent systems, interactivity, interface design, internet, learning ecosystem, Learning from the Living [Class] Room, lifelong learning, machine-to-machine communications, Microsoft, mirroring and/or multiple devices, mobile learning, mobile technologies, multi-touch, multimedia, Near Field Communication (NFC), new media literacies, online learning, online media, personalized/customized learning, reinvent, tablets, technologies for your home, technology (general), television, tools, transmedia, trends, ubiquitous learning, user experience (UX), user interface design, videoconferencing, vision/possibilities, visualizing information, web-based collaboration, by Daniel Christian
Also see:
Tonara for iPad, sheet music for the next generation — from padgadget.com
Automatic page turning
Score following with Tonara's magic marker
Play alone or with others
Listen back to your sessions
Share your performances with friends and colleagues
Noise resilient
Shows your tempo at any given moment
Metronome – visual and audio
Substantial sheet music store
Scores formatted for the iPad
Appropriate for any level musician
With Tonara, turning pages is a thing of the past! Tonara is the next generation sheet music application. It listens to you. As you play, it shows where you are on the score and automatically turns the pages.
Also see:
Also see:
Also see:
From DSC:
I post this because I'm glad to see that email is still kicking tail! In 1990, I was hired at Kraft to help rollout email to (then) 66 plants across the country. The project got scrapped, but I kept at it as I believed in the power, efficiency, and productivity of this new tool (that is, email was new to Kraft in the early 90's).
By the time I left Kraft, email usage had spread throughout the company and applications even resided on top of the email system. The VP of HR could communicate to every employee within seconds — something that was unheard of before email.
On 09/07/2011, in blended learning, CMS/LMS, hybrid learning, instructional design, Moodle, productivity / tips and tricks, teaching & learning, teaching online, tools, by Daniel Christian
Also see: