On 08/26/2010, in Apple, convergence, digital audio, digital video, disruption, innovation, media/film, mobile technologies, multi-touch, multimedia, new business models, online media, vendors, by Daniel Christian
Netflix app for iPhone and iPod Touch launched — from thenextweb.com by Jeff Cormier
Fans of Netflix with an iPhone and/or iPod Touch, the time has come. As promised at the unveiling of iPhone 4 in June, Netflix has lauched their app for the iPhone and iPod Touch. Get the free app here.
Netflix has been available on the iPad since its launch, and is one of my favorite apps as an iPad owner. The iPhone and iPod Touch version is equally as grand, albeit on a smaller screen.
.
.
Podcasting: Ideas for teachers — from Learning Objects Community — posted by Nancy Rubin
What is a podcast and how can I teach with it? If you are wondering what a podcast is, that might be a good place to start. Podcasts are basically audio files that can be produced with a standard computer, a microphone, software, and a web site where you will post your completed podcasts. Audio podcasts are usually an MP3 file and are the most common types of podcasts. Enhanced podcasts can have images to go along with the audio. They can also have chapter markers, making it easier to skip to different portions of an episode. Enhanced podcasts are not necessarily supported by all devices. Video podcasts are movies, complete with sound. Video podcasts can be in a variety of formats, but MPEG-4 is the most popular and the only format that will play on iPod and iPad.
Some classroom ideas for podcasting:
Record directions for students
Record lessons
Record supplemental materials
Record instructions for a substitute teacher
Record classroom rules
Interview people at your school
Create a news show and discuss current events
Record a speech
Record student readings so they can hear what they sound like
Also see:
On 07/23/2010, in Apple, digital audio, digital learning, digital storytelling, digital textbooks, digital video, disruption, e-books, e-readers, engagement / engaging students, multi-touch, tools, by Daniel Christian
Kiwa Media Group is an award winning media company developing iPhone/iPod Touch & iPad Apps, digital content for books, producing film & television programs & digital content for the mobile music industry. Kiwa Media also provides software solutions for ADR and Language Dubbing across the globe. The company is led by President, Rhonda Kite.
Kiwa Media Group brands include QBook, SingQ, VoiceQ & Kiwa TV & Film Production. Kiwa is a registered Mac OS and iPhone developer.
Example product –> QBook – Bringing your stories to life
QBook™ is an interactive read-along digital colour picture book format designed by Kiwa Media for young children. QBook is an eBook, iPhone and iPad app that combines a narrators voice with original picture illustrations and touchable text that is synchronised to highlight and sound when words are touched.
From DSC:
Let's picture that you are a 3-4 year old…and your parents get you one of these iPads. You begin to learn to read like this using an app like QBook. You grow up knowing this type of technology exists and you use gadgets like this all the time. They keep you engaged…they give you control of the content, pacing, etc.
Now fast forward to college. You'll quickly see why I preach the dangers of the status quo.
On 07/23/2010, in Apple, digital audio, digital learning, digital photography, digital storytelling, digital textbooks, digital video, disruption, education technology, higher education, mobile learning, mobile technologies, by Daniel Christian
Podcast: William Rankin on Mobile Learning with the iPhone and iPod — Educause
William Rankin is Associate Professor and Director of Educational Innovation at Abilene Christian University. In this interview from the EDUCAUSE 2009 Conference, Rankin discusses ACU's mLearning Initiative, which deployed mobile devices to the entire freshman class. This created unique opportunities to pilot applications, overcome challenges, and create partnerships.
On 07/20/2010, in Apple, by Daniel Christian
Booming Mac sales drive Apple's best-ever quarter — from CNN by David Goldman
…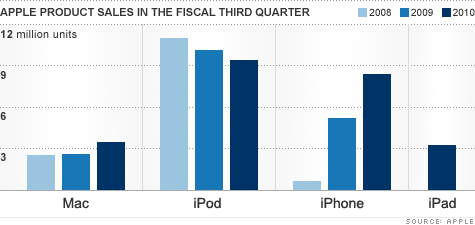 NEW YORK (CNNMoney.com) — Record Macintosh and lighting-fast iPad sales made Apple's latest quarter its best ever, the company said Tuesday.
Sales for the Cupertino, Calif.-based company rose to a record $15.7 billion, 61% higher than Apple's sales in this quarter last year. Net income rose to $3.25 billion, up 78% from a year ago.
Also see:
Strong iPad, iPhone Adoption in Fortune 100/500, Education – ikiw.org
iPhone:
80% of the Fortune 100
60% of the Fortune 500
400 Higher Education Institutions
iPad:
On 06/08/2010, in Apple, by Daniel Christian
'Alien' speaker dock works with iPhone 4, and it's damn hot — from dvice.com
Crestron iPhone app highlighted in iTunes App Store — from eSchoolNews.com
Rockleigh, NJ, June 4, 2010 – Crestron announced that its popular iPhone app is showcased today in the 'Apps to Control Your World' feature section on the iTunes App Store. Crestron Mobile Pro harnesses the power of the 3G network and Crestron control systems to stay connected to the home or office from anywhere in the world. Crestron Mobile Pro puts a professional-looking Crestron touchpanel user interface right on the popular Apple iPhone or iPod touch, enabling a wide array of customizable capability to control audio/video, lights, climate, shades, and security in the home or office.
iPod/iPhone Apps: Language Teacher (Part 1) — by Isabelle Jones
General/Productivity

Skype (free): I hear Skype is planning to charge for skype-to-skype calls using the 3G network even if called supported by wifi will still be free. I have found Skype a brilliant way to use text with anybody abroad as well as using good quality voice calls for free, of course.
TweeetDeck (free): A classic Twitter client although there are many many more available including Twitter's own newly released iphone client and Seesmic.
Edutecher (free): Great application to find subject-related sites and ed-tech tools. A selection of ed-tech videos is also available as well as a copy of their Twitter feed and a search function.
iMindMap (free): simple MindMaps that can be exported and emailed
SimpleMindMaps (free): MindMaps can be saved to desktop, exported or saved to camera roll.
Diigo (free): Great to bookmark new sites from the safari browser although the bookmark does not allow for saving to groups
Box.net (free): useful to share documents between various locations. I have a box on my blog and I can add to it via my phone.
Dropbox (free): very handy to transfer back-up copies of documents to your phone. Just drop a copy in Dropbox folder and a copy will appear on your phone
Linkedin (free): more serious professional networking tool, it also has a wide range of groups for linguists and teachers that are worth keeping an eye on
Evernote(free): good to make notes and add audio or pictures to them. Notes can also be e-mailed too.
TED (free): really interesting speakers featuring in podcasts and videos
Teaching UK(free)-News, ideas and twitter feed
Tumblr(free): for quick logging of text, photo, quotes, link, chat, audio, and video. Great to keep it all in one place, and could be used to collect material for  later thoughts and blog posts.
Save My Doc lite (free iTunes): just put in the url to download the document onto your phone
Errands (free iTunes): to do list with scheduling and mailing facility
Schoolbook (free iTunes): great to get to learn your new timetable, particularly if it is a two-weekly one.
Audio

ipadio (free): broadcast, record, play back and share high quality audio up to 60 minutes in length. Recorded calls can be shared on Twitter, Facebook, WordPress, Posterous, Blogger and more…
VR+lite (free Blackberry): simple recorder for messages to be shared by email or social media sites like Facebook, MySpace, Twitter or Blogger. Recordings can be made private or public. A short audio watermark is attached to recording on the lite version (full version costs £1.19)To be able to edit and receive free storage you need to sign up for VR+Online (free)
iSaidWhat?! (£0.59): simple recorder allowing to do some sound editing directly from your iphone: record, import sound file, cut, arrange snippets, duplicate, share via email, Facebook or Twitter.
iRevise lite (free iTunes): revision timetable, notebooks to write summary, prompt cards for key words, audio recording with gaps for answers.
Photo/ picture resources
Flickr (free): A great way to back up the pictures on your phone, pictures from Flickr's favourites can also be saved onto your phone quite easily.
Photoshop.com (free) simple tool to edit photos directly on your phone: crop, straighten, flip, rotate, exposure, contrast, colours, black and white, sketch, effects, borders, pictures can be saved, uploaded and posted to Facebook and TwitPic.
Art (£0.59 for full version-lite version available iTunes): Excellent source of Art and information about international artists-great stimuli to discuss colours, shapes and produce extended description or even stories in the foreign language! Pictures can be saved onto your camera roll or emailed and saved onto a laptop.
99 Happy Paintings (free iTunes): can be viewed, exported, used as wallpaper and emailed for copying and importing into teaching resources.