On 01/07/2013, in business, career development, computer science, corporate / business world, curriculum, future, political science, professional development, science, society, technology (general), workplace, by Daniel Christian
On 12/27/2012, in analytics, career development, collaboration, creativity, data mining, IT in HE, new media literacies, professional development, workplace, by Daniel Christian
The hottest IT skills for 2013 — from itstrategynews.com
Top 4 traits of "future proof" employees, according to 1,709 CEOs — from forbes.com
What should you look for as you recruit new hires in 2013? As an employee yourself, what traits will serve you best in the years ahead?
Excerpt:
Late last year IBM conducted interviews with 1,709 CEOs around the world, and published the results in a white paper titled "Leading Through Connections." It's a fascinating look at how business leaders are reacting to recent convergence of digital, social and mobile technologies, known by many as the "connected economy."
From DSC:
How are K-12 and higher ed doing on developing this type of employee?
Also see:

On 12/10/2012, in 21st century, career development, computer science, corporate / business world, corporate universities / corporate training, cost of getting a degree, dangers of the status quo, Daniel S. Christian, digital learning, disruption, MOOCs -- Massive Open Online Courses, new business models, online learning, Walmart of Education --> New Amazon.com of Higher Education, workplace, by Daniel Christian
Citing IT skills shortage, IBM wants to expand presence at universities — from wiredacademic.com
Excerpt (emphasis DSC):
"We want to be the scale up partner of choice for these universities," said Jim Sporher, head of IBM's university programs. "We want to make sure they have access to technology and understand our strategy."  He also sees massive open online courses (MOOCs) as a mega-trend and will be considering ways for IBM to be part of the MOOC trend in the future, particularly as many of the MOOC providers such as Udacity and Coursera offer classes in computer science.
…
As a big blue-chip progenitor of the tech industry, IBM is worth listening to in many regards. For one, corporate computing trends often filter down into the education space. The corporate world often has the money to purchase and deploy game-changing technologies. IBM sees that it also works the other way too, where computing at the university level creates new businesses and ideas that move up into the corporate realm.
.
From DSC:
I wonder…will the corporations develop their own MOOCs?  Their own digital "playlists" and associated exams? (i.e. that someone needs to go through and pass in order to work for them…show me what you can do.)  Hmmm…

Also see:
.
.
Also see: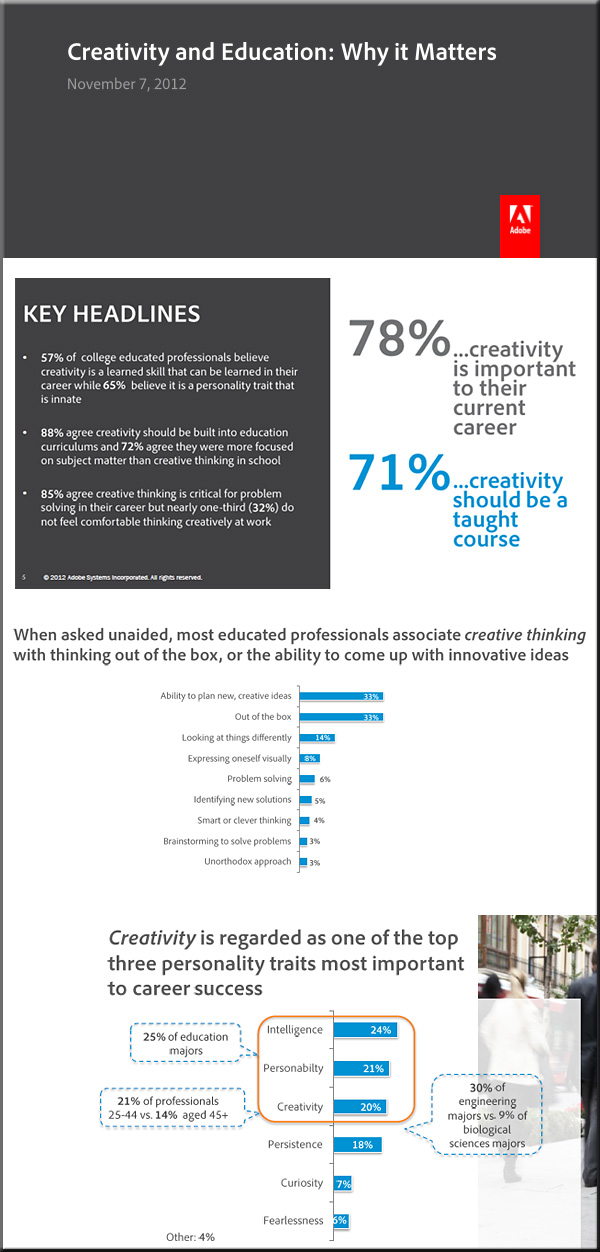 Also see:
Excerpt:
Around the world, educators are fostering creative thinking with their students. We see this every day across both K-12 and higher education in compelling, engaging ways. I remembera 4th grade reading class that I attended where the teacher read aloud to students while sitting around a "virtual campfire" she'd created with iMovie – the students loved it. At the same time, we hear a lot about a growing emphasis on, "teaching to the test" that can sometimes result in a decreased focus on creativity – we think this is a huge problem for our students and for the global economy. College-educated professionals agree. I wanted to share newly-released results of what more than 1000 college graduates say about the importance of creativity in education.
On 11/15/2012, in analytics, career development, cloud-based computing / apps / other cloud-related, data mining, IT in HE, leadership, professional development, strategy, vision, by Daniel Christian
Reflecting on the Top IT Issues of 2012 — from campustechnology.com by Dian Schaffhauser
Updating IT professionals' skills and roles to accommodate new technologies and changing IT delivery models
Supporting IT consumerization and bring-your-own device programs
Developing a cloud strategy
Improving the institution's operational efficiency through IT
Integrating IT into institutional decision-making
Using analytics to support the important institutional outcomes
Funding IT initiatives
Transforming the institution's business with IT
Supporting research with high-performance computing, large data, and analytics
Establishing and implementing IT governance throughout the institution
Also see:
Involving students in IT — — from campustechnology.com by Keith Norbury
IT shops are turning to students to staff help desks, troubleshoot, and more. For schools, it's a way to cut costs; for students, it's a learning experience and a pathway to employment.
.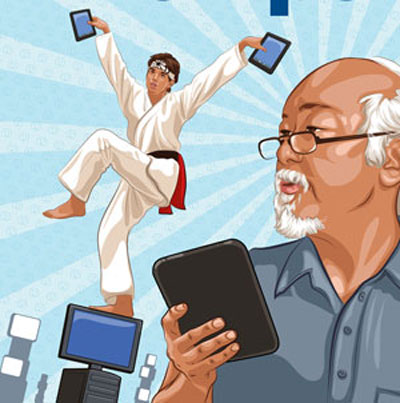 Keynote Address: Democratizing Higher Education by Sebastian Thrun, VP & Fellow Google
From DSC:
Sebastian Thrun gave a great keynote at last week's Sloan-C Conference in Orlando, Fl.  An especially interesting item:
One of the business models Sebastian is considering is to have Udacity act as a job placement organization.  That is, Udacity can run courses, identify the top performers worldwide, and then match employers up with employees.  Udacity would get ___% of these placements' first year salaries. Very interesting model.

Five ways to improve the job prospects of recent college grads — from LinkedIn.com by Jeff Selingo
Excerpt:
The first question in last night's town-hall presidential debate came from a college student, Jeremy Epstein, who asked the candidates how they would reassure him that he'd be able to support himself after graduation.
Unemployment among recent college graduates remains above 6 percent (although it has dropped in the last year and is still much lower than for those with only a high-school education). If you listen to many economists, presidents have little control over creating jobs.
Here are five ways to put more college graduates to work: