"Mom! Check out what I did at school today!"

If you're a parent, don't you love to hear the excitement in your son's or daughter's voice when they bring home something from school that really peaked their interest? Their passions?
I woke up last night with several ideas and thoughts on how technology could help students become — and stay — engaged, while passing over more control and choice to the students in order for them to pursue their own interests and passions. The idea would enable students to efficiently gain some exposure to a variety of things to see if those things were interesting to them — perhaps opening a way for a future internship or, eventually, a career.

The device I pictured in my mind was the sort of device that I saw a while back out at Double Robotics and/or at Suitable Technologies:
.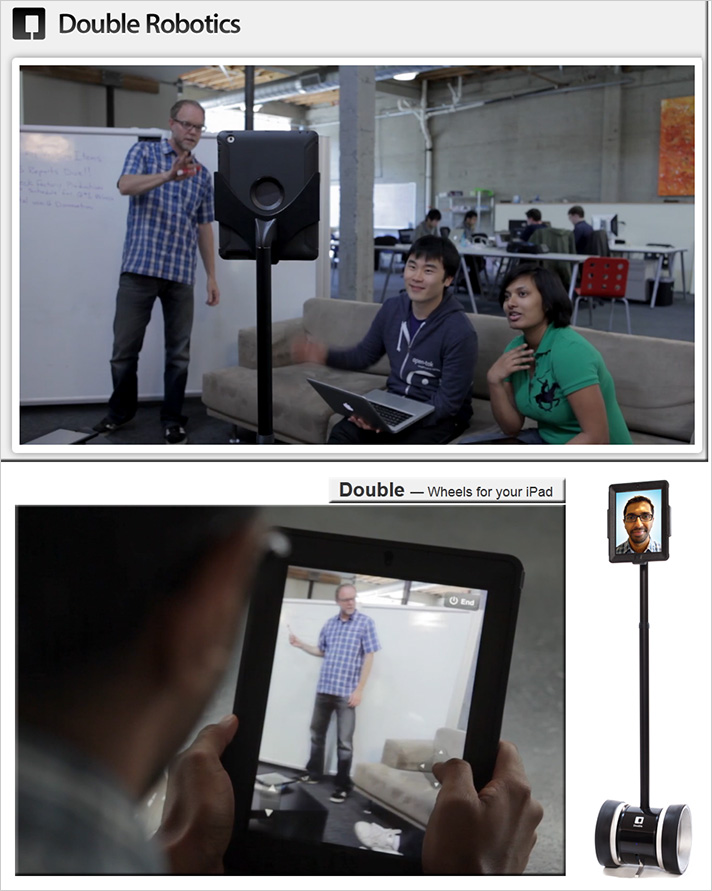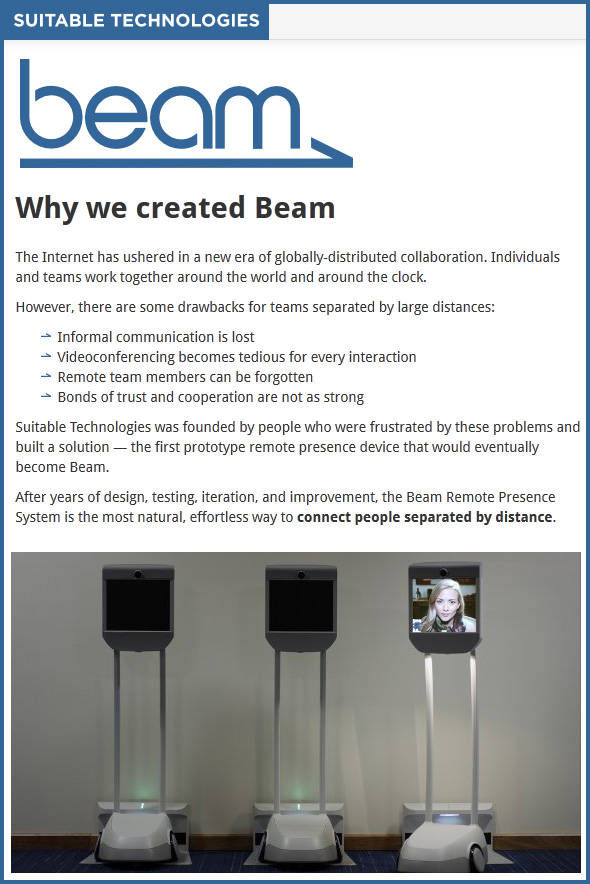 The thoughts centered on implementing a growing network of such remote-controlled, mobile, videoconferencing-based sorts of devices, that were hooked up to voice translation engines.  Students could control such devices to pursue things that they wanted to know more about, such as:
Touring the Louvre in Paris

Being backstage at a Broadway musical or checking out a live performance of Macbeth


Watching a filming of a National Geographic Special in the Fiji Islands

Attending an IEEE International Conference in Taiwan

Attending an Educause Conference or a Sloan C event to get further knowledge about how to maximize your time studying online or within a hybrid environment

Touring The Exploratorium in San Francisco

Touring the Museum of Science & Industry in Chicago

Being a fly on the wall during a Senate hearing/debate

Seeing how changes are made in the assembly lines at a Ford plant


Or perhaps, when a student wheels their device to a particular area — such as the front row of a conference, the signal automatically switches to the main speaker/event (keynote speakers, panel, etc. via machine-to-machine communications)

Inviting guest speakers into a class: pastors, authors, poets, composers, etc.

Work with local/virtual teams on how to heighten public awareness re: a project that deals with sustainability


Virtually head to another country to immerse themselves in another country's language — and, vice versa, help them learn the students' native languages
For accountability — as well as for setting aside intentional time to process the information — students would update their own blogs about what they experienced, heard, and saw.  They would need to include at least one image, along with the text they write about their experience.  Or perhaps a brief/edited piece of digital video or audio of some of the statements that they heard that really resonated with them, or that they had further questions on.  The default setting on such postings would be to be kept private, but if the teacher and the student felt that a posting could/should be made public, a quick setting could be checked to publish it out there for others to see/experience.
Real world. Engaging. Passing over more choice and control to the students so that they can pursue what they are passionate about.