MIT's amazing new app lets you program any object — from fastcodesign.com
The Reality Editor is a Minority Report style AR app that makes programming your smart home as easy as connecting the dots.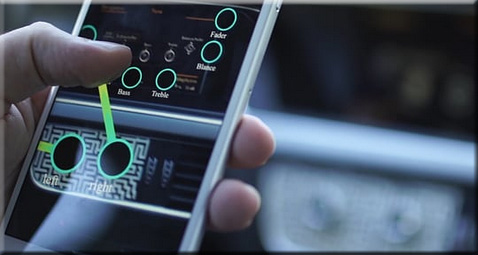 Take me away! Elderly home residents given virtual reality goggles to help them feel like they are travelling the world — from dailymail.co.uk by Belinda Cleary
Residents at a Perth nursing home are trialing virtual reality goggles
The technology will allow them to see the world without leaving their seats
It's hoped the trial will bring back lost memories in dementia patients
NASA partners with Microsoft to provide holographic computing in space — from seriouswonder.com by B.J. Murphy
Excerpt:
Partnering with multinational technology company Microsoft, NASA has since been engaging with their astronauts to use HoloLens headsets to help them make complex computations and provide them with virtual aid as they work inside the ISS. Labeled Project Sidekick, this form of space-based holographic computing will help empower astronauts by allowing them to achieve greater autonomy in their work as they explore and connect back home at NASA headquarters.
With the Cygnus delivery of the HoloLens headsets, expect holographic computing to become a crucial facet of future space exploration – one more item to check off of our list on, "How to become more like Star Trek."
How to try virtual reality today without breaking the bank — from bgr.com by Jacob Siegal
Excerpt:
2016 might be the year that virtual reality finally takes hold in the tech world. Sony, Microsoft and Oculus VR are all planning to launch their own hardware before the end of next year, with tons of developers already hard at work on games, apps and other software to ensure that VR hits the ground running.
But if you don't want to wait until next year to see what VR has to offer, you can take a sneak peek at the innovations today without putting a strain on your wallet.
Breaking Down Billion-Dollar AR/VR Investment In The Last 12 Months — from techcrunch.com by Tim Merel
Which VR Headset Holds the Pole Position? — from statista.com by Felix Richter
The show goes on in Paris – through augmented-reality glasses — from theguardian.com by Barbara Casassus
If your French doesn't go beyond bonjour, you can still enjoy a night at a Parisian theatre thanks to new glasses that provide simultaneous translations
Excerpt:
It's Saturday night at Le Comédia theatre in central Paris and I'm staring at the stage through square plastic glasses. While the actors in the musical Mistinguett, Reine des Années Folles sing boisterously in French, the words appear simultaneously in English on a small screen in the right-hand lens. Though it's not the same as watching the show unfettered, I find it surprisingly easy to follow the translated dialogue along with the action.
.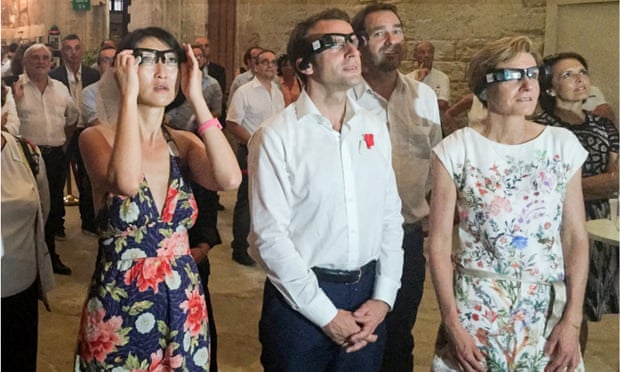 Also see Immersive VREducation's:
ER VR Trailer – Virtual Reality Medical Training Simulation
Virtual-reality lab explores new kinds of immersive learning — from chronicle.com by Ellen Wexler
Excerpt:
That can have implications in distance learning, he said. For students attending class via webcam or video lecture, the video is two-dimensional, and the audio doesn't sound as it would if they were in a real classroom. Mr. Duraiswami thinks the virtual-reality technology could help the experience feel more immersive. "If all you're seeing is a bunch of things in front of you, you're not as immersed," Mr. Duraiswami said. "You want the instructor to feel as if they're right in front of you."
10 killer media applications enabled by 'virtual reality' headsets — from eweek.com by Mike Elgan
Virtual reality headsets can do much more than 'virtual reality,' a technical term that is badly defined in most news reports. Here are 10 rapidly developing applications.
Deakin University to launch virtual and augmented reality hub — from cio.com.au by Rebecca Merrett
Industry partners, as well and students and staff, can get their hands on latest virtual/augmented reality tech
Excerpt:
Deakin University will launch an Interactive Digital Centre Hub in Melbourne CBD in the first half of 2016, which will allow industry partners to access the latest virtual and augmented reality technology. Partnering with EON Reality, more than US$10 million has been poured into the facility and will be the first of dedicated centre to virtual and augmented reality in the Asian region. Having a strong group of researchers in virtual reality, Deakin University decided to open a hub to facilitate working with industry and host education programs and courses in this field.
Virtual reality could finally get people to care about climate change — from techinsider.io by Chris Weller
Excerpt:
As the founding director of Stanford's Virtual Human Interaction Lab, Jeremy Bailenson firmly believes that statistics don't make people care about issues.
Experiences do.
That's why Bailenson has spent the last few years developing an underwater virtual reality (VR) experience that shows people firsthand how climate change impacts ocean health.
All the data in the world won't make a problem seem real unless people care about it on an emotional level, he says. According to Bailenson, virtual reality solves that problem without creating new ones.
Virtual reality in 2016: The 10 biggest trends to watch — from techrepublic.com by Erin Carson
2016 promises to be a watershed year for virtual reality as a commercial product. Here's what to expect.
Revolutionary tech for the real world — from createtomorrow.co.uk
Excerpt (emphasis DSC):
AR is also highly effective for education and training says Ronald Azuma who leads the AR team at Intel Labs. Why? "Because it makes instructions easier to understand by displaying them directly over the real-world objects that require manipulation, thus removing the cognitive load and ambiguity in spatially transforming directions from traditional media like manuals, text, images and videos into the situation at hand."
Samsung launches Gear VR virtual reality headset in Australia, promises 360-degree web browsing — from news.com.au
AUSTRALIAN phone users will be able to play virtual reality games, watch 360-degree films, and navigate the web using their eyes as Samsung launches its third virtual reality headset.
CES 2016: driverless cars and virtual reality to dominate at world's biggest technology show — from mirror.co.uk
The world's biggest technology showcase kicks off in Las Vegas on 6 January 2016. Here's what we know about what will be happening at the Consumer Electronics Show
Should your institution move into the Augmentarium future? — from ecampusnews.com by Ron Bethke
The University of Maryland, College Park, is leading the way in studying the innovative applications of augmented and virtual reality across a wide range of fields
Excerpt:
The potential applications of virtual and augmented reality in a host of disciplines–including education, science, medicine, the arts, entertainment and industry–are massive, say large institutions like the University of Maryland (UMD), whose Augmentarium serves as a potential instrumental model for innovative research facilities and universities looking to make their impact on the future.
Sundance 2016 dominated by VR, over 30 experiences listed — from vrfocus.com
Excerpt:
This year's Sundance Film Festival in Park City, Utah was a surprise hit for virtual reality (VR) technology. It was here that Oculus VR revealed its new film-focused division, Oculus Story Studio, while plenty of other filmmakers and story tellers showcased their own projects using head-mounted displays (HMDs) in the festival's New Frontier section. That section is set to return for the 2016 edition of the festival from 21st – 31st January, and is this time utterly dominated by VR experiences.
Virtual reality for all, finally — from scientificamerican.com by Larry Greenemeier
Will the new generation of headsets hitting the consumer electronics market deliver enhanced virtual-reality experiences at more affordable prices?
Excerpt:
You can be forgiven for rolling your eyes at the latest round of promises that virtual reality has finally arrived for the masses. Tech companies have been hanging their hats on that one for decades without much success, due to high prices and poorly rendered graphics that have given people headaches—literally.
Despite these missteps, a new generation of virtual-reality tech targeted at consumers has begun to hit the market, most prominently with Samsung's $100 Gear VR visor released in late November. Both Gear VR and Google Cardboard—which starts at less than $20 and was launched in 2014—rely on a smartphone clipped or slid into their respective visors. The headset's binocularlike lenses—between the phone and wearer—help deliver a 3-D VR experience. That makes the gadgets a relatively low-risk investment for consumers and enables tech companies to gauge public demand for virtual reality in advance of devices such as ones from Oculus, Sony and HTC slated for next year that feature more sophisticated embedded sensors and displays.
…
Now that VR headsets no longer cost tens of thousands of dollars the door is open for educational and social applications that are true to virtual reality's roots, allowing people to learn and interact in digital classrooms and playgrounds.
Here's what virtual reality means for kids stuck in the hospital — from techcrunch.com by Drew Olanoff
Excerpt:
Virtual reality is here to stay and it's more important than just playing a game or watching a boxing match in a more immersive way. It could, and will, change lives. Imagine this kind of happiness in children's hospitals everywhere, all of the time. Then think about how doctors can train for surgery virtually. Pretty amazing stuff, eh?
Addendum on 12/20/15: