Computing in the Camera — from blog.torch3d.com by Paul Reynolds
Mobile AR, with its ubiquitous camera, is set to transform what and how human experience designers create.
One of the points Allison [Woods, CEO, Camera IQ] made repeatedly on that call (and in this wonderful blog post of the same time period) was that the camera is going to be at the center of computing going forward, an indispensable element. Spatial computing could not exist without it. Simple, obvious, straightforward, but not earth shaking. We all heard what she had to say, but I don't think any of us really understood just how profound or prophetic that statement turned out to be.
"[T]he camera will bring the internet and the real world into a single time and space."

— Allison Woods, CEO, Camera IQ
The Camera As Platform — from shift.newco.co by Allison Wood
When the operating system moves to the viewfinder, the world will literally change
"Every day two billion people carry around an optical data input device — the smartphone Camera — connected to supercomputers and informed by massive amounts of data that can have nearly limitless context, position, recognition and direction to accomplish tasks."

– Jacob Mullins, Shasta Ventures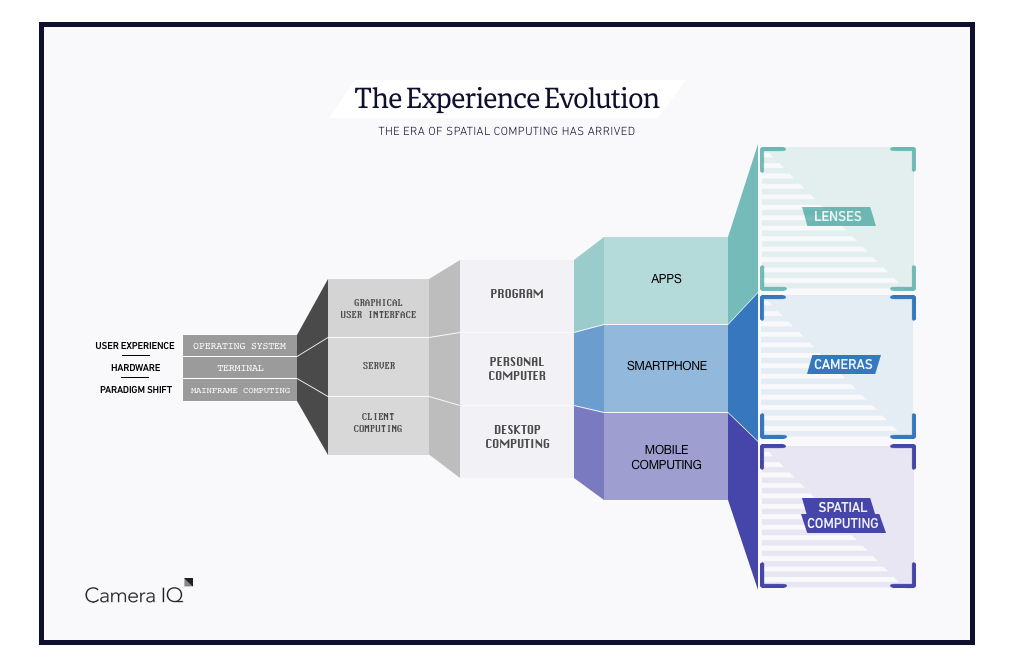 The State Of The ARt At AWE 18 — from forbes.com by Charlie Fink
Excerpt:
The bigger story, however, is how fast the enterprise segment is growing as applications as straightforward as schematics on a head-mounted monocular microdisplay are transforming manufacturing, assembly, and warehousing. Use cases abounded.
…
After traveling the country and most recently to Europe, I've now experienced almost every major VR/AR/MR/XR related conference out there. AWE's exhibit area was by far the largest display of VR and AR companies to date (with the exception of CES).
Student Learning and Virtual Reality: The Embodied Experience — from er.educause.edu by Jaime Hannans, Jill Leafstedt and Talya Drescher
Excerpts:
Specifically, we explored the potential for how virtual reality can help create a more empathetic nurse, which, we hypothesize, will lead to increased development of nursing students' knowledge, skills, and attitudes. We aim to integrate these virtual experiences into early program coursework, with the intent of changing nursing behavior by providing a deeper understanding of the patient's perspective during clinical interactions.
…
In addition to these compelling student reflections and the nearly immediate change in reporting practice, survey findings show that students unanimously felt that this type of patient-perspective VR experience should be integrated and become a staple of the nursing curriculum. Seeing, hearing, and feeling these moments results in significant and memorable learning experiences compared to traditional classroom learning alone. The potential that this type of immersive experience can have in the field of nursing and beyond is only limited by the imagination and creation of other virtual experiences to explore. We look forward to continued exploration of the impact of VR on student learning and to establishing ongoing partnerships with developers.
Also see: