Virtual reality is actually here — from computerworld.in by Bart Perkins
Excerpts:
In parallel with gaming, VR is expanding into many other areas, including these:
Healthcare
Surgical Theater is working with UCLA, New York University, the Mayo Clinic and other major medical centers to use VR to help surgeons prepare for difficult operations. Virtual 3D models are constructed from MRIs, CAT scans and/or ultrasounds.
Mental health
Meditation promotes mental health by reducing stress and anxiety.
Education
Unimersiv is focusing on historical sites, creating a series of VR tours for the Colosseum, Acropolis, Parthenon, Stonehenge, Titanic, etc. These tours allow each site to be explored as it existed when it was built. Additional locations' virtual sites and attractions will undoubtedly be added in the near future. The British Museum offered a Virtual Reality Weekend in August 2015. Visitors were able to explore a Bronze Age roundhouse with a flickering fire and changing levels of light while they "handled" Bronze Age relics. The American Museum of Natural History allows students anywhere in the world to take virtual tours of selected museum exhibits, and other museums will soon follow.
Training
Virtual reality is an excellent tool when the task is dangerous or the equipment involved is expensive.
Crime reconstruction
Architecture
Collaboration
Virtual reality, augmented reality and mixed reality will form the basis for the next set of collaboration tools.
VR and education: Why we shouldn't wait to reap the benefits – from medium.com by Josh Maldonad
Excerpts:
However, we see very little experienced-based learning in all levels of education today. Traditional learning consists of little more than oration through lectures and textbooks (and their digital equivalents). Experience-based learning is often very difficult to facilitate in the classroom. Whether it be a field trip in elementary school, or simulation exercises in med school, it can be tedious, costly and time consuming.
…
Where VR is really winning in education is in subject matter retention. The first of several surveys that we've done was based on a VR field trip through the circulatory system with high-school age children. We saw an increase of nearly 80% in subject matter retention from a group that used VR, compared against a control group that was provided the same subject matter via text and image. (I'll expand on the details of this experiment, and some research initiatives we're working on in another blog post).
http://uploadvr.com/chinese-vr-education-study/
Example apps in healthcare:
Emergency response and Triage Decision making
Nursing fundamentals, safety and communication procedures
Anesthesiology: patient monitoring and dosage delivery
Residential design and virtual reality: a better way to build a home? — from connectedlife.style
Excerpt:
The old phrase of 'needing to see it to believe it' is a powerful mantra across all aspects of residential design. Architecture, interior design and property development are all highly visual trades that require buy-in from both those working on the project and the client. As such, making sure everyone is sold on a coherent vision is vital to ensure that everything goes smoothly and no one is left dissatisfied when the project is completed.
Google Translate: Updated
For those travelers out there, you might want to know about Google Translate's ability to read in an image of one language, and provide you with a translation of that language/signage/label/etc.
Also see:
From this page, here are some of the visual translation products:
Now HoloLens lets you check your mail in a wall-sized mixed reality version of Outlook — from pcworld.com by Ian Paul
Now you can check your email or make a calendar appointment without removing Microsoft's augmented reality headset.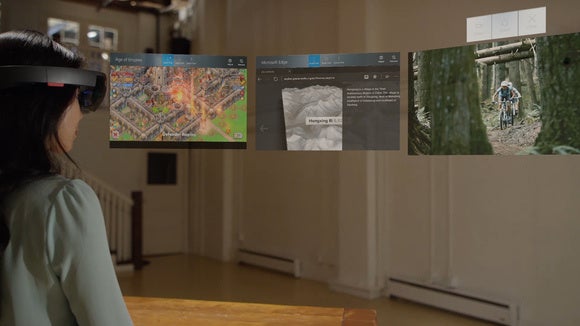 You now can pin multiple 2D apps in virtual space,
and Microsoft's HoloLens will remember where they are.
VR in Education: What's Already Happening in the Classroom — from arvrmagazine.com by Susanne Krause
"Engagement was off the charts"  | Connecting to the world and creating new ones using virtual reality
Excerpt:
It's a way for educators to bring their students to places that would be out of reach otherwise. Google Expeditions, the VR mode of Google Street View and Nearpod's virtual field trips are among the most popular experiences teachers explore with their students. "Some of our students have never really left the bubbles of their own town", says Jaime Donally, creator of the #ARVRinEDU chat on Twitter. "Virtual reality is a relatively inexpensive way to show them the world."
How augmented reality is transforming building management — from ibm.com
IBM People for Smarter Cities presents "Dublin lab – Cognitive Buildings"
In the video below, a facilities manager is using a mobile device to scan a QR code on a wall, behind which is a critical piece of HVAC equipment. With one scan, we can view data on the asset's performance and health, location data for the asset. This data is being pulled by the IoT Platform from the asset itself, TRIRIGA, and any other useful sources.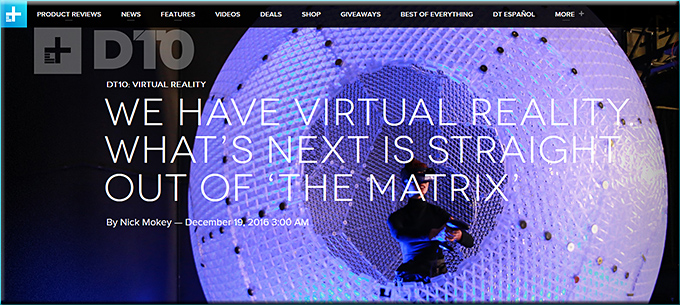 Excerpt:
But the best experiences, VR acolytes agree, are still yet to come. Resh Sidhu leads VR development for Framestore, the high-end visual effects house that won an Oscar for the movie Gravity, and has since expanded into creating VR content. With hardware finally delivering on its promise, she believes it is now up to creatives to explore the possibilities.
HTC Brings VR Center to Paris; Vive Exhibit at Nobel Museum — from vrscout.com by Jonathan Nafarrete
Excerpt:
There's so much more to VR than just gaming. Which is probably why HTC has been exploring entirely new ways to bring VR to art, education and culture — starting with museums around the world.
HTC recently collaborated with TIME-LIFE on "Remembering Pearl Harbor," a VR experience commemorating the 75th anniversary of the attack with exhibitions at the Intrepid Sea, Air and Space Museum in New York City and the Newsuem in Washington D.C. Last month, Vive also collaborated with the Royal Academy of Arts in London on the world's first 3-D printed VR art exhibit.
Now HTC Vive has revealed the launch of a new VR center at La Geode, part of Paris' Science and Industry Museum, as well as a partnership with the Nobel Museum for a first-of-its-kind VR exhibit showcasing the contributions of Nobel laureates.