Holograms, 'Minority Report' gestures and other ways your meetings will change by 2018 — from techcrunch.com by Jeff Cavins
On 02/14/2013, in 21st century, 24x7x365 access, Artificial Intelligence / Machine Learning / Deep Learning, collaboration, Daniel S. Christian, digital learning, future of higher education, game-changing environment, global / globalization, higher education, homeschooling/homeschoolers, innovation, intelligent systems, intelligent tutoring, internet, learning ecosystem, Learning from the Living [Class] Room, learning spaces, MOOCs -- Massive Open Online Courses, online learning, online tutoring, second screen apps, smart classrooms, smart/connected TV, streams of content, ubiquitous learning, Virtual Reality (VR) / worlds / learning, virtual tutoring, vision, Walmart of Education --> New Amazon.com of Higher Education, web-based collaboration, by Daniel Christian
From DSC:
Below are some reflections after seeing these items:
Watson supercomputer goes to college, Revenge Of The Nerds style antics imminent — not an exemplary article from geekosystem.com, but the underlying topic has enormous implications
Excerpt:
…the team developing Watson is sending the computer to college, where it will bone up on coursework in English and math.
…
While the original Watson will be staying put at the IBM research center it calls home, the hardware to run the program is being installed at the Rensselaer Polytechnic Institute in upstate New York, where researchers and grad students will be spend the next three years teaching Watson all they can while also hoping to learn more about how the software learns and make it more effective.
.
From DSC:
The current set of MOOCs are very powerful, but, like a bush that needs pruning, they can become unwieldy and hard to control.  Not only do the current set of MOOCs help me to see the importance of instructional design, but trying to drink from the firehose often presents problems (i.e. wading through thousands of tweets, hundreds of blog posts, etc.).  How can we still provide openness and yet provide people with better methods/tools for setting their desired level of drinking from this firehose? Tags are helpful, but for most people, they are not doing enough to filter/curate the content at this point.

Enter the technologies being developed in IBM's Watson, Apple's SIRI, or in Knewton's product lines. End-user controllable setting might include:

Full throttle — like current form of MOOCs — thousands of tweets, hundreds of blog posts, etc.
IBM Watson-enabled curation/filtering only — each individual adjusts how many items they want to see in the various portions of the interface (see above); these settings control how many items and/or streams of content get presented to you

The ideas involving learning agents, artificial intelligence, intelligent tutoring, intelligent systems and more seem to get roped in here…hmm…just thinking out loud and sharing potentially-useful ideas.
Designing collaborative spaces for schools — from The Journal by By Peter C. Lippman
Thoughtfully designed learning environments can help students work together more effectively.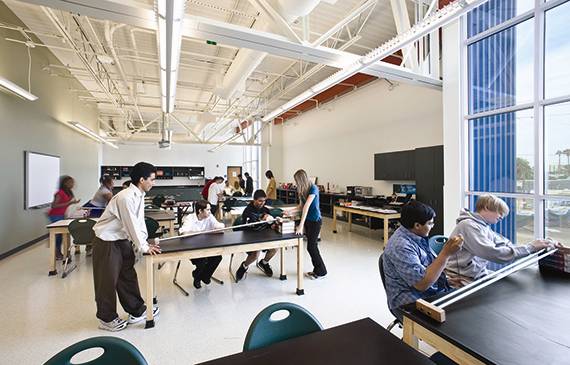 From DSC:
I would like to see us facilitate such teamwork/collaboration via helping people in the same physical location work together as well as their ability to collaborate with others outside of that physical space (i.e. web-based collaboration).
Inside look: Learning spaces — from University Business by Kristen Domonell
Meeting classroom teaching and collaboration expectations
Excerpt:
Gone are the days when a basic classroom with a podium and desks was considered an acceptable learning space. In fact, according to CDW-G's "Learn Now, Lecture Later" report released in June 2012, 47 percent of instructors surveyed said they are moving beyond the lecture-only model. In addition, 71 percent of students and 77 percent of instructors said they use more classroom technology than just two years ago.
Key trends identified in the "2012 Horizon Report," a collaboration between the New Media Consortium and the Educause Learning Initiative, include the shift in education paradigms to include online learning, hybrid learning, and the collaborative model; a new emphasis in the classroom on more challenge-based and active learning; and a change in the way student projects are structured, driven by the increasingly collaborative work world.
Here are examples of how institutions are adapting to these shifting trends by creating learning spaces that foster innovative thinking and collaboration—and prepare students for the future.
.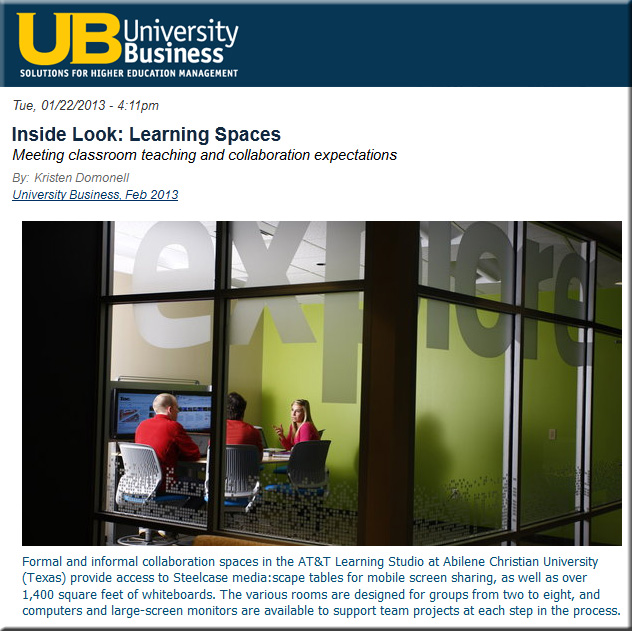 On 02/06/2013, in A/V -- audio/visual, collaboration, Daniel S. Christian, digital learning, learning spaces, smart classrooms, smart/connected TV, tools, vendors, web-based collaboration, by Daniel Christian
From DSC — with a special thanks to Mr. Michael Haan, Technology Integration Specialist at Calvin College, for this resource
Now we're talking! The Mondopad from InFocus is starting to morph into what I thought the "chalkboard of the future" might look like. Now I'd like to see:
An entire wall offer this sort of functionality

More content from publishers flow into this sort of setup — i.e the kind of content that leverages the interactivity and flexibility that these sorts of technologies now make available

The ability of students and employees to transmit their content up to these devices/walls — have it be scanned for viruses — and then moved into a viewing area (with an option for folks to download that file if they want to)

Key features:
Multi-touch high definition 55 inch display (From DSC: A 70″ version is also available I believe)
Flexible and expandable with built-in Windows PC
Digital interactive whiteboard and document annotation
Business-class video conferencing
Share, view and control from your tablet or smartphone
Full copy of Microsoft® Office ensures file compatibility
Also see the information out at Precision Data Products: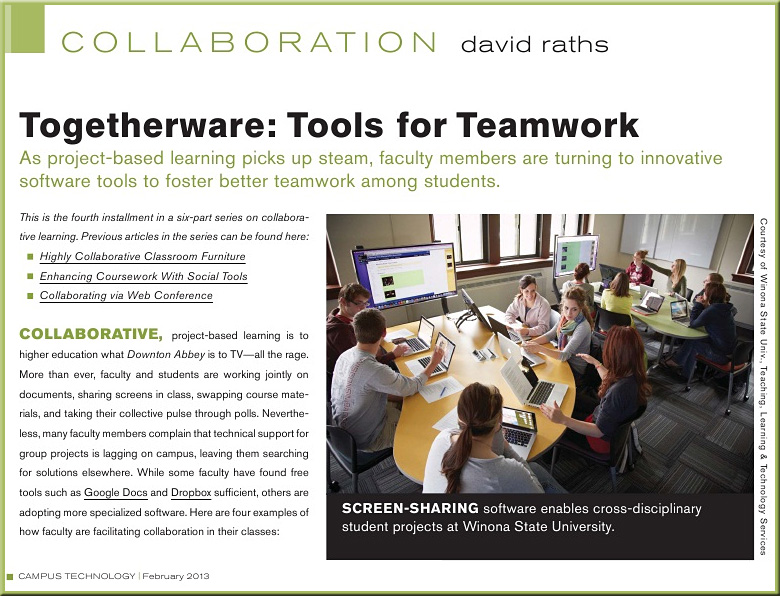 Addendum on 2/6/13:
On 02/05/2013, in architecture, collaboration, corporate / business world, corporate universities / corporate training, creativity, Google, learning, learning ecosystem, learning spaces, web-based collaboration, workplace, by Daniel Christian
Google's absolutely amazing & extraordinary office in Tel Aviv, Israel –from theultralinx.com by Oliur Rahman
From DSC:
Thanks Oliur for a great portfolio of images/ideas!  Here are just a few examples of some very cool spaces that encourage learning, creativity, innovation, and collaboration:

.
.
.
.
.
.
.
Excerpt from Learning TRENDS by Elliott Masie – February 1, 2013 (emphasis DSC)
#760 – Updates on Learning, Business & Technology.
55,887 Readers – www.masie.com – twitter: emasie – The MASIE Center.
Host: Learning Directions Blended Seminars
2. Logitech Business Camera – Skype for the Classroom! I almost never endorse or highlight a product, as Learning TRENDS is vendor-neutral. But, we have been on a quest for a simple technology that finally arrived.
We wanted a camera, with High Definition capability, that could [offer remote Pan/Tilt/Zoom (PTZ) capabilities] – and also worked perfectly with both Skype, Gmail Video as well as a capture camera for content.  Why? In all of our classrooms, we have multiple large Plama/LCD Screens and wanted to add cameras for both video conferencing, class capture and knowledge clips.  While we could mount a nice single focus camera, the PTZ capability was missing.
Logitech BCC950 Conference Cam Video Conferencing Camera is perfect! We have tested in multiple settings and are delighted with the focus, quality and ease of use in a classroom or meeting room.  It has extensions that allow it to be mounted apart from the base and it would be ideal to add video capacity to a classroom – in our effort to evolve to the "connected classroom".  The price is around $220 and we have purchased several for our Center.
Also see: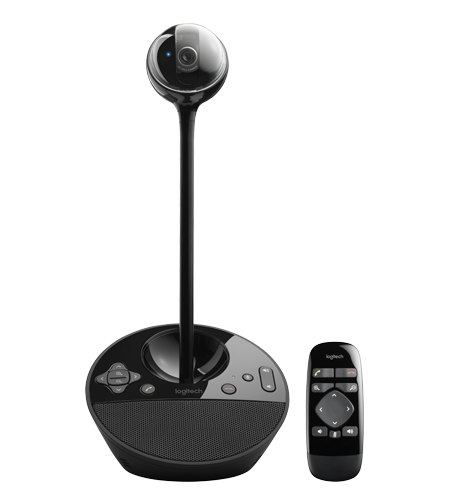 On 01/11/2013, in career development, collaboration, corporate / business world, future, game-changing environment, generational differences, internet, marketplaces, using teams, videoconferencing, workplace, by Daniel Christian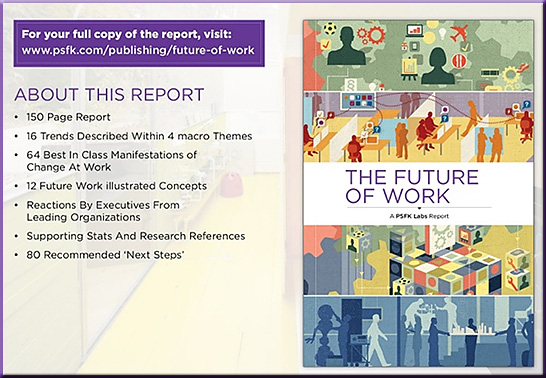 .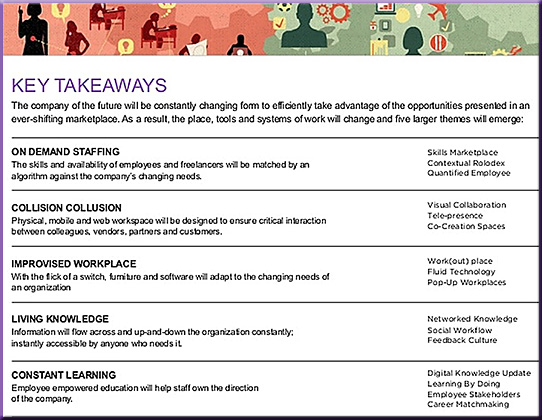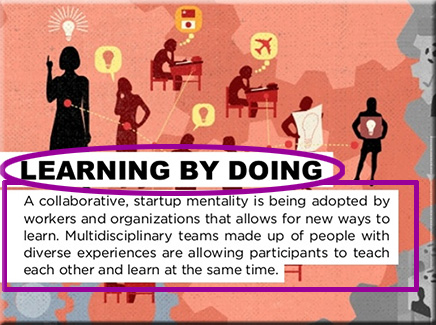 .
From DSC:
Note the need for being tech-savvy here — the more familiarity our students have with videoconferencing, web-based collaborating tools, tapping into streams of content, etc., the better things will go for them in their future careers.


.



Note also the need for constant, lifelong learning.
Note the possibility that we might be heading more towards online-based exchanges and marketplaces — and that includes teaching and learning.
.
Re: the idea of exchanges:
From DSC:
I'm not a political science expert and I won't pretend to be one…but I did study economics and I don't see what happened leading up to — and including — Tuesday night as any sort of victory or solid deal for America.  Delaying the tough decisions is not helping us — the time will come when we have to pay the piper.  Eventually, there will be pain. But will that pain start in 2013? I hope so. Because the longer the debt builds, the harder it will be to conquer it and the more pain we'll need to get through (eventually).  In fact, eventually 100% of our taxes will go towards just paying the interest on the debt if we follow the current trajectories.  Printing more money won't help the  situation either, as inflation is likely to escalate at that point.
Backing up a bit…here are some resources on what happened on Tuesday night with the Fiscal Cliff in the United States:
Obama signs bill warding off fiscal cliff — from CNN by Matt Smith
Cliff deal hollow victory for American people — from CNN by David Rothkopf (CEO and editor-at-large of the FP Group, publishers of Foreign Policy magazine and a visiting scholar at the Carnegie Endowment for International Peace)
Excerpt:
(CNN) — The last political drama of 2012 and the first one of 2013 suggest that if you love America, you might want to consider making your New Year's resolution quitting whatever political party you belong to. The "fiscal cliff" debate and the last-minute deal it produced have so far resolved nothing except to show that our system is profoundly broken and that radical changes are needed to fix it.


.

Fiscal cliff was bound to collapse — from CNN by Gloria Borger


.

After the fiscal cliff: What comes next? — from macleans.ca and the AP
Excerpt:
By delaying painful decisions on spending cuts, the deal assures more confrontation and uncertainty, especially because Congress must reach agreement later this winter to raise the government's debt limit. Many businesses are likely to remain wary of expanding or hiring in the meantime.
…
Bernard Baumohl, chief global economist for the Economic Outlook Group, thinks the lack of finality in the budget fight is slowing an otherwise fundamentally sound economy. "What a shame," Baumohl said in a research note Wednesday. "Companies are eager to ramp up capital investments and boost hiring. Households are prepared to unleash five years of pent-up demand."


.

3 more fiscal cliffs loom — from CNN by Rich Barbieri
From DSC:
The media loves to divide. They hate to unite. Evidently, unity doesn't pay the bills .
(BTW, to the remaining journalism majors out there — strive to build up and help our country, and try not to feed the flames of division just so that your organizations' ratings go up.  Watch whose agendas are truly being served and the verbiage you use.  Unfortunately, as a Christian,  I can't say much for the church, as there are fractions throughout the church as well.)
Getting back to what's on my mind…delaying the pain is just making the future pain all the worse.  Let's bite the bullet, compromise, work together, and go through the pain now rather than later.  If we wait too long, our children will be paying the price for our ways.
As educators, it looks like we need to beef up those parts of the curriculum that deal with collaboration and creative compromise!