Infographic from Collegestats.org
From DSC:
With thanks to Mr. Muhammad Saleem for the resource. 
Also see:
On 12/27/2012, in analytics, career development, collaboration, creativity, data mining, IT in HE, new media literacies, professional development, workplace, by Daniel Christian
The hottest IT skills for 2013 — from itstrategynews.com
Top 4 traits of "future proof" employees, according to 1,709 CEOs — from forbes.com
What should you look for as you recruit new hires in 2013? As an employee yourself, what traits will serve you best in the years ahead?
Excerpt:
Late last year IBM conducted interviews with 1,709 CEOs around the world, and published the results in a white paper titled "Leading Through Connections." It's a fascinating look at how business leaders are reacting to recent convergence of digital, social and mobile technologies, known by many as the "connected economy."
From DSC:
How are K-12 and higher ed doing on developing this type of employee?
Also see:

On 12/13/2012, in 21st century, 24x7x365 access, analytics, data mining, ethics, global / globalization, internet, machine-to-machine communications, society, by Daniel Christian
Book says 'Big Data' becoming a global nervous system — from USA TODAY by Chuck Raasch — with thanks to Ray Schroeder for the resource
Explosion of "Big Data" collection and analysis is hopeful, yet worrisome, trend
Excerpt:
Smolan, a former National Geographic photographer, built the book around a simple premise: That "big data" are becoming a "planetary nervous system," the potential and consequences of which few have even started to contemplate.
It's "an extraordinary knowledge revolution that's sweeping, almost invisibly, through business, academia, government, health care and everyday life," he says.
That revolution, he says, is being built on "a set of technologies coming together at just the right time, brought about by widespread and low-cost sensors that can now communicate with each other, the plummeting cost of computing power, the ubiquitous everywhere and always-on aspect of the Internet, the rapidly proliferating spread of smart devices."
Also see:
On 11/15/2012, in analytics, career development, cloud-based computing / apps / other cloud-related, data mining, IT in HE, leadership, professional development, strategy, vision/possibilities, by Daniel Christian
Reflecting on the Top IT Issues of 2012 — from campustechnology.com by Dian Schaffhauser
Updating IT professionals' skills and roles to accommodate new technologies and changing IT delivery models
Supporting IT consumerization and bring-your-own device programs
Developing a cloud strategy
Improving the institution's operational efficiency through IT
Integrating IT into institutional decision-making
Using analytics to support the important institutional outcomes
Funding IT initiatives
Transforming the institution's business with IT
Supporting research with high-performance computing, large data, and analytics
Establishing and implementing IT governance throughout the institution
Also see:
Involving students in IT — — from campustechnology.com by Keith Norbury
IT shops are turning to students to staff help desks, troubleshoot, and more. For schools, it's a way to cut costs; for students, it's a learning experience and a pathway to employment.
.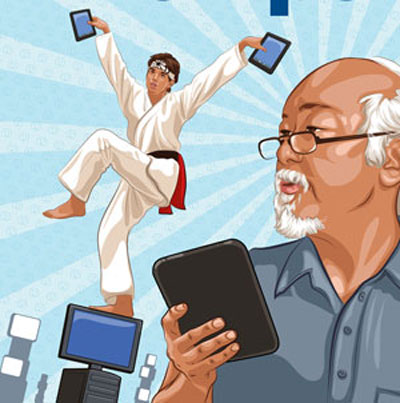 Predicting what topics will trend on Twitter — from MIT
Excerpt:
At the Interdisciplinary Workshop on Information and Decision in Social Networks at MIT in November, Associate Professor Devavrat Shah and his student, Stanislav Nikolov, will present a new algorithm that can, with 95 percent accuracy, predict which topics will trend an average of an hour and a half before Twitter's algorithm puts them on the list — and sometimes as much as four or five hours before.
The algorithm could be of great interest to Twitter, which could charge a premium for ads linked to popular topics, but it also represents a new approach to statistical analysis that could, in theory, apply to any quantity that varies over time: the duration of a bus ride, ticket sales for films, maybe even stock prices.
Like all machine-learning algorithms, Shah and Nikolov's needs to be "trained": it combs through data in a sample set — in this case, data about topics that previously did and did not trend — and tries to find meaningful patterns. What distinguishes it is that it's nonparametric, meaning that it makes no assumptions about the shape of patterns.
…
In principle, Shah says, the new algorithm could be applied to any sequence of measurements performed at regular intervals. But the correlation between historical data and future events may not always be as clear cut as in the case of Twitter posts. Filtering out all the noise in the historical data might require such enormous training sets that the problem becomes computationally intractable even for a massively distributed program. But if the right subset of training data can be identified, Shah says, "It will work."
Google's answer to Siri thinks ahead — from technologyreview.com by Tom Simonite
The company's data stockpile and investment in AI means a smartphone helper that answers queries before you even ask them.