---
I ran across a few items that may tie in with my Learning from the Living [Class] Room vision:
---
A very interesting concept at Stackup.net (@ScoreReporting)
Score everything you read + learn online. Use the StackUp Report to prove to employers that your dedication and interest make you the ideal candidate.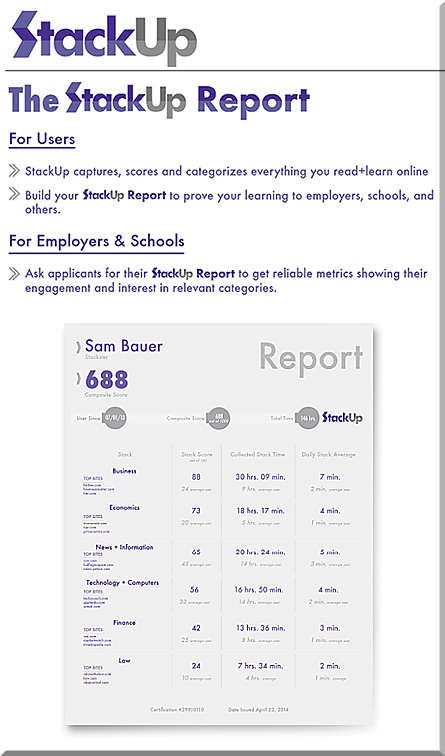 From DSC:
This is big data — but this time, it's being applied to the world of credentials. Is this part of how one will obtain employment in the future?  Will it work along with services like Beansprock (see below)?
Then there was spreecast: An interactive video platform that connects people:

From DSC:
A related item to these concepts:
The Future of Lifelong Learning — from knewton.com
Created by Knewton and Knewton
AI software that could score you the perfect job — from wired.com by Davey Alba
Excerpt:
Today, little more than two years later, Levy and Smith are launching a website called Beansprock that uses natural language processing and machine learning techniques to match you with a suitable job. In other words, they're applying artificial intelligence to the career hunt. "It's all about helping the job hunter find the best job in the job universe," Levy says.
.