Magic Quadrant 2012 for E-Discovery Software — from Gartner.com
.
Excerpt:
The e-discovery market landscape has shifted dramatically as end users have begun to demand more complete e-discovery functionality. Many vendors are responding with broader end-to-end functionality. New products, acquisitions and shifts in buying patterns have led to a radically altered picture.
.
Magic Quadrant for the Wired and Wireless LAN Access Infrastructure — from Gartner.com
Connectivity at the edge of an enterprise network is more than just a wired or wireless LAN infrastructure. Enterprises must chose infrastructure vendors that support network services, including security and management, and can integrate wired and wireless networking products.
Steelcase Education Solutions introduces new active learning solutions — from multivu.com
Verb takes action & iconic Node makes new moves
.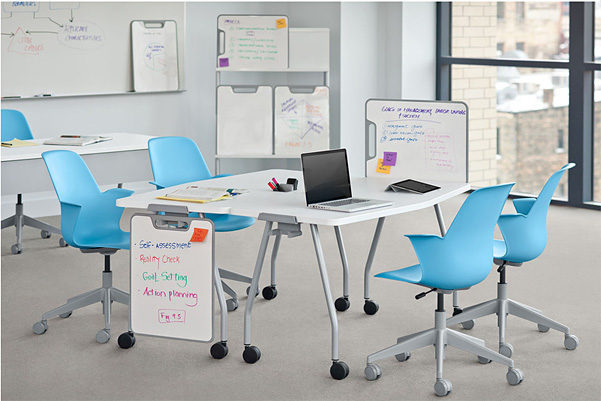 .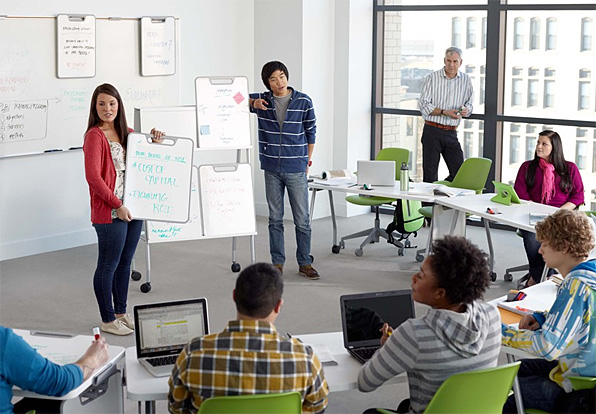 Avid divests consumer businesses and streamlines operations — my thanks to Mr. Michael Haan at Calvin College for this resource
Excerpts from BURLINGTON, MA, 2012-07-02 announcement:
Avid has agreed to sell its consumer audio and video product lines. The company's consumer audio products are being sold to inMusic, the parent company of Akai Professional, Alesis and Numark, among others.
…
Separately, the company's consumer video editing line is being sold to Corel Corporation, a consumer software company headquartered in Ottawa, Canada. The products involved in this transaction include Avid Studio, Pinnacle Studio, and the Avid Studio App for the Apple iPad®, as well as other legacy video capture products.
…
Avid also plans to reduce the number of its employees as it streamlines operations, with approximately 20% of its permanent employee base impacted by the divestitures and headcount reduction plans.
Tegrity unveils enhanced mobile features that enable anytime, anywhere lecture capture — from manufacturingdigital.com
Excerpt (emphasis DSC):
SANTA CLARA, Calif., June 25, 2012 /PRNewswire/ — Recognizing mobile will continue to emerge as a core component of next-generation educational technologies and experiences. Tegrity, a unit of McGraw-Hill Higher Education, today unveiled multiple new mobile enhancements to its lecture capture solution, Tegrity Campus.  For the first time, both students and instructors can record content wherever and whenever they choose on their Apple iOS or Android mobile devices.
Cisco brings online collaboration solutions under WebEx name — from eWeek.com by Jeffrey Burt
The company is adding Office and greater email integration to its WebEx Social enterprise social networking solution, which previously was known as Quad.
Excerpt:
Cisco Systems executives are bringing their disparate Web collaboration solutions under the WebEx umbrella, and expanding the capabilities of its enterprise social networking offering formerly known as Cisco Quad.
As used by Khan Academy…
.
.
Also see:
 Addendum on 6/20/12:
Why and how to caption? — from Luis Perez
The Collaborative for Communication Access via Captioning has created an excellent video showing how real people are impacted by the lack of captioning. The title of the video says it all: "Don't Leave Me Out".
 Addendums on 6/21/12:
Addendum on 7/2/12:
On 06/15/2012, in Canada, digital learning, education technology, learner profiles, mobile learning, online learning, personalized/customized learning, tools, vendors, by Daniel Christian
.
Excerpt from website:
Your Classroom Just Got A Little Bigger. OK, A Lot Bigger.
There are millions of people around the globe with a thirst for educational content but have little available to them. You have tremendous educational resources and a desire to reach more people.
The ClevrU platform offers educators the marketplace to reach across the barriers of today's classroom and out to the rest of the world.  Our service combines the power of a complete online learning environment with a scalable platform designed to handle from 1 to a billion users while adapting to the users language of choice, their available bandwidth, and their type of mobile device or internet access.
We welcome free, open source material as well as fee based learning programs for which we can provide in country e-commerce support.
.
A Waterloo start-up provides courses on smartphones
For Tushar Singh, the 32-year-old co-founder of ClevrU and chief technology officer, the potential impact of providing education to those who are too poor or isolated to get one locally is what's driving the company forward. "Education is a lifeline. It doesn't just change a person, it also changes a community."
On 06/13/2012, in A/V -- audio/visual, Apple, interactivity, IT in HE, mobile learning, mobile technologies, multimedia, participation, tools, vendors, by Daniel Christian
Aerohive demos Bonjour Gateway and BYOD on stage at Apple's WWDC 2012 Conference — from community.spiceworks.com
Excerpt:
What's the next best thing to being among the anointed few who get to attend Apple's WWDC 2012? Being on the WWDC stage with Apple, of course!
Aerohive took the stage at WWDC 2012 just moments ago [on 6/12/12) when our very own Vice President of Business Development Bill Hoppin stood alongside Apple's Stuart Cheshire (father of the Bonjour protocol) and demonstrated our slick new product – Bonjour Gateway.
In a session called Simplify Networking with Bonjour […tying into Aerohive's theme of Simpli-Fi Enterprise Networking ], Bill showed attendees how Aerohive is offering (bring your own device) BYOD management to help with the explosion of iPhones, iPads and other mobile devices in the workplace.
Here's how the demo went down…
Also see:
.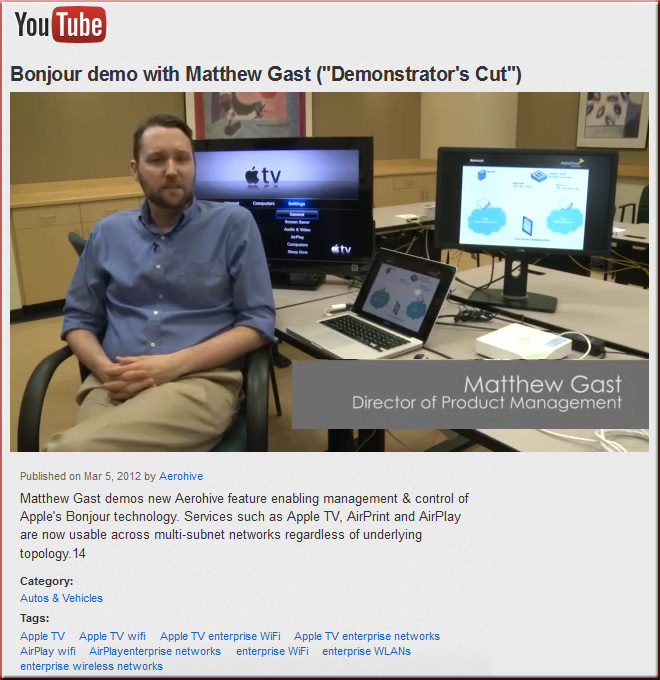 Polycom® RealPresence® Video Content Management Solutions Deliver Live Video Streaming and Video Recordings to Android and Apple Devices
Polycom extends secure user access to video content beyond traditional PCs and laptops to tablets and smartphones, providing easy access to view live and recorded videos on-demand
PLEASANTON, Calif. – May 15, 2012 : Polycom, Inc. (Nasdaq: PLCM), the global leader in open standards-based unified communications (UC), today unveiled updates to Polycom® RealPresence® Video Content Management solutions  that deliver anytime, anywhere secure access to view live-streaming webcasts and video recordings on-demand through a Web portal from any device. New features for RealPresence Video Content Management include updates for Polycom® RSS™ 4000 Recording and Streaming Server and Polycom® RealPresence® Media Manager that make the solution compatible with existing and future technologies, while extending users' access to video content from traditional computer systems to Android and iOS-based mobile devices. Polycom's RealPresence Video Content Management solution was recently recognized by Gartner with a "Positive" rating in the latest MarketScope for Video Content Management and Delivery, April 2012.1
On 05/08/2012, in 21st century, A/V -- audio/visual, Apple, education technology, educational games / serious games, innovation, Learning from the Living [Class] Room, learning spaces, mirroring and/or multiple devices, smart classrooms, technologies for your home, tools, trends, vendors, by Daniel Christian
What is AirServer? — my thanks to Mr. Johnny Ansari at Calvin College for this resource
Overview
AirServer is a powerful Mac/PC application that enables you to stream or mirror your iOS device, such as your iPhone 4S, to your Mac/PC. If your computer is connected to a secondary or alternative display, such as an HDTV or projector, your iOS device can use that display. If your iOS device allows Mirroring then anything you see on that device can be displayed on the big screen.
AirServer is the most advanced AirPlay/AirTunes receiver app on the market. Mirroring has been fully supported since version 4.0 of AirServer. No other app will let you seamlessly stream audio, videos, photos, and photo slideshows to your Mac or iOS device. AirServer gives you more features for less money, and it keeps getting better. Android fans rejoice: we now support AirPlay streaming to Mac from Android devices running doubleTwist+AirTwist.
---
AirServer makes history — 1 May, 2012
We're so hyped about our latest breakthrough with AirServer that we couldn't hold back any longer. This is something no other app has done. This is history in the making.
AirPlay Mirroring for PC is here!
That's right. AirServer is the first and only software that can Mirror your iPhone/iPad to your Windows PC. This is a pre-release version and doesn't yet have sound or some of the eye candy features of full blown AirServer. But it does have Mirroring. And Mirroring will enable you to take your iPhone 4S and display the screen pixel perfect on your PC. Over the coming weeks we'll be adding free updates to the PC version to bring it up to speed with the Mac version. Exciting times ahead.
5 reasons Cisco and Polycom are in trouble in telepresence — from Forbes, guest post by Jeff Cavins
Excerpt:
Due to a variety of technological breakthroughs, from mobile networks and devices to new powerful video technologies, there are five major reasons why the market will be disrupted as we know it, enabling a variety of upstarts to win the business of business meetings…
From DSC: I originally saw this at:
The fuzzy future of telepresence — from http://channelnomics.com by Larry Walsh
Excerpt:
The future of video conferencing is quite bright, and solution providers will have tremendous opportunity to sell and support video products and services. Telepresence, as Cavins argues, is a good idea, but not one that has lasting or sustainable market appeal.