From DSC:
Listed below are some potential tools/solutions regarding bringing in remote students and/or employees into face-to-face settings.
First of all, why pursue this idea/approach at all?
Because schools, colleges, universities, and businesses are already going through the efforts — and devoting the resources — to putting courses together and offering the courses in face-to-face settings.  So why not create new and additional revenue streams to the organization while also spreading the sphere of influence of the teachers, faculty members, trainers, and/or the experts?
The following tools offer some examples of the growing capabilities of doing so. These types of tools take some of the things that are already happening in active learning-based classrooms and opening up the learning to remote learners as well.

Eventually this will all be possible from your living room, using morphed
versions of today's Smart/Connected "TVs", VR-based devices, and the like.
————————
Excerpts from their website:
Each Bluescape workspace is larger than 145 football fields, a scale that allows teams to capture and build upon every aspect of a project.
A single Bluescape workspace enables unlimited users to work and collaborate in real time.
Edits to your Bluescape session happen instantly, so geographically distributed teams can collaborate in real time.
Write or type on multi-colored notecards that you can easily move and resize. Perfect for organizing and planning projects.
Ideate and quickly iterate by writing and drawing in a full range of colors and line thicknesses. Works with iOS devices and Bluescape multi-touch displays.
Add pictures and write on the workspace via the iOS App for iPads.
Securely access your Bluescape workspaces with a web browser, our iOS app, or our multi-touch displays.
Easily share what's on your computer screen with other people.
Bluescape creates persistent online workspaces that you can access at any time that works for you.
Work with any popular website like Google, YouTube or CNN in your workspace.
Drag and drop files like JPEGs and PNGs into your Bluescape workspace for inspiration, analysis, and valuation.
Share your screen instantly during online or in-person meetings.
Use the same touch gestures as you do on smart phones, even handwriting on your iPad.
ThinkHub Demo: MultiSite Collaboration
Then there are tools that are not quite as robust as the above tools, but can also bring in remote learners into classroom settings:
Double Robotics Telepresence Robot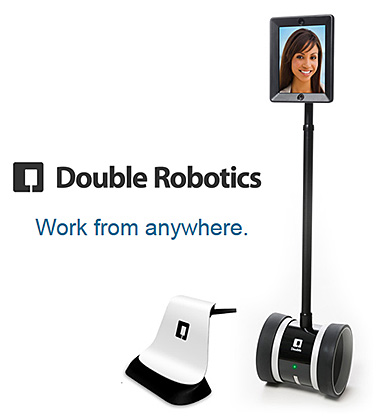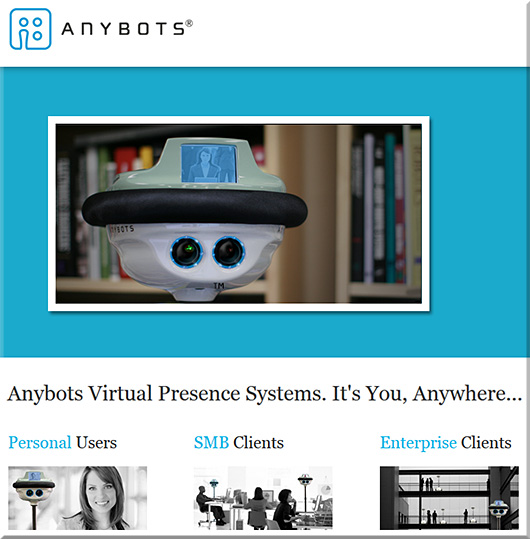 …and there are other telepresence robots out there as well.
Some other somewhat related tools/solutions include:
Vaddio RoboSHOT PTZ cameras
The RoboSHOT 12 is for small to medium sized conference rooms. This model features a 12X optical zoom and a 73° wide angle horizontal field of view, which provides support for applications including UCC applications, videoconferencing, distance learning, lecture capture, telepresence and more.
The RoboSHOT 30 camera performs well in medium to large rooms. It features a 30X optical zoom with a 2.3° tele end to 65° wide end horizontal field of view and provides support for applications including House of Worship productions, large auditorium A/V systems, large distance learning classrooms, live event theatres with IMAG systems, large lecture theatres with lecture capture and more.
6 top iPad collaboration apps to bring remote teams closer together — from ipad.appstorm.net by Nick Mead