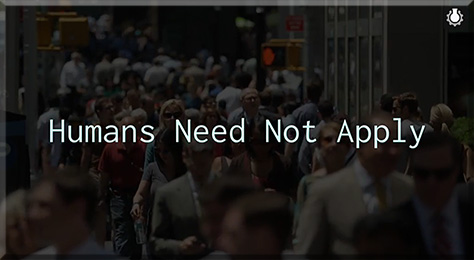 With thanks to George Veletsianos and @reddit,
& Audrey Watters for posting this item on Twitter
From DSC:
I don't know much about this video in terms of who created it or what their purpose was in developing it.  Though it paints an overly bleak picture IMHO, at least in some ways, I post it here because I think it outlines some solid topics to think about and to plan for — NOW!  Not later.
Automation, algorithms, robotics, and more are with us today, but will be even more prevalent tomorrow.  It doesn't matter what the color is of the collar that we're currently wearing (white, blue, other), more of our jobs are being replaced by such things.   As such, we need to think about what the ramifications are concerning these trends. Societies throughout the globe are most definitely  in a game-changing environment.
Along these lines, how do such trends affect what is taught? How it's taught? In K-12? In higher ed? In the corporate world?
How do we stay relevant/employed?
How do we reinvent ourselves and to what?
Are our vocations affected by this? How so?

Also see:
our new robo-reader overlords — from text-patterns.thenewatlantis.com by Alan Jacobs
Teaching Machines: The Drive to Automate Education — from teachingmachin.es by Audrey Watters
AI, Robotics, and the Future of Jobs — from pewinternet.org by Aaron Smith and Janna Anderson
Excerpt:
The vast majority of respondents to the 2014 Future of the Internet canvassing anticipate that robotics and artificial intelligence will permeate wide segments of daily life by 2025, with huge implications for a range of industries such as health care, transport and logistics, customer service, and home maintenance. But even as they are largely consistent in their predictions for the evolution of technology itself, they are deeply divided on how advances in AI and robotics will impact the economic and employment picture over the next decade.