On 05/09/2017, in 21st century, 24x7x365 access, A/V -- audio/visual, algorithms, Amazon, Artificial Intelligence / Machine Learning / Deep Learning, bots, change, cloud-based computing / apps / other cloud-related, cognitive computing, communications, cost of getting a degree, credentialing, Daniel S. Christian, digital audio, digital learning, digital storytelling, digital video, disruption, distance education, education, education technology, emerging technologies, experimentation, future, future of higher education, game-changing environment, global / globalization, heutagogy, higher education, human-computer interaction (HCI), ideas, innovation, intelligent systems, intelligent tutoring, learner profiles, learning, Learning Agents, learning ecosystem, learning from the living [class] room, learning hubs, learning spaces, Microlearning, Mobile learning, MOOCs -- Massive Open Online Courses, more choice more control, multimedia, music, Natural Language Processing (NLP), new business models, online learning, online media, online tutoring, participation, personalized/customized learning, platforms, smart classrooms, Smart/Connected TV, streams of content, Technologies for your home, telepresence, television, tools, trends, user experience, UX, vendors, virtual tutoring, voice recognition / voice enabled interfaces, Walmart of Education --> New Amazon.com of Higher Education, web-based collaboration, by Daniel Christian
Amazon introduces Echo Show
The description reads:
Echo Show brings you everything you love about Alexa, and now she can show you things. Watch video flash briefings and YouTube, see music lyrics, security cameras, photos, weather forecasts, to-do and shopping lists, and more. All hands-free—just ask.

Introducing a new way to be together. Make hands-free video calls to friends and family who have an Echo Show or the Alexa App, and make voice calls to anyone who has an Echo or Echo Dot.

See lyrics on-screen with Amazon Music. Just ask to play a song, artist or genre, and stream over Wi-Fi. Also, stream music on Pandora, Spotify, TuneIn, iHeartRadio, and more.

Powerful, room-filling speakers with Dolby processing for crisp vocals and extended bass response

Ask Alexa to show you the front door or monitor the baby's room with compatible cameras from Ring and Arlo. Turn on lights, control thermostats and more with WeMo, Philips Hue, ecobee, and other compatible smart home devices.

With eight microphones, beam-forming technology, and noise cancellation, Echo Show hears you from any direction—even while music is playing

Always getting smarter and adding new features, plus thousands of skills like Uber, Jeopardy!, Allrecipes, CNN, and more
---
---
From DSC:
Now we're seeing a major competition between the heavy-hitters to own one's living room, kitchen, and more. Voice controlled artificial intelligence. But now, add the ability to show videos, text, graphics, and more. Play music. Control the lights and the thermostat. Communicate with others via hands-free video calls.

Hmmm….very interesting times indeed.
Developers and corporates released 4,000 new skills for the voice assistant in just the last quarter. (source)
…with the company adding about 100 skills per day. (source)
---
---
Addendum on 5/10/17:
---
---
On 05/09/2017, in 24x7x365 access, A/V -- audio/visual, algorithms, Amazon, Artificial Intelligence / Machine Learning / Deep Learning, change, digital learning, emerging technologies, Europe, human-computer interaction (HCI), IBM, ideas, Microsoft, Natural Language Processing (NLP), vendors, voice recognition / voice enabled interfaces, by Daniel Christian
Microsoft Cortana-Powered Speaker Challenges Amazon's Echo With Skype Calls — from foxbusiness.com by y Jay Greene
Excerpt:
Microsoft Corp. is hoping to challenge Amazon.com Inc.'s Echo smart speaker for a spot on the kitchen counter with a device from Samsung Electronics Co. that can make phone calls. The Invoke, which will debut this fall, comes more two years after the release of the Echo, which has sold more 11 million units through late last year, according to estimates by Morgan Stanley. It also will compete with Alphabet Inc.'s Google Home, which was released last fall. The voice-controlled Invoke, made by Samsung's Harman Kardon unit, will use Microsoft's Cortana digital assistant to take commands.
Microsoft Screams 'Me Too' With Cortana-Powered Rival to Amazon Echo and Google Home — from gizmodo.com by Alex Cranz
Excerpt:
With Microsoft's Build developer conference just two days away, the company has revealed one of the most anticipated announcements from the event: A new Cortana-powered speaker made by German audio giant Harman Kardon.
Now, it's fair to see this speaker for what it is: An answer to the Google Home and Amazon Echo. Both assistant-powered speakers are already in homes across our great nation, listening to your noises, noting your habits, and in general invading your lives under the guise of smart home helpfulness. The new Microsoft speaker, dubbed "Invoke," one will presumably do the good stuff, let giving you updates on the weather and letting you turn on some soothing jazz for your dog with just a spoken command. Microsoft is also hoping that partnering with Harmon Kardon means its speaker can avoid one of the bigger problems with these devices—their tendency to sound cheap and tinny.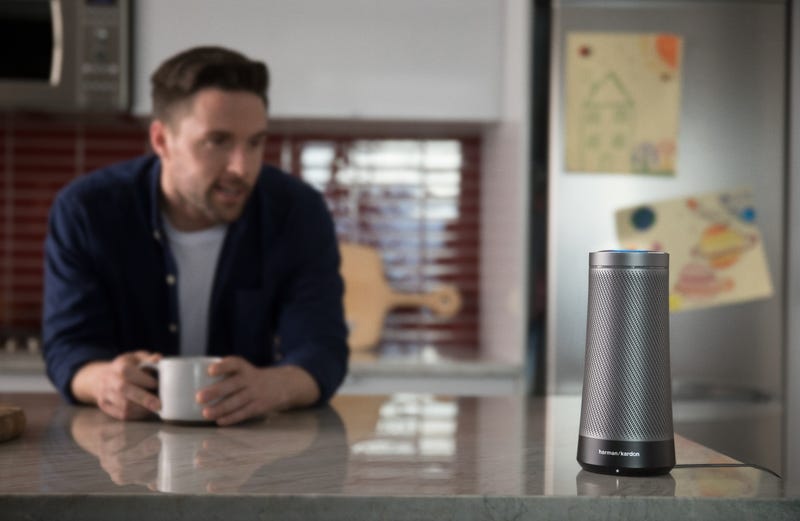 Harman Kardon's Invoke speaker is a Cortana-powered take on an Amazon Echo — from theverge.com by Chaim Gartenberg
Excerpt:
As teased earlier, the Invoke speaker will offer 360-degree speakers, Skype calling, and smart home control all through voice commands. Design-wise, the Invoke strongly resembles Amazon's Echo that its meant to compete with: both offer a similar cylindrical aluminum shape, light ring, and a seven-microphone array. That said, Harmon Kardon seems to be taking the "speaker" portion of its functionality more seriously than Amazon does, with the Invoke offering three woofers and three tweeters (compared to the Echo, which offers just a single of each driver). Microsoft is also highlighting the Invoke's ability to make and receive Skype calls to other Skype devices as well as cellphones and landlines, which is an interesting addition to a home assistant.
From DSC:
Here we see yet another example of the increasing use of voice as a means of communicating with our computing-related devices. AI-based applications continue to develop.
On 05/06/2017, in 21st century, algorithms, Amazon, Artificial Intelligence / Machine Learning / Deep Learning, assistive technologies, digital audio, emerging technologies, future, human-computer interaction (HCI), ideas, legislatures / government / legal, society, the downsides of technology, tools, trends, user experience, UX, vendors, voice recognition / voice enabled interfaces, by Daniel Christian
---
From DSC:
This type of technology could be good, or it could be bad…or, like many technologies, it could be both — depends upon how it's used. The resources below mention some positive applications, but also some troubling applications.
---
Lyrebird claims it can recreate any voice using just one minute of sample audio — from theverge.com by James Vincent
The results aren't 100 percent convincing, but it's a sign of things to come
Excerpt:
Artificial intelligence is making human speech as malleable and replicable as pixels. Today, a Canadian AI startup named Lyrebird unveiled its first product: a set of algorithms the company claims can clone anyone's voice by listening to just a single minute of sample audio.
Also see:
Imitating people's speech patterns precisely could bring trouble — from economist.com by
You took the words right out of my mouth
Excerpt:
UTTER 160 or so French or English phrases into a phone app developed by CandyVoice, a new Parisian company, and the app's software will reassemble tiny slices of those sounds to enunciate, in a plausible simulacrum of your own dulcet tones, whatever typed words it is subsequently fed. In effect, the app has cloned your voice. The result still sounds a little synthetic but CandyVoice's boss, Jean-Luc Crébouw, reckons advances in the firm's algorithms will render it increasingly natural. Similar software for English and four widely spoken Indian languages, developed under the name of Festvox, by Carnegie Mellon University's Language Technologies Institute, is also available. And Baidu, a Chinese internet giant, says it has software that needs only 50 sentences to simulate a person's voice.
Until recently, voice cloning—or voice banking, as it was then known—was a bespoke industry which served those at risk of losing the power of speech to cancer or surgery.
…
More troubling, any voice—including that of a stranger—can be cloned if decent recordings are available on YouTube or elsewhere. Researchers at the University of Alabama, Birmingham, led by Nitesh Saxena, were able to use Festvox to clone voices based on only five minutes of speech retrieved online. When tested against voice-biometrics software like that used by many banks to block unauthorised access to accounts, more than 80% of the fake voices tricked the computer.
Per Candyvoice.com:
Expert in digital voice processing, CandyVoice offers software to facilitate and improve vocal communication between people and communicating objects. With applications in:
Health
Customize your devices of augmentative and alternative vocal communication by integrating in them your users' personal vocal model
Robots & Communicating objects
Improve communication with robots through voice conversion, customized TTS, and noise filtering
Video games
Enhance the gaming experience by integrating vocal conversion of character's voice in real time, and the TTS customizing
Also related:
From DSC:
Given this type of technology, what's to keep someone from cloning a voice, putting together whatever you wanted that person to say, and then making it appear that Alexa recorded that other person's voice?
On 05/06/2017, in 21st century, Artificial Intelligence / Machine Learning / Deep Learning, cognitive computing, collaboration, digital learning, education technology, educational games / serious games, emerging technologies, engagement / engaging students, experimentation, health, ideas, innovation, learning, learning ecosystem, Mixed reality, online learning, personalized/customized learning, platforms, robotics, telepresence, tools, vendors, videoconferencing, virtual reality / worlds / learning, by Daniel Christian
From DSC:
I appreciate the innovative work of Dr. Susan Aldridge and Marci Powell; check the Virtually Inspired site out for some examples of what I'm talking about.