A New Initiative to Tackle Education's Big Problems — from the74millioin.org by Andrew J. Rotherham
Rotherham: For all the rhetoric around 'reimagining' and 'reinventing' schooling, there's precious little to show for it. There's another way
Excerpt:
Instead, experts operate in silos to find solutions, reform and pandemic fatigue abound, and dysfunctional reactionary politics define various debates.
…
Beta by Bellwether, [which launched on 8/31/22], is a new initiative bringing viewpoint- and background-diverse experts together to tackle big problems and develop blueprints, strategies and tools that can help communities address structural educational problems. We're building on our 12 years of work at Bellwether bridging policy and practice with a perspective that should be mundane but in this climate seems radical: the belief that the best ideas often lie between different perspectives and are strengthened through serious debate. No faction owns solutions, good ideas or virtue.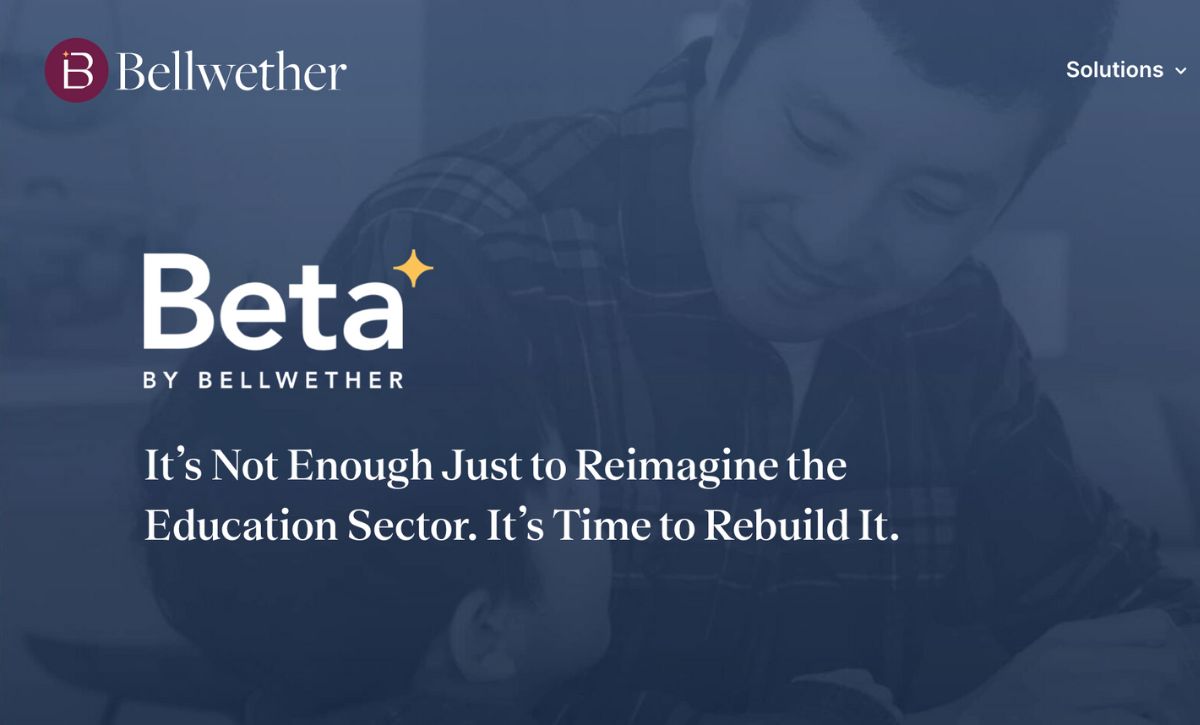 From DSC:
This is something to keep on your K-12 learning ecosystems radar.
---
Also see:
National Microschooling Center launches, proving 'modern one-room schoolhouse' is no flash-in-the-pandemic phenomenon — from reimaginedonline.org by Tom Jackson
Excerpt:
Writing for the Manhattan Institute, researcher Michael McShane lays out the framework and the appeal of microschools:
Neither homeschooling nor traditional schooling, [microschools] exist in a hard-to-classify space between formal and informal learning environments. They rose in popularity during the pandemic as families sought alternative educational options that could meet social-distancing recommendations.
But what they offer in terms of personalization, community building, schedules, calendars, and the delivery of instruction will have appeal long after Covid recedes.
Long-time education choice advocate Don Soifer concurs.
"For whatever reason, families are just rethinking the public education system," he says. "The research is telling us now that microschooling serves 2-1/2 to 3-1/2 million learners as their primary form of education."
---
Also see:
What are the components of education ecosystems when you lift the hood and take them apart? And how can they be most smartly reorganized for better future models? Thanks to @bellwetherorg @JulietSquire and team for this thought provoking undertaking. pic.twitter.com/PGCbHzVkrZ

— National Microschooling Center (@microschooling) September 1, 2022
---
Learning Pods Are Here, Are You In? — from schoolchoiceweek.com by National School Choice Week Team
Excerpt:
If you've stumbled into an education conversation or joined a parent discussion group recently, you've surely heard of pods or micro-schools. As families grapple with a changing education environment, some hope to find the flexibility, safety, and community they desire in small, local learning arrangements called learning pods. Whether you have your heart set on joining a pod or just want to better understand education choices for your child, we've broken down all types of pandemic pods here.