What technology trends will—and should—lead business agendas in 2022? — from mckinsey.com
Excerpt:
Metaverse. Web3. Crypto. 5G.
These are just a few of the technologies grabbing headlines at the start of 2022. But what technology trends truly sit atop business agendas this year? Which might be under executives' radars but should be surfaced? And what should business leaders keep in mind as they consider these trends?
We asked some members of the McKinsey Technology Council, a group of global experts convened to assess, track, and debate real emerging trends in business and technology, for their perspectives on these questions. Specifically, we asked the following:
What technology trend do you predict will headline business agendas for the remainder of 2022 and why?
What technology trend do you think is under businesses' radars but merits more of executives' attention?
What's one piece of advice you would give to business leaders as they consider incorporating new technologies into their business?
Also relevant/see:
The top trends in tech — from mckinsey.com
Which technologies have the most momentum in an accelerating world? We identified the trends that matter most.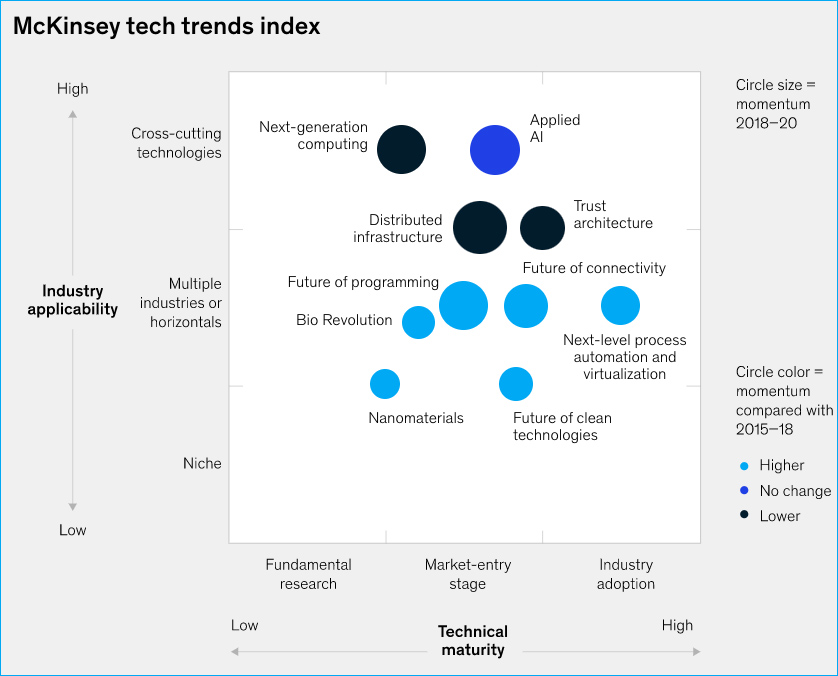 Marketing in the metaverse: An opportunity for innovation and experimentation — from mckinsey.com
Although widespread adoption of the metaverse may take some time, leading brands are already rewriting the rules of marketing.
Marketers would be remiss if they didn't start exploring what the metaverse can offer. Now is the right time to adopt a test-and-learn mindset, to be open to experiments, and to move on quickly from failure and capitalize on success.
From DSC:
And not just marketers. How about teachers, professors, trainers, and instructional designers?
#Metaverse #learningfromthelivingclassroom #learningecosystems #learning #training #education #K12 #highereducation #vocations #careers #corporatetraining #learninganddevelopment