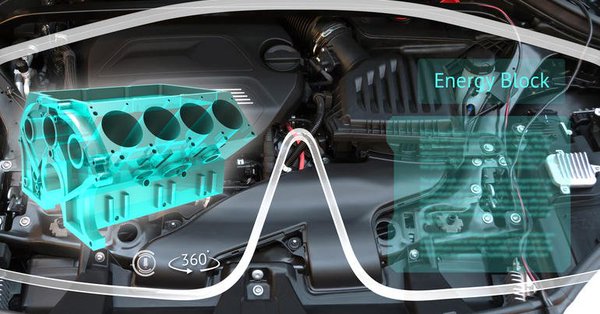 Augmented and virtual reality mean business: Everything you need to know — from zdnet by Greg Nichols
An executive guide to the technology and market drivers behind the hype in AR, VR, and MR.
Excerpt:
Overhyped by some, drastically underestimated by others, few emerging technologies have generated the digital ink like virtual reality (VR), augmented reality (AR), and mixed reality (MR).  Still lumbering through the novelty phase and roller coaster-like hype cycles, the technologies are only just beginning to show signs of real world usefulness with a new generation of hardware and software applications aimed at the enterprise and at end users like you. On the line is what could grow to be a $108 billion AR/VR industry as soon as 2021. Here's what you need to know.
The reason is that VR environments by nature demand a user's full attention, which make the technology poorly suited to real-life social interaction outside a digital world. AR, on the other hand, has the potential to act as an on-call co-pilot to everyday life, seamlessly integrating into daily real-world interactions. This will become increasingly true with the development of the AR Cloud.

The AR Cloud
Described by some as the world's digital twin, the AR Cloud is essentially a digital copy of the real world that can be accessed by any user at any time.

For example, it won't be long before whatever device I have on me at a given time (a smartphone or wearable, for example) will be equipped to tell me all I need to know about a building just by training a camera at it (GPS is operating as a poor-man's AR Cloud at the moment).

What the internet is for textual information, the AR Cloud will be for the visible world. Whether it will be open source or controlled by a company like Google is a hotly contested issue.
Augmented reality will have a bigger impact on the market and our daily lives than virtual reality — and by a long shot. That's the consensus of just about every informed commentator on the subject.
Mixed reality will transform learning (and Magic Leap joins act one) — from edsurge.com by Maya Georgieva
Excerpt:
Despite all the hype in recent years about the potential for virtual reality in education, an emerging technology known as mixed reality has far greater promise in and beyond the classroom.
Unlike experiences in virtual reality, mixed reality interacts with the real world that surrounds us. Digital objects become part of the real world. They're not just digital overlays, but interact with us and the surrounding environment.
If all that sounds like science fiction, a much-hyped device promises some of those features later this year. The device is by a company called Magic Leap, and it uses a pair of goggles to project what the company calls a "lightfield" in front of the user's face to make it look like digital elements are part of the real world. The expectation is that Magic Leap will bring digital objects in a much more vivid, dynamic and fluid way compared to other mixed-reality devices such as Microsoft's Hololens.
Now think about all the other things you wished you had learned this way and imagine a dynamic digital display that transforms your environment and even your living room or classroom into an immersive learning lab. It is learning within a highly dynamic and visual context infused with spatial audio cues reacting to your gaze, gestures, gait, voice and even your heartbeat, all referenced with your geo-location in the world. Unlike what happens with VR, where our brain is tricked into believing the world and the objects in it are real, MR recognizes and builds a map of your actual environment.
Also see:
virtualiteach.com
Exploring The Potential for the Vive Focus in Education
Digital Twins Doing Real World Work — from stambol.com
Excerpt:
On the big screen it's become commonplace to see a 3D rendering or holographic projection of an industrial floor plan or a mechanical schematic. Casual viewers might take for granted that the technology is science fiction and many years away from reality. But today we're going to outline where these sophisticated virtual replicas – Digital Twins – are found in the real world, here and now. Essentially, we're talking about a responsive simulated duplicate of a physical object or system. When we first wrote about Digital Twin technology, we mainly covered industrial applications and urban infrastructure like transit and sewers. However, the full scope of their presence is much broader, so now we're going to break it up into categories.
Digital twin refers to a digital replica of physical assets (physical twin), processes and systems that can be used for various purposes.[1] The digital representation provides both the elements and the dynamics of how an Internet of Things device operates and lives throughout its life cycle.[2]
Digital twins integrate artificial intelligence, machine learning and software analytics with data to create living digital simulation models that update and change as their physical counterparts change. A digital twin continuously learns and updates itself from multiple sources to represent its near real-time status, working condition or position. This learning system, learns from itself, using sensor data that conveys various aspects of its operating condition; from human experts, such as engineers with deep and relevant industry domain knowledge; from other similar machines; from other similar fleets of machines; and from the larger systems and environment in which it may be a part of. A digital twin also integrates historical data from past machine usage to factor into its digital model.
In various industrial sectors, twins are being used to optimize the operation and maintenance of physical assets, systems and manufacturing processes.[3] They are a formative technology for the Industrial Internet of Things, where physical objects can live and interact with other machines and people virtually.[4]
Disney to debut its first VR short next month — from techcrunch.com by Sarah Wells
Excerpt:
Walt Disney Animation Studio is set to debut its first VR short film, Cycles, this August in Vancouver, the Association for Computing Machinery announced today. The plan is for it to be a headliner at the ACM's computer graphics conference (SIGGRAPH), joining other forms of VR, AR and MR entertainment in the conference's designated Immersive Pavilion.
This film is a first for both Disney and its director, Jeff Gipson, who joined the animation team in 2013 to work as a lighting artist on films like Frozen, Zootopia and Moana. The objective of this film, Gipson said in the statement released by ACM, is to inspire a deep emotional connection with the story.
"We hope more and more people begin to see the emotional weight of VR films, and with Cycles in particular, we hope they will feel the emotions we aimed to convey with our story," said Gipson.