Where You'll Find Virtual Reality Technology in 2018 — from avisystems.com by Alec Kasper-Olson
Excerpt:
The VR / AR / MR Breakdown
This year will see growth in a variety of virtual technologies and uses. There are differences and similarities between virtual, augmented, and mixed reality technologies. The technology is constantly evolving and even the terminology around it changes quickly, so you may hear variations on these terms.
Augmented reality is what was behind the Pokémon Go craze. Players could see game characters on their devices superimposed over images of their physical surroundings. Virtual features seemed to exist in the real world.
Mixed reality combines virtual features and real-life objects. So, in this way it includes AR but it also includes environments where real features seem to exist in a virtual world.
The folks over at Recode explain mixed reality this way:
In theory, mixed reality lets the user see the real world (like AR) while also seeing believable, virtual objects (like VR). And then it anchors those virtual objects to a point in real space, making it possible to treat them as "real," at least from the perspective of the person who can see the MR experience.
And, virtual reality uses immersive technology to seemingly place a user into a simulated lifelike environment.
…
Where You'll Find These New Realities
Education and research fields are at the forefront of VR and AR technologies, where an increasing number of students have access to tools. But higher education isn't the only place you see this trend. The number of VR companies grew 250 percent between 2012 and 2017. Even the latest iPhones include augmented reality capabilities. Aside from the classroom and your pocket, here are some others places you're likely to see VR and AR pop up in 2018.
Top AR apps that make learning fun — from bmsinnolabs.wordpress.com
Excerpt:
Here is a list of a few amazing Augmented Reality mobile apps for children:
Jigspace
Elements 4D
Arloon Plants
Math alive
PlanetAR Animals
FETCH! Lunch Rush
Quiver
Zoo Burst
PlanetAR Alphabets & Numbers
…
Here are few of the VR input devices include:
Controller Wands
Joysticks
Force Balls/Tracking Balls
Data Gloves
On-Device Control Buttons
Motion Platforms (Virtuix Omni)
Trackpads
Treadmills
Motion Trackers/Bodysuits
HTC VIVE and World Economic Forum Partner For The Future Of The "VR/AR For Impact" Initiative — from blog.vive.com by Matthew Gepp
Excerpt:
VR/AR for Impact experiences shown this week at WEF 2018 include:
Everything You Need To Know About Virtual Reality Technology — from yeppar.com

Excerpt:
Types of Virtual Reality Technology
We can segregate the type of Virtual Reality Technology according to their user experience
Non-Immersive
Non-immersive simulations are the least immersion implementation of Virtual Reality Technology.
In this kind of simulation, only a subset of the user's senses is replicated, allowing for marginal awareness of the reality outside the VR simulation. A user enters into 3D virtual environments through a portal or window by utilizing standard HD monitors typically found on conventional desktop workstations.
Semi Immersive
In this simulation, users experience a more rich immersion, where a user partly, not fully involved in a virtual environment. Semi immersive simulations are based on high-performance graphical computing, which is often coupled with large screen projector systems or multiple TV projections to properly simulate the user's visuals.
Fully immersive
Offers the full immersive experience to the user of Virtual Reality Technology, in this phase of VR head-mounted displays and motion sensing devices are used to simulate all of the user senses. In this situation, a user can experience the realistic virtual environment, where a user can experience a wide view field, high resolutions, increased refresh rates and a high quality of visualization through HMD.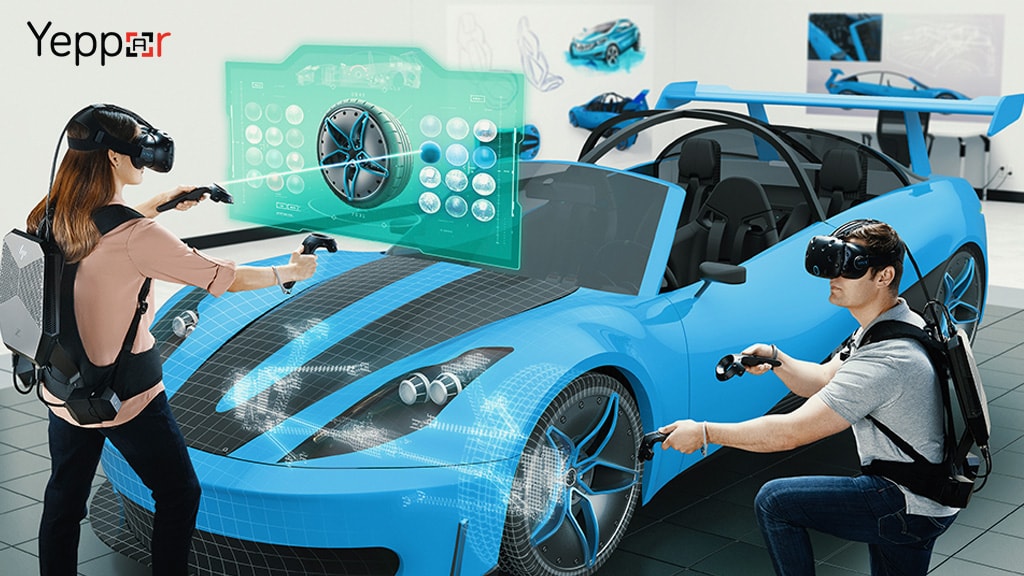 This Is What A Mixed Reality Hard Hat Looks Like — from vrscout.com by  Alice Bonasio
A Microsoft-endorsed hard hat solution lets construction workers use holograms on site.
Excerpt:
These workers already routinely use technology such as tablets to access plans and data on site, but going from 2D to 3D at scale brings that to a whole new level. "Superimposing the digital model on the physical environment provides a clear understanding of the relations between the 3D design model and the actual work on a jobsite," explained Olivier Pellegrin, BIM manager, GA Smart Building.
The application they are using is called Trimble Connect. It turns data into 3D holograms, which are then mapped out to scale onto the real-world environment. This gives workers an instant sense of where and how various elements will fit and exposes mistakes early on in the process.
Also see:
Trimble Connect for HoloLens is a mixed reality solution that improves building coordination by combining models from multiple stakeholders such as structural, mechanical and electrical trade partners. The solution provides for precise alignment of holographic data on a 1:1 scale on the job site, to review models in the context of the physical environment. Predefined views from Trimble Connect further simplify in-field use with quick and easy access to immersive visualizations of 3D data. Users can leverage mixed reality for training purposes and to compare plans against work completed. Advanced visualization further enables users to view assigned tasks and capture data with onsite measurement tools. Trimble Connect for HoloLens is available now through the Microsoft Windows App Store. A free trial option is available enabling integration with HoloLens. Paid subscriptions support premium functionality allowing for precise on-site alignment and collaboration. Trimble's Hard Hat Solution for Microsoft HoloLens extends the benefits of HoloLens mixed reality into areas where increased safety requirements are mandated, such as construction sites, offshore facilities, and mining projects. The solution, which is ANSI-approved, integrates the HoloLens holographic computer with an industry-standard hard hat. Trimble's Hard Hat Solution for HoloLens is expected to be available in the first quarter of 2018. To learn more, visit mixedreality.trimble.com.
From DSC:
Combining voice recognition / Natural Language Processing (NLP) with Mixed Reality should provide some excellent, powerful user experiences. Doing so could also provide some real-time understanding as well as highlight potential issues in current designs. It will be interesting to watch this space develop. If there were an issue, wouldn't it be great to remotely ask someone to update the design and then see the updated design in real-time? (Or might there be a way to make edits via one's voice and/or with gestures?)
I could see where these types of technologies could come in handy when designing / enhancing learning spaces.

Web-Powered Augmented Reality: a Hands-On Tutorial — from medium.com by Uri Shaked
A Guided Journey Into the Magical Worlds of ARCore, A-Frame, 3D Programming, and More!
Excerpt:
There's been a lot of cool stuff happening lately around Augmented Reality (AR), and since I love exploring and having fun with new technologies, I thought I would see what I could do with AR and the Web?—?and it turns out I was able to do quite a lot!
Most AR demos are with static objects, like showing how you can display a cool model on a table, but AR really begins to shine when you start adding in animations!
With animated AR, your models come to life, and you can then start telling a story with them.
Art.com adds augmented reality art-viewing to its iOS app — from techcrunch.com by Lucas Matney
Excerpt:
If you're in the market for some art in your house or apartment, Art.com will now let you use AR to put digital artwork up on your wall.
The company's ArtView feature is one of the few augmented reality features that actually adds a lot to the app it's put in. With the ARKit-enabled tech, the artwork is accurately sized so you can get a perfect idea of how your next purchase could fit on your wall. The feature can be used for the two million pieces of art on the site and can be customized with different framing types.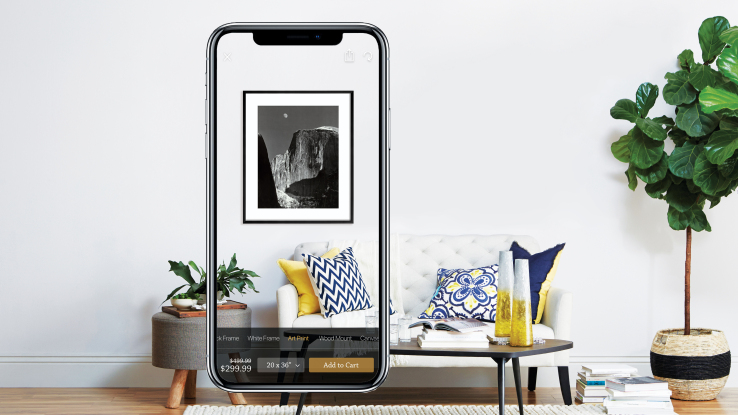 Experience on Demand is a must-read VR book — from venturebeat.com by Ian Hamilton
Excerpts:
Bailenson's newest book, Experience on Demand, builds on that earlier work while focusing more clearly — even bluntly — on what we do and don't know about how VR affects humans.
…
"The best way to use it responsibly is to be educated about what it is capable of, and to know how to use it — as a developer or a user — responsibly," Bailenson wrote in the book.
Among the questions raised:
"How educationally effective are field trips in VR? What are the design principles that should guide these types of experiences?"
How many individuals are not meeting their potential because they lack the access to good instruction and learning tools?"
"When we consider that the subjects were made uncomfortable by the idea of administering fake electric shocks, what can we expect people will feel when they are engaging all sorts of fantasy violence and mayhem in virtual reality?"
"What is the effect of replacing social contact with virtual social contact over long periods of time?"
"How do we walk the line and leverage what is amazing about VR, without falling prey to the bad parts?"