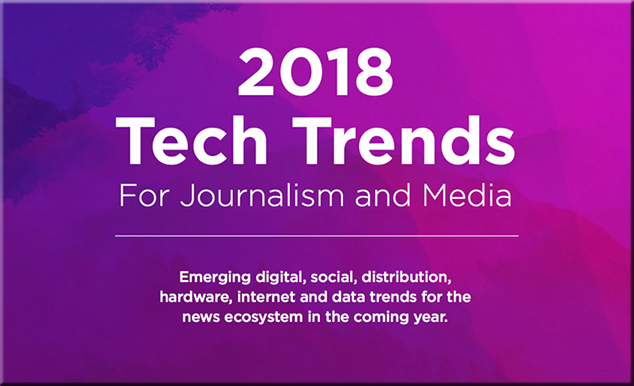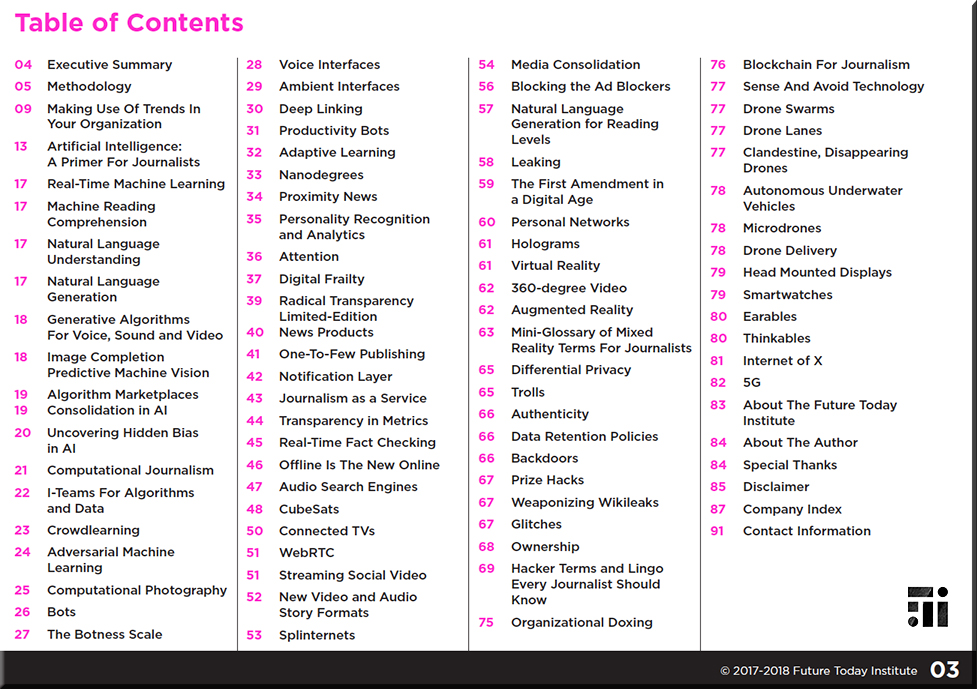 2018 Tech Trends For Journalism Report — from the Future Today Institute
Key Takeaways
2018 marks the beginning of the end of smartphones in the world's largest economies. What's coming next are conversational interfaces with zero-UIs. This will radically change the media landscape, and now is the best time to start thinking through future scenarios.
In 2018, a critical mass of emerging technologies will converge finding advanced uses beyond initial testing and applied research. That's a signal worth paying attention to. News organizations should devote attention to emerging trends in voice interfaces, the decentralization of content, mixed reality, new types of search, and hardware (such as CubeSats and smart cameras).
Journalists need to understand what artificial intelligence is, what it is not, and what it means for the future of news. AI research has advanced enough that it is now a core component of our work at FTI. You will see the AI ecosystem represented in many of the trends in this report, and it is vitally important that all decision-makers within news organizations familiarize themselves with the current and emerging AI landscapes. We have included an AI Primer For Journalists in our Trend Report this year to aid in that effort.
Decentralization emerged as a key theme for 2018. Among the companies and organizations FTI covers, we discovered a new emphasis on restricted peer-to-peer networks to detect harassment, share resources and connect with sources. There is also a push by some democratic governments around the world to divide internet access and to restrict certain content, effectively creating dozens of "splinternets."
Consolidation is also a key theme for 2018. News brands, broadcast spectrum, and artificial intelligence startups will continue to be merged with and acquired by relatively few corporations. Pending legislation and policy in the U.S., E.U. and in parts of Asia could further concentrate the power among a small cadre of information and technology organizations in the year ahead.
To understand the future of news, you must pay attention to the future of many industries and research areas in the coming year. When journalists think about the future, they should broaden the usual scope to consider developments from myriad other fields also participating in the knowledge economy. Technology begets technology. We are witnessing an explosion in slow motion.
Those in the news ecosystem should factor the trends in this report into their strategic thinking for the coming year, and adjust their planning, operations and business models accordingly.
---
---
2017 Tech Trends Annual Report — from the Future Today Institute; this is the first I've seen this solid report
Excerpts:
This year's report has 159 trends.
This is mostly due to the fact that 2016 was the year that many areas of science and technology finally started to converge. As a result we're seeing a sort of slow-motion explosion––we will undoubtedly look back on the last part of this decade as a pivotal moment in our history on this planet.
…
Our 2017 Trend Report reveals strategic opportunities and challenges for your organization in the coming year. The Future Today Institute's annual Trend Report prepares leaders and organizations for the year ahead, so that you are better positioned to see emerging technology and adjust your strategy accordingly. Use our report to identify near-future business disruption and competitive threats while simultaneously finding new collaborators and partners. Most importantly, use our report as a jumping off point for deeper strategic planning.
---
---
Also see:
Emerging eLearning Tools and Platforms Improve Results — from learningsolutionsmag.com
---
---
DevLearn Attendees Learn How to 'Think Like a Futurist' — from learningsolutionsmag.com
Excerpt:
How does all of this relate to eLearning? Again, Webb anticipated the question. Her response gave hope to some—and terrified others. She presented three possible future scenarios:
Everyone in the learning arena learns to recognize weak signals; they work with technologists to refine artificial intelligence to instill values. Future machines learn not only to identify correct and incorrect answers; they also learn right and wrong. Webb said that she gives this optimistic

scenario

a 25 percent chance of occurring.
Everyone present is inspired by her talk but they, and the rest of the learning world, do nothing. Artificial intelligence continues to develop as it has in the past, learning to identify correct answers but lacking values. Webb's prediction is that this pragmatic optimistic scenario has a 50 percent chance of occurring.
Learning and artificial intelligence continue to develop on separate tracks. Future artificial intelligence and machine learning projects incorporate real biases that affect what and how people learn and how knowledge is transferred. Webb said that she gives this catastrophic scenario a 25 percent chance of occurring.
In an attempt to end on a strong positive note, Webb said that "the future hasn't happened yet—we think" and encouraged attendees to take action. "To build the future of learning that you want, listen to weak signals now."
---
---