4 Ways Technology Is Changing Recruiting — from blog.hrtechweekly.com by Ji-A Min
Excerpt:
AI for recruiting
Industry statistics estimate 75 percent of resumes received for a role are screened out. This adds up to the hundreds of hours a recruiter wastes reading unqualified resumes per year. As one of recruiting's biggest bottlenecks, resume screening is in dire need of better tools to help recruiters manage their time more effectively. This is why AI for recruiting is the biggest topic in HR tech right now. AI and recruiting are a natural fit because AI requires a lot of data to learn and large companies often have millions of resumes in their ATS.
Recruiting software that uses artificial intelligence can automate the screening process by learning the experience, skills, and qualifications required for the job and then shortlisting, ranking, and grading new candidates who match the requirements (e.g., from A to D). This type of AI recruiting software can also be used to source candidates from external databases such as Indeed and CareerBuilder or find previous candidates in your existing ATS database by applying the same learning ability to match candidates to an open req. By automating the manual processes of resume screening and candidate matching, companies who use AI recruiting software have reduced their screening costs by 75%.
Comment from DSC:
This is exactly why I tell my students to be sure they have an account on LinkedIn — which is owned by Microsoft. A piece of Microsoft will likely traverse down the AI-based pathway. (I also encourage them to have other pieces of their digital/online-based footprint such as an account on Twitter as well as their own WordPress-based blog).  Data mining and the use of AI for hiring will only pick up steam from here on out. If you don't exist online, you had better have a lot of contacts and foots in the doors elsewhere.
Today more than ever, finding top talent will depend on a recruiter's ability to intelligently automate their workflow.
Google is shifting their focus from Search to artificial intelligence, CEO says — from zmescience.com by
Excerpt:
While delivering Google's first quarterly income report on Thursday, the company's CEO said that Google is transitioning — the search-engine giant will become an A.I.-first company.
"We continue to set the pace in machine learning and A.I. research," said Google CEO Sundar Pichai said in a call [embedded at the end of the article] to investors on Thursday to report the company's Q1 2017 earnings.

"We're transitioning to an A.I.-first company."
A revolutionary partnership: How artificial intelligence is pushing man and machine closer together — from pcw.com
Excerpt:
With more than $5 billion in 605 deals of VC investment over last 2 years, artificial intelligence (AI) is poised to have a transformative effect on consumer, enterprise, and government markets around the world. While there are certainly obstacles to overcome, consumers believe that AI has the potential to assist in medical breakthroughs, democratize costly services, elevate poor customer service, and even free up an overburdened workforce. We dug deeper into those perceptions through an online survey of consumers and business decision makers, and an expert salon with thought leaders in the field. This original research unpacks key ways AI may impact our world, delving into its implications for society, service, and management.
Also see: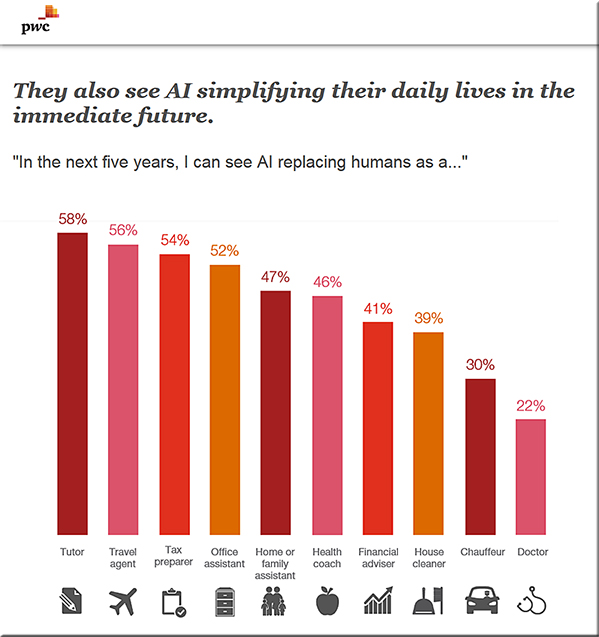 AI has the potential to become a great equalizer. More than half of consumers believe AI will provide educational help to disadvantaged schoolchildren. Over 40% also believe AI will expand access to financial, medical, legal, and transportation services to those with lower incomes.
Consumers also see the value in sharing their personal information for the greater good: 62% would share their data to help relieve traffic in their cities and 57% would do so to further medical breakthroughs.