The 2017 Top 10 IT Issues — a new report from Educause
It's all about student success.
Excerpt:
Colleges and universities are concentrating on student success to address concerns about the costs, value, and outcomes of higher education. Student success initiatives are making use of every available resource and opportunity and involving every relevant stakeholder. Institutional technology is all three: resource, opportunity, and stakeholder.
The 2017 issues list identifies the four focus areas for higher education information technology:
Develop the IT foundations
Develop the data foundations
Ensure effective leadership
Enable successful students
These issues and focus areas are not just about today. Higher education information technology is very clearly building foundations for student success to last into the future.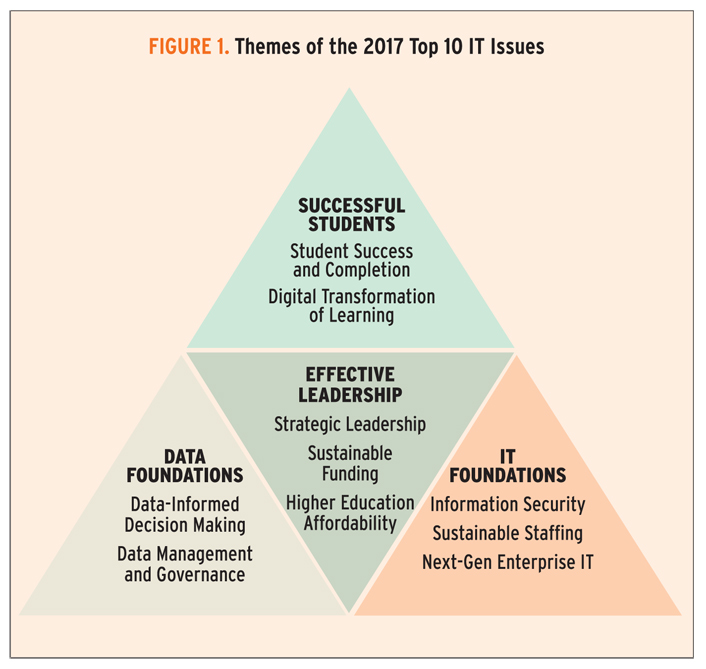 ---
Also see:
Educause Announces Top IT Issues, Trends and Tech Report for 2017 — from campustechnology.com by Dian Schaffhauser
Excerpt:
Expanding on the preview of its annual ranking of IT issues for higher education released last fall, Educause today announced its full report on the key issues, trends and technologies poised to impact higher ed in 2017. The prevailing themes across the board, according to the higher education technology association with a membership of 2,100 colleges, universities and other education organizations: information security, student success and data-informed decision-making.
The top 10 IT issues for 2017, reiterated in today's report:
Information security;
Student success and completion;
Data-informed decision-making;
Strategic leadership;
Sustainable funding;
Data management and governance;
Higher education affordability;
Sustainable staffing;
Next-generation enterprise IT; and
Digital transformation of learning.