Amazon is winning the race to the future — from bizjournals.com by
Excerpt:
This is the week when artificially intelligent assistants start getting serious.
On Tuesday, Google is expected to announce the final details for Home, its connected speaker with the new Google Assistant built inside.
But first Amazon, which surprised everyone last year by practically inventing the AI-in-a-can platform, will release a new version of the Echo Dot, a cheaper and smaller model of the full-sized Echo that promises to put the company's Alexa assistant in every room in your house.
The Echo Dot has all the capabilities of the original Echo, but at a much cheaper price, and with a compact form factor that's designed to be tucked away. Because of its size (it looks like a hockey puck from the future), its sound quality isn't as good as the Echo, but it can hook up to an external speaker through a standard audio cable or Bluetooth.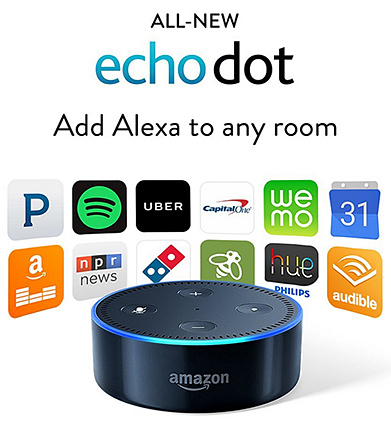 100 bot people to watch #BotWatch #1 — from chatbotsmagazine.com
Excerpt:
100 people to watch in the bot space, in no order.
I'll publish a new list once a month. This one is #1 October 2016.
…
This is my personal top 100 for people to watch in the bot space.
Should We Give Chatbots Their Own Personalities? — from re-work.com by Sophie Curtis
Excerpt:
Today, we have machines that assemble cars, make candy bars, defuse bombs, and a myriad of other things. They can dispense our drinks, facilitate our bank deposits, and find the movies we want to watch with a touch of the screen.
Automation allows all kinds of amazing things, but it is all done with virtually no personality. Building a chatbot with the ability to be conversational with emotion is crucial to getting people to gain trust in the technology. And now there are plenty of tools and resources available to rapidly create and launch chatbots with the personality customers want and businesses needs.
Jordi Torras is CEO and Founder of Inbenta, a company that specializes in NLP, semantic search and chatbots to improve customer experience. We spoke to him ahead of his presentation at the Virtual Assistant Summit in San Francisco, to learn about the recent explosion of chatbots and virtual assistants, and what we can expect to see in the future.
How I built and launched my first chatbot in hours — from chatbotsmagazine.com by Max Pelzner
From idea to MVB (Minimum Viable Bot), and launched in 24 hours!
Developing a Chatbot? Do Not Make These Mistakes! — from chatbotsmagazine.com Hira Saeed
This is what an A.I.-powered future looks like — from venturebeat.com by Grayson Brulte
Excerpt:
Today, we are just beginning to scratch the surface of what is possible with artificial intelligence (A.I.) and how individuals will interact with its various forms. Every single aspect of our society — from cars to houses to products to services — will be reimagined and redesigned to incorporate A.I.
A child born in the year 2030 will not comprehend why his or her parents once had to manually turn on the lights in the living room. In the future, the smart home will seamlessly know the needs, wants, and habits of the individuals who live in the home prior to them taking an action.
Before we arrive at this future, it is helpful to take a step back and reimagine how we design cars, houses, products, and services. We are just beginning to see glimpses of this future with the Amazon Echo and Google Home smart voice assistants.
Artificial intelligence created to fold laundry for you — from geek.com by Matthew Humphries
Excerpt:
So, Seven Dreamers Laboratories, in collaboration with Panasonic and Daiwa House Industry, have created just such a machine. However, folding laundry correctly turns out to be quite a complicated task, and so an artificial intelligence was required to make it a reliable process.
Laundry folding is actually a five stage process, including:
Grabbing
Spreading
Recognizing
Folding
Sorting/Storing
The grabbing and spreading seems pretty easy, but then the machine needs to understand what type of clothing it needs to fold. That recognizing stage requires both image recognition and AI. The image recognition classifies the type of clothing, then the AI figures out which processes to use in order to start folding.
2 days of global chatbot experts at Talkabot in 12 minutes — from chatbotsmagazine.com by Alec Lazarescu
Excerpt:
During a delightful "cold spell" in Austin at the end of September, a few hundred chatbot enthusiasts joined together for the first talkabot.ai conference.
As a participant both writing about and building chatbots, I'm excited to share a mix of valuable actionable insights and strategic vision directions picked up from speakers and attendees as well as behind the scenes discussions with the organizers from Howdy.
In a very congenial and collaborative atmosphere, a number of valuable recurring themes stood out from a variety of expert speakers ranging from chatbot builders to tool makers to luminaries from adjacent industries.
---
Addendum:
---
The Alexa Prize (emphasis DSC)
The way humans interact with machines is at an inflection point and conversational artificial intelligence (AI) is at the center of the transformation. Alexa, the voice service that powers Amazon Echo, enables customers to interact with the world around them in a more intuitive way using only their voice.
The Alexa Prize is an annual competition for university students dedicated to accelerating the field of conversational AI. The inaugural competition is focused on creating a socialbot, a new Alexa skill that converses coherently and engagingly with humans on popular topics and news events. Participating teams will advance several areas of conversational AI including knowledge acquisition, natural language understanding, natural language generation, context modeling, commonsense reasoning and dialog planning. Through the innovative work of students, Alexa customers will have novel, engaging conversations. And, the immediate feedback from Alexa customers will help students improve their algorithms much faster than previously possible.
…
Amazon will award the winning team $500,000. Additionally, a prize of $1 million will be awarded to the winning team's university if their socialbot achieves the grand challenge of conversing coherently and engagingly with humans on popular topics for 20 minutes.