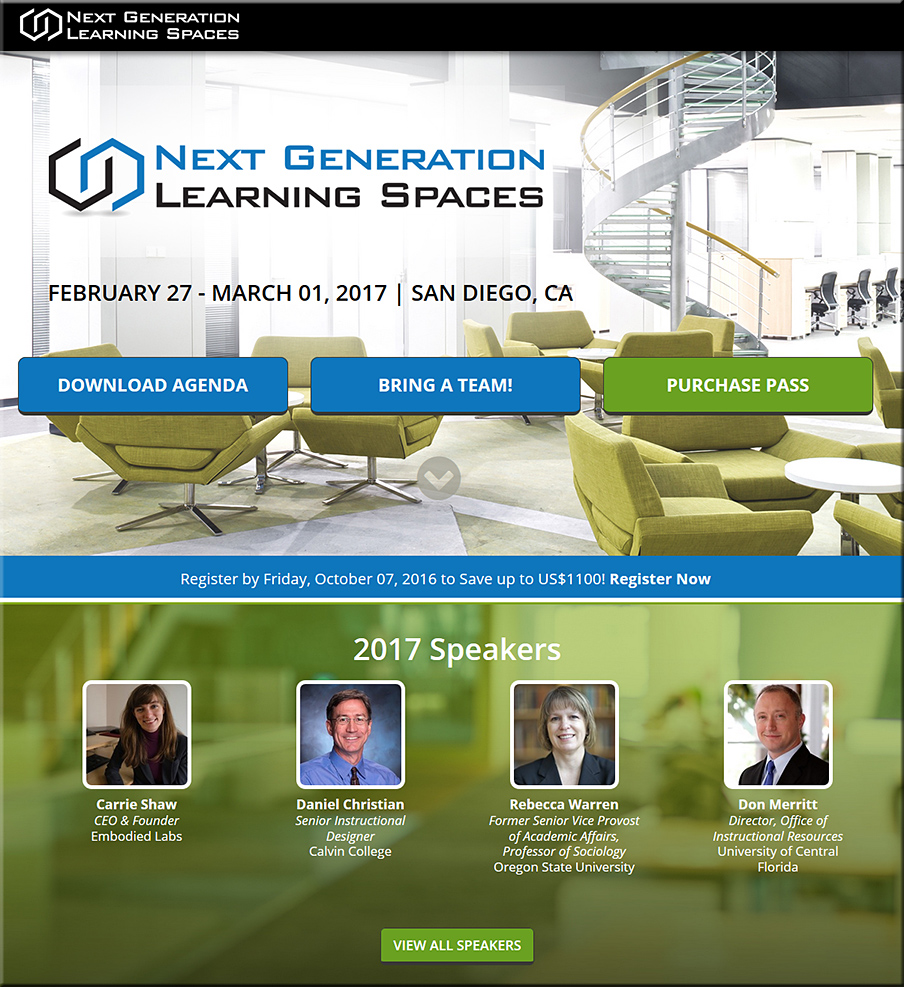 From DSC:
I have attended the Next Generation Learning Spaces Conference for the past two years. Both conferences were very solid and they made a significant impact on our campus, as they provided the knowledge, research, data, ideas, contacts, and the catalyst for us to move forward with building a Sandbox Classroom on campus. This new, collaborative space allows us to experiment with different pedagogies as well as technologies. As such, we've been able to experiment much more with active learning-based methods of teaching and learning. We're still in Phase I of this new space, and we're learning new things all of the time.

For the upcoming conference in February, I will be moderating a New Directions in Learning panel on the use of augmented reality (AR), virtual reality (VR), and mixed reality (MR). Time permitting, I hope that we can also address other promising, emerging technologies that are heading our way such as chatbots, personal assistants, artificial intelligence, the Internet of Things, tvOS, blockchain and more.
The goal of this quickly-moving, engaging session will be to provide a smorgasbord of ideas to generate creative, innovative, and big thinking. We need to think about how these topics, trends, and technologies relate to what our next generation learning environments might look like in the near future — and put these things on our radars if they aren't already there.

Key takeaways for the panel discussion:
Reflections regarding the affordances that new developments in Human Computer Interaction (HCI) — such as AR, VR, and MR — might offer for our learning and our learning spaces (or is our concept of what constitutes a learning space about to significantly expand?)

An update on the state of the approaching ed tech landscape

Creative, new thinking: What might our next generation learning environments look like in 5-10 years?
I'm looking forward to catching up with friends, meeting new people, and to the solid learning that I know will happen at this conference. I encourage you to check out the conference and register soon to take advantage of the early bird discounts.