Virtual reality: The hype, the problems and the promise — from bbc.com by Tim Maughan
It's the technology that is supposed to be 2016's big thing, but what iteration of VR will actually catch on, and what's just a fad? Tim Maughan takes an in-depth look.
Excerpt:
For Zec this is one of VR's most promising potentials – to be able to drop audiences into a situation and force them to react emotionally, in ways that traditional filmmaking or journalism might struggle to do. "We really cannot understand what the people [in Syria and other places] right now are going through, so I thought maybe if we put the viewer inside the shoes of the family, or near them, maybe they can feel more and understand more rather than just reading a headline in a newspaper."
The aim of Blackout is to challenge assumptions New Yorkers might have about the people around them, by allowing them to tap directly into their thoughts. "You're given the ability to pick into people's minds and their motives," says co-creator Alex Porter. "Through that process you start to realise the ways in which you were wrong about all the people around you, and start to find these kind of exciting stories that they have to tell."
From DSC:
Virtual Reality could have a significant impact in diversity training. (I don't like the word diversity too much; as in my experience, everybody in the Fortune 5oo companies where I worked belonged in the realm of diversity except for Christians, but I'll use it here anyway.)
The point is…when you can put yourself into someone else's shoes, it could have some positive impact in terms of better being able to relate to what that person is going through.
Star Trek in VR – Why can't we do this with VR in education? — from digitalbodies.net by Maya Georgieva
Excerpt:
What if there was a new way to start this journey? What if you walked into the room and boarded a starship instead? What would a school experience be like if we sent our students on a mission, joining a global team to learn and solve our world's most pressing problems? What if they met in Virtual Reality? For example, literally experiencing the streets of Paris if they were studying French culture or urban planning. Examining first hand the geology of volcanoes or building the next generation transportation? What would happen if they are given a problem they could not answer on their own, a problem that requires collaboration and teamwork with colleagues to find a solution?
Here is how VR and AI can empower the future of learning. The Star Trek: Bridge Crew VR Game gives us a glimpse of how we can engage with our students. Or, as Levar Burton (Geordi La Forge from Engineering) in the video trailer puts it:
There is something different being in a shared virtual environment . . . The team does not succeed unless everybody does their job well.
…
In the true spirit of Star Trek it is through cooperation rather than competition that we learn best. In VR, you can sit on any of the crew chairs and be the captain, engineer, or doctor and experience events from very different point of views. In Star Trek: Bridge Crew, you are flying the ship but have to work collaboratively with your team. You have to work with your crew to reach goals and accomplish the mission as this is virtual reality as a social experience. It demands that you be fully engaged.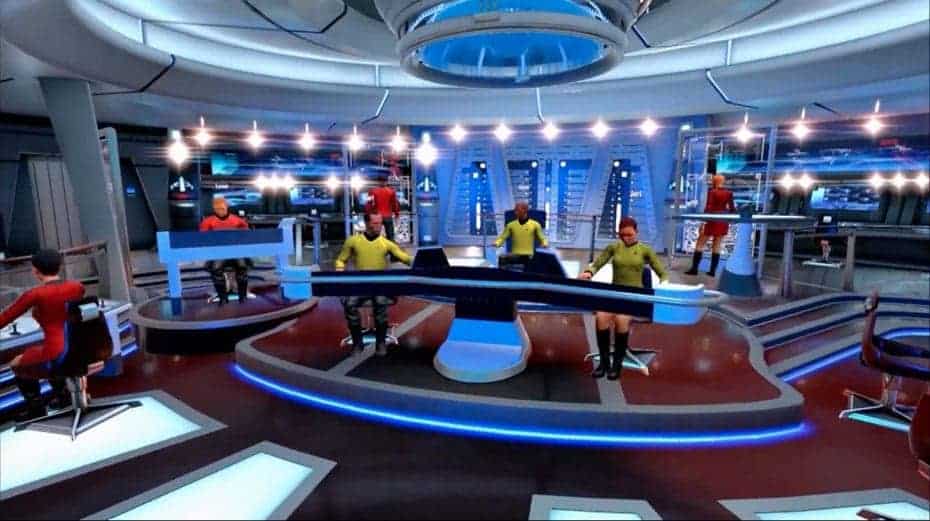 Not just for gamers: CSU launching Virtual Reality Initiative — from source.colostate.edu by Lauren Klamm
Excerpt:
Think "virtual reality," and it's probably video gaming that comes to mind. CSU is looking to expand the breadth and depth of this emerging technical field with a campus-wide Virtual Reality Initiative, launching this semester.
The initiative will give students and the science community hands-on experience with virtual reality, for research and educational applications.
Virtual reality (VR) is a way of experiencing virtual worlds or objects – the cockpit of a spaceship, an anatomy lesson, a walk through a historical building – through devices like computers, goggles or headsets designed to immerse someone in a simulated environment. VR touches fields ranging from design to art to engineering.
VR Learning: How Virtual Reality Will Democratize Learning — from iamvr.co
Excerpt:
In case you haven't heard, there is a lot of hype right now about virtual and augmented reality. Three months into 2016, investors have already spent 1.1 billion dollars to get a piece of the action.
Still, I am confident that virtual reality will revolutionize how we learn, and the reason is simple. Virtual reality is not just a technology, it's a medium. And I've seen how powerful that medium can be.
A Chinese surgeon has discovered a practical application for augmented reality in the medical field. Using the same technology by which a Pokemon character is layered onto a real-life setting, two surgical images can be combined into a single view, eliminating the need for surgeons to watch two separate screens simultaneously.
Catherine Chan Po-ling, a surgeon in Hong Kong and co-founder of MedEXO Robotics, says that the use of augmented reality technology in keyhole, or minimally invasive, surgery can solve one of the biggest problems for surgeons performing these procedures.
Currently, surgeons in keyhole procedures must create and view two images simultaneously. In Chan's example, when checking for cancerous cells in the liver, the surgeon operates a regular camera showing a view of the surface of the liver, and at the same time operates an ultrasound probe to check beneath the surface of the liver.
Stanford Journalism Program's Guide to Using Virtual Reality for Storytelling — from storybench.org by Geri Migielicz and Janine Zacharia
Excerpt:
Given the explosion of interest in virtual reality among media organizations, we sought in January to establish best practices and ideal scenarios for using the technology in storytelling through our inaugural immersive journalism class at Stanford University.
During the 10-week course, 12 undergraduate and graduate students evaluated a range of virtual reality experiences published by the New York Times, Wall Street Journal, ABC News and others. We compared commercially available virtual reality headsets (Google Cardboard, HTC Vive, Samsung Gear/VR and Oculus Rift) for ease and quality as well as virtual reality cameras — the (more expensive but expansive) GoPro and the (more affordable) Ricoh Theta S.
12 ways to use Google Cardboard in your class — from ditchthattextbook.com
Excerpt:
Virtual reality used to be the thing of science fiction books and movies. Now, it's inexpensive, works with the technology we carry in our pockets, and can transform us to real and imaginary places.
These 5 Incredible HoloLens Videos Will Make You A VR/AR Believer — from uploadvr.com
Upload And Make School Graduate Their First Class Of VR Developers — from uploadvr.com