balefirelabs.com — with thanks to Rene Grimes for this resource.
Per Rene:
I'd like to recommend you check out Balefire Labs, an app review service, because they have very solid objective metrics for determining the learning elements within content apps. We know not all edtech is actually educational (talking specifically about instructional apps). Content apps have their place, to be sure; but I have decided to only use adaptive, mastery based apps because these individualize instruction. Not all apps that use the word "adaptive" mean they adapt to learners levels of mastery. Check out their metrics and see what you think. http://www.balefirelabs.com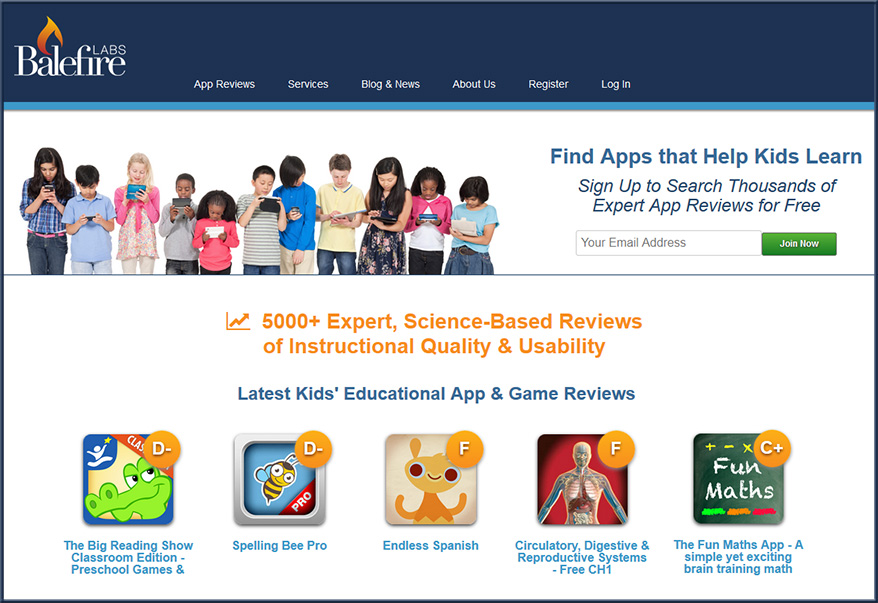 For example, see:
New Top-Rated Kids' Learning Apps & Games of March 2016
Every month we look for the best of the best learning apps and games for kids and every month we find some new and very cool apps to recommend. Here are this month's top eight apps and games we found for your kids…all of these top rated apps earned a letter grade of A or B, according to our research-based review criteria, putting them in the top 12% of the more than 5,000 apps we've reviewed. Enjoy!