---
---
First of all, a shout out to the originators of the flipped  classroom approach from back in 2009 (as I understand it and see it being practiced today):
Also see the following article from 2009: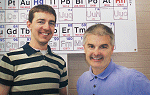 GOOD CHEMISTRY
Sams (left) and Bergmann
together practice a
student-centered pedagogy
---
---
Some resources re: the flipped classroom approach:
---
---
If you're interested in #flipclass at the university level, I recommend this volume, available for pre-order now: http://t.co/ODijffCSyq

— Robert Talbert (@RobertTalbert) May 11, 2015
Description:
Best Practices for Flipping the College Classroom provides a comprehensive overview and systematic assessment of the flipped classroom methodology in higher education. The book:
Reviews various pedagogical theories that inform flipped classroom practice and provides a brief history from its inception in K–12 to its implementation in higher education.
Offers well-developed and instructive case studies chronicling the implementation of flipped strategies across a broad spectrum of academic disciplines, physical environments, and student populations.
Provides insights and suggestions to instructors in higher education for the implementation of flipped strategies in their own courses by offering reflections on learning outcomes and student success in flipped classrooms compared with those employing more traditional models and by describing relevant technologies.
Discusses observations and analyses of student perceptions of flipping the classroom as well as student practices and behaviors particular to flipped classroom models.
Illuminates several research models and approaches for use and modification by teacher-scholars interested in building on this research on their own campuses.
The evidence presented on the flipped classroom methodology by its supporters and detractors at all levels has thus far been almost entirely anecdotal or otherwise unreliable. Best Practices for Flipping the College Classroomis the first book to provide faculty members nuanced qualitative and quantitative evidence that both supports and challenges the value of flipping the college classroom.
---
---
The Flipped Classroom FAQ — from cirtl.net by Derek Bruff
Excerpts:
The usual approach:
The flipped approach:

Okay, I'm in.  How can I learn more?  Some starting points: This blog post by the University of Colorado's Stephanie Chasteen, this resource guide from the University of Indiana at Bloomington, the K12-focused-but-still-helpful Flipped Learning Network, and the weekly #flipclass Twitter chat.
---
---
---
---
Image from "The Definition Of The Flipped Classroom" — from by teachthought.com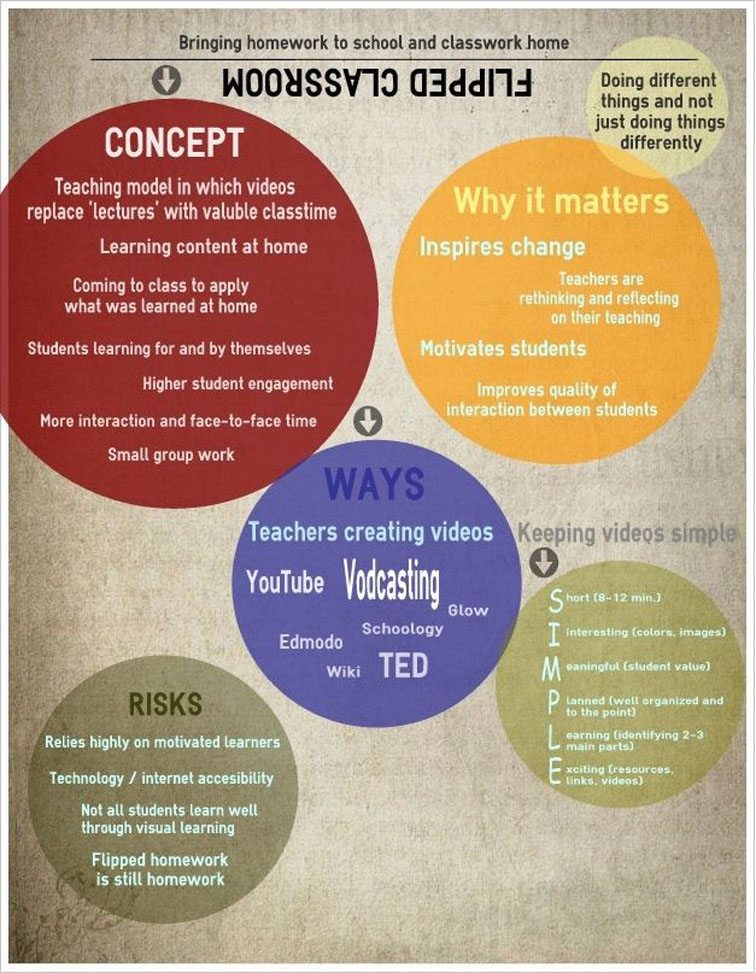 ---
---
Items re: the flipped classroom from educatorstechnology.com
Items re: the flipped classroom from teachthought.com
Items re: the flipped classroom from edudemic.com
---
---
I'd always thought that the flipped classroom was mostly for teachers who lectured. So how could classroom flipping be useful to me? I only really lectured twice a year. And, wasn't it about watching videos for homework? Not according to Cheryl, who talked about using the flipping strategy for instructions, assignments, procedures and review – in class.
The wheels in my head began turning as I remembered all those times I stood in front of my students trying to explain complicated instructions — again and again and again. I recalled the times where I modeled a skill for the students, had them practice, and then sent them home to do it on their own – and how challenging that often was for them without any ready means of support.
What in our course could be easily conveyed by video? What concepts did students often need to review at their own pace? What instructions would be more easily explained with a combination of audio and visual rather than (me upfront) whole-class discussion?
---
---
Also see:
---
---
Also see:
---
---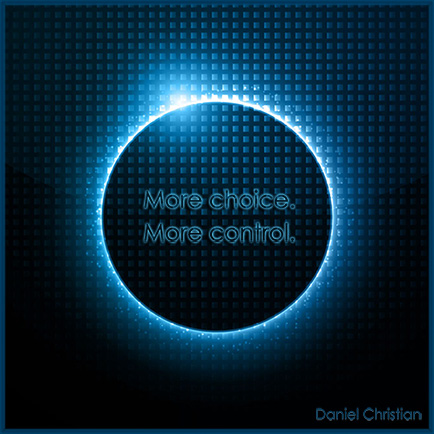 ---
---
Addendum on 5/13/15: