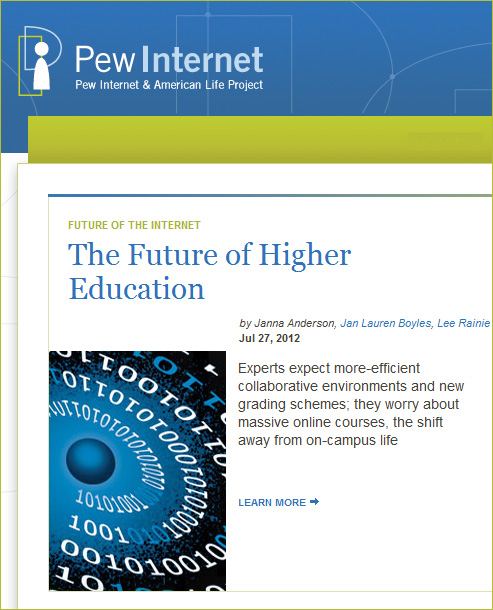 Also see:
Colleges and Universities Raise $30.30 Billion in 2011  — from Council for Aid to Education (CAE)
Excerpts:
Contributions to the Nation's Colleges and Universities at $30.30 Billion
Charitable contributions to colleges and universities in the United States increased 8.2 percent in 2011, reaching $30.30 billion, according to results of the annual Voluntary Support of Education (VSE) survey. The findings were released today by the Council for Aid to Education (CAE). Adjusted for inflation, giving increased 4.8 percent. Giving for capital purposes, such as endowments and buildings, increased 13.6 percent (10.1 percent, adjusted for inflation).
…
Charitable Gifts Concentrated at the Top
As is true of the nonprofit sector overall, most of the charitable dollars go to a small number of institutions. Twenty-five percent of the responding institutions raised 86.3 percent of the dollars reported on the VSE survey. The next 25 percent account for under 10 percent, and the next two quartiles of institutions together account for less than 5 percent of the total.
From DSC:
My encouragement to Development Offices/Departments:

In addition to thinking about facilities/the physical plant, also:


.



On 07/17/2012, in 21st century, 24x7x365 access, future of higher education, game-changing environment, new business models, online learning, United States, universities, web-based collaboration, by Daniel Christian
Excerpt:
As part of a seismic shift in online learning that is reshaping higher education, Coursera, a year-old company founded by two Stanford University computer scientists, will announce on Tuesday that a dozen major research universities are joining the venture. In the fall, Coursera will offer 100 or more free massive open online courses, or MOOCs, that are expected to draw millions of students and adult learners globally.
Also see:
From DSC:
Notice the equity investors here…players outside the normal/traditional higher ed landscape continue to enter. Control is an illusion. The conversation continues to move…
On 07/13/2012, in change, colleges, cost of getting a degree, Daniel S. Christian, education reform, higher education, leadership, teaching & learning, universities, by Daniel Christian
From DSC re: the item below — an example of the opposite of true leadership
(To see an example of TRUE leadership, see my immediately previous posting re: Christensen and Eyring.)
---
Give colleges more credit — Op-Ed at the LA Times by Barry Glassner and Morton Schapiro
Doomsayers are wrong. America's higher-education model isn't broken.
Barry Glassner is president, and a professor of sociology,
of Lewis & Clark College in Oregon.
Morton Schapiro is president, and a professor of economics,
of Northwestern University in Illinois.
---
From DSC:
I was going to title this posting "'America's higher-education model isn't broken.' Easy for you to say Morton and Barry."
An excerpt from their article (emphasis DSC):
While for-profit colleges enroll an increasing percentage of all undergraduates, the demand for education at selective private and public universities and colleges continues to grow, as evidenced by dramatic declines in the percentage of applicants they admit.
Nice. Let's see how many people we can decline — that's a great  way to serve our society! Then let's pride ourselves on this shrinking  percentage of people who actually get into our university.  Woo hoo!  That will help with our ever-important ratings/prestige/branding even more! (Please note: The dripping sound that you are now hearing is the sound of drops of  sarcasm  hitting the floor.)
A few brief questions for you Barry and Morton…
When was the last time you lived from paycheck to paycheck?

Do you know what that's like?

Have you ever been in that situation? If so, when was the last time?
You two are so far removed from the society — that you say that you are trying to help and serve — that you don't even recognize the strength of the current that you're swimming in.  You swim with — and serve — the 1% (not the 99%).
One other thing worries us. There is a surefire way to make today's dire predictions come to pass — if educational leaders feel compelled to listen to scaremongers who are all too anxious to force us to adopt a new model that eliminates outstanding professors and their passion for teaching, research budgets and the pursuit of new knowledge, the residential college experience and the core commitment to excellence that have made American higher education the leader in the world. If that were to happen, we might end up with colleges and universities that aren't worth saving.
For transparency's sake, I attended Northwestern University — and did very well there. It's a great school in many ways. But I wonder what the percentage of professors are at NU who are there to work on being the best professors/teachers that they can possibly be. I question how many have a true passion to teach.  Research? Yes.  Teach? Not so much.
In fact, from my experiences at NU, I remember several graduate students grading my work or teaching our classes. Speaking of those folks…I wonder…were those graduate students trained in teaching and learning?  Were they given a background in any sort of School of Education? Or pedagogical training?  BTW, those same questions can be asked of NU's  full-time, tenured faculty members; and I'll bet you that the answers are not pretty. Also, in many other of the courses I took at NU, I had hundreds of students in them so I seriously doubt that any of my professors even knew who I was.
BTW, what does a year at NU cost these days? From what I can tell from NU's website, roughly $60,000+ for 3 quarters worth of tuition, room, board, and associated fees.
The system's not broken you say…hmmm…seems to me I have to pay the price of a pretty darn nice house in order to get an undergraduate degree at your place.  But then they tell me that an UG degree isn't worth much these days…that what you really need is graduate work to get a good job. Hhhmmmm…
Northwestern and other universities and colleges like it have strayed far off the noble path from which they began their journeys. Look out for #1 has not only been Northwestern University's motto these last few decades (replacing the long held Quaecumque Sunt Vera motto) , it is the unofficial teaching/undercurrent that it delivers to its students year in and year out.
On 07/12/2012, in attention, colleges, digital learning, educational games / serious games, emerging technologies, engagement / engaging students, Michigan, United States, universities, by Daniel Christian
10 best colleges for game-based learning — from bestcollegesonline.com
.
Excerpt:
If you were busy playing Call of Duty and you missed it, July 8 was Video Games Day. While most people's experience with gaming involves mindless destruction or sports competition, educators have begun to see the value in the medium for helping students learn. While the research is still developing and some professors are still skeptical, these 10 colleges represent your best bets for learning while playing video and other games.
New tool helps students predict their student loan debt — from good.is by Liz Dwyer
Excerpt:
As part of the recently launched Know Before You Owe project, the Consumer Financial Protection Bureau and the Department of Education have developed a new interactive cost comparison tool to help students evaluate the costs and risks involved in paying for school. The tool, which is still in beta, lets students enter up to three schools they're interested in and whether they're going for an associate's degree or a bachelor's degree.
Elite universities' online play — from insidehighered.com by Steve Kolowich
Excerpt:
Princeton University, the University of Pennsylvania and the University of Michigan at Ann Arbor have teamed up with a for-profit company to offer free versions of their coveted courses this year to online audiences. By doing so, they join a growing group of top-tier universities that are embracing massively open online courses, or MOOCs, as the logical extension of elite higher education in an increasingly online, global landscape.
Princeton, Penn and Michigan will join Stanford University and the University of California at Berkeley as partners of Coursera, a company founded earlier this year by the Stanford engineering professors Daphne Koller and Andrew Ng. Using Coursera's platform, the universities will produce free, online versions of their courses that anyone can take.
Also see:
Per today's Learning TRENDS from Elliott Masie — #717 – Updates on Learning, Business & Technology:
College & Corporate Learning – Collaboration Article: I have written the cover story article for EDUCAUSE – on "Collaboration Between Higher Education and Corporate Learning".  There are so many areas where corporations and colleges are facing similar challenges and opportunities – from pushing the Learning Management Systems, to changing faculty teaching modes to getting research on the efficiency and impact of various learning technologies.  Yet, there is very little structured collaboration between our two worlds.  EDUCAUSE represents the technology directors of several thousand colleges and universities and we will be working closely with them to bridge the gap.
Related item/example added on 3/30/12: