On 10/19/2019, in 21st century, Artificial Intelligence / Machine Learning / Deep Learning, business, cognitive computing, computer science, corporate / business world, Law Schools, legal technologies, legislatures / government / legal, workplace, by Daniel Christian
Exploring Artificial Intelligence and the Law — a presentation/video by Avi Brudner, from blue J Legal
On 10/19/2019, in algorithms, bots, computer science, emerging technologies, engineering, ethics, Google, leadership, morals/values, platforms, policy, programming, psychology, society, sociology, Technologies for your home, the downsides of technology, tools, United States, vendors, by Daniel Christian
YouTube's algorithm hacked a human vulnerability, setting a dangerous precedent — from which-50.com by Andrew Birmingham
Excerpt (emphasis DSC):
Even as YouTube's recommendation algorithm was rolled out with great fanfare, the fuse was already burning. A project of The Google Brain and designed to optimise engagement, it did something unforeseen — and potentially dangerous.
Today, we are all living with the consequences.
As Zeynep Tufekci, an associate professor at the University of North Carolina, explained to attendees of Hitachi Vantara's Next 2019 conference in Las Vegas this week, "What the developers did not understand at the time is that YouTube' algorithm had discovered a human vulnerability. And it was using this [vulnerability] at scale to increase YouTube's engagement time — without a single engineer thinking, 'is this what we should be doing?'"
The consequence of the vulnerability — a natural human tendency to engage with edgier ideas — led to YouTube's users being exposed to increasingly extreme content, irrespective of their preferred areas of interest.
…
"What they had done was use machine learning to increase watch time. But what the machine learning system had done was to discover a human vulnerability. And that human vulnerability is that things that are slightly edgier are more attractive and more interesting."

From DSC:
Just because we can…
On 10/18/2019, in 21st century, algorithms, analytics, Artificial Intelligence / Machine Learning / Deep Learning, CMS/LMS, future, learning, learning ecosystem, Microlearning, platforms, productivity / tips and tricks, professional development, streams of content, tools, training / L&D, trends, United States, usability, user experience (UX), vendors, workplace, by Daniel Christian
3 reasons KM and learning systems will soon be amazing — from blog.feathercap.net by Feathercap staff; with thanks to Mr. Tim Seager for this resource
Excerpt:
We're at an amazing time today as all manner of learning vendors and knowledge management systems are going through a renaissance. Vendors have understood that no one has time to learn required job skills as a separate learning event, and must gain the skills they need in real time as they perform their jobs. A big driver are the technology changes such as the availability of AI approaches accelerating this trend.
From the Knowledge management (KM) providers to the Learning Management Systems (LMS), we're seeing big improvements. For over a decade LMSs in their present form track and deliver on-demand learning and classroom training. Then came micro learning vendors, with a focus on bite size / 10 min or less training with the Knowledge management (KM) tools and systems growing at the same time. KMs were built to make findable the institutional knowledge an organization uses for each person to do their job. Finally, we have Learning Experience Platforms (LXP), which focus on delivering and recommending micro and macro learning content (macro – longer than 10 minutes to consume) at the moment of need. There has been a downside to all of these approaches however, they all require the workforce, SMEs and content authors to manicure all this content to ensure it is both fresh and useful. Here are the three reasons all of these approaches will soon be amazing…
Stunning Shots Take Top Prizes in the 2019 Natural History Museum Wildlife Photographer of the Year Contest — from thisiscolossal.com by Laura Staugaitis
Shakespearean Wisdom Appears on a Building in Las Vegas in New Sunlight-Activated Installation by DAKU — from thisiscolossal.com by Laura Staugaitis
In U.S., decline of Christianity continues at rapid pace — from pewforum.org
An update on America's changing religious landscape
From DSC:
Looking around…how's that going for us? How is the United States doing internally? How is our nation doing externally? In my own life, when I've gotten away from the LORD, things have not gone very well. When family members have grown apart from the LORD, things declined in their lives as they did in my own life. I look around and I see that kind of phenomenon happening corporately as well.
Psalm 33:12 New International Version (NIV)
12 Blessed is the nation whose God is the Lord…
…and conversely…???
Addendums on 10/18/19:
On 10/17/2019, in algorithms, Artificial Intelligence / Machine Learning / Deep Learning, career development, change, changing business models, collaboration, emerging technologies, entrepreneurship, ethics, Europe, global / globalization, innovation, Law Schools, legal technologies, legislatures / government / legal, morals/values, new business models, society, workplace, by Daniel Christian
Can you make AI fairer than a judge? Play our courtroom algorithm game — from technologyreview.com by Karen Hao and Jonathan Stray
Play our courtroom algorithm game The US criminal legal system uses predictive algorithms to try to make the judicial process less biased. But there's a deeper problem.
Excerpt:
As a child, you develop a sense of what "fairness" means. It's a concept that you learn early on as you come to terms with the world around you. Something either feels fair or it doesn't.
But increasingly, algorithms have begun to arbitrate fairness for us. They decide who sees housing ads, who gets hired or fired, and even who gets sent to jail. Consequently, the people who create them—software engineers—are being asked to articulate what it means to be fair in their code. This is why regulators around the world are now grappling with a question: How can you mathematically quantify fairness? 
This story attempts to offer an answer. And to do so, we need your help. We're going to walk through a real algorithm, one used to decide who gets sent to jail, and ask you to tweak its various parameters to make its outcomes more fair. (Don't worry—this won't involve looking at code!)
The algorithm we're examining is known as COMPAS, and it's one of several different "risk assessment" tools used in the US criminal legal system.
But whether algorithms should be used to arbitrate fairness in the first place is a complicated question. Machine-learning algorithms are trained on "data produced through histories of exclusion and discrimination," writes Ruha Benjamin, an associate professor at Princeton University, in her book Race After Technology. Risk assessment tools are no different. The greater question about using them—or any algorithms used to rank people—is whether they reduce existing inequities or make them worse.
You can also see change in these articles as well:
On 10/16/2019, in 21st century, business side of he, change, changing business models, colleges, community colleges, cost of getting a degree, dangers of the status quo, Daniel S. Christian, education reform, future of higher education, game-changing environment, higher education, Law Schools, learning from the living [class] room, liberal arts, Michigan, United States, universities, Walmart of Education --> New Amazon.com of Higher Education, by Daniel Christian
In case you missed it, WMU-Cooley's President and Board of Directors took a look at our tuition rates and made the decision to reduce them by 21 percent starting Fall 2020! https://t.co/FjC6hk4vnE pic.twitter.com/NkCMAzoomE

— WMU-Cooley Law School (@WMUcooleylaw) October 16, 2019
From DSC:
Regular readers of this blog will know that for years, I've made it one of my goals to try and raise awareness of the need for institutions of higher education to lower their tuitions! For example, Yohan Na and I designed the graphic below way back in 2009.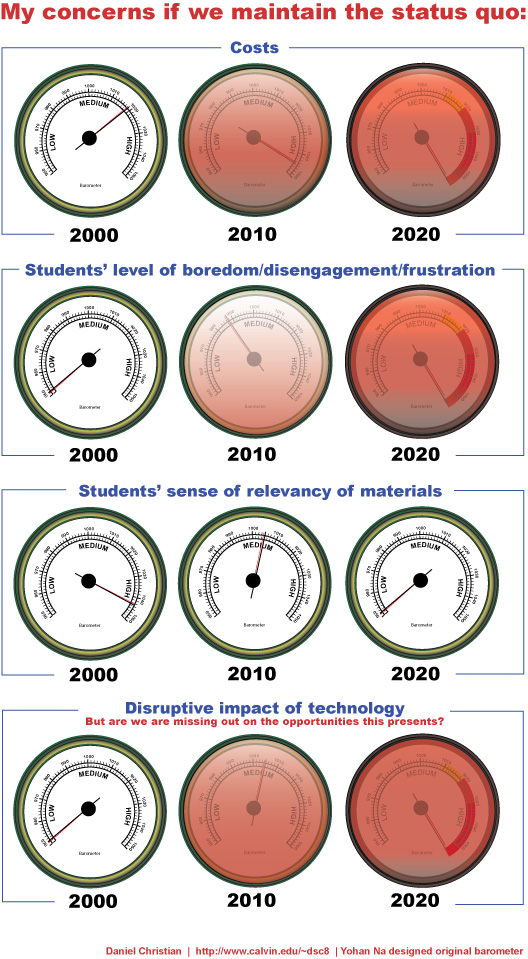 Through those years, I cringed when I kept hearing various Boards say, "We only increased our tuition by ___ % — the lowest percentage increase in our state." The direction was completely wrong! It needed to go down, not up. If you work in higher ed, I encourage you to find a way for that to happen at your own institution.
So I'm very pleased to report that the WMU-Thomas M. Cooley Law School — where I work — was able to reduce tuition by 21%!!! 
Don't get me wrong, some tough decisions were made to pave the way for that to occur. But this will be the case no matter which institution of higher education that you look at. An institution will have to make some tough choices to reduce their tuition. But it HAS to occur. We can't keep this upward trajectory going.
If we don't change this trajectory, we will continue to put enormous gorillas (of debt) on our graduates' backs! Such debt will take our graduates decades to pay off. 
We need to be aware of these invisible gorillas of debt. That is, our students move on…and we don't see them. But their gorillas remain.
---
---
Addendum on 10/18/19:
Victoria Vuletich, the assistant dean at the Grand Rapids, Michigan campus of Western Michigan University Cooley Law School, was interviewed by the State Bar of Michigan's Legal Talk Network to discuss what the law school experience is like for the current generation of students. 
---
---