From DSC:
The tidal wave of technological change swept over Blockbuster and the article below shows how it drowned Kodak as well. These players were once at THEE top of their games…now they are either bankrupt or soon to be bankrupt (if things don't change fast).
This relates to higher education as well, but I don't think that we've seen anything yet (though 2012 may change that). Higher ed may have a limited window of time left before the conversation moves completely out of academia and higher ed as we know it gets left behind. The word "reinvent" and the phrases "staying relevant" as well as "lowering the price" should be at the top of the agendas for boards at most academic institutions of higher education throughout America (and other nations as well). I use the word most here because some folks will likely continue to pay enormous prices to get the name brands that they've been paying $50,000+ per year for.
If companies eventually don't care who accredited your degree but rather what you can DO for them, watch out. The barriers to entry will plummet.

You Press the Button. Kodak Used to Do the Rest. — from technologyreview.com
Kodak saw the shift from analog to digital photography coming. Here's why it couldn't win.
.
Excerpt (emphasis from DSC):
But the industry landscape was completely different in the digital era. Barriers to entry were significantly lowered and the industry was flooded by entrants with a background in consumer electronics, such as Casio, Samsung, and Hewlett-Packard, not to mention Japanese camera manufacturers including Canon, Nikon, and Olympus. Large parts of Kodak's competence base related to chemistry and film manufacturing were rendered obsolete. The vertical integration that had previously been a core asset to Kodak lost its value. Digital cameras became a commodity business with low margins. The problem facing Kodak wasn't just that film profits had died but that those revenues could not be replaced.
Once images became digital, Kodak's business model of "doing the rest" was effectively destroyed. Doing the rest used to entail a large and complex process that only a couple of companies in the world could master. Today, it is done by the click of a button.
Related graphic from DSC: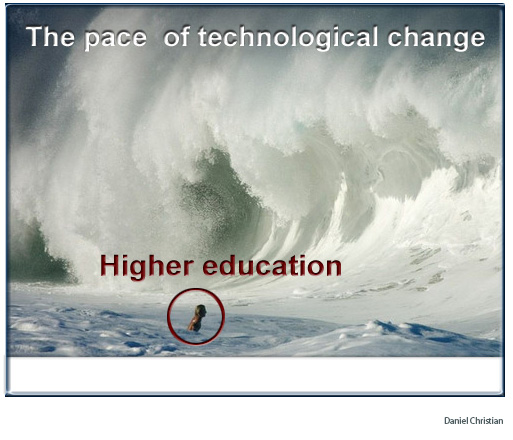 Also see:
12/15/11 addendum re: the conversation moving away from higher ed:
Excerpt (emphasis DSC):

No single blog can adequately capture or represent what was going on at Learning 2011. But if you are intrigued, I suggest you go to

 www.Learning2011

and see what the agenda and the presentations looked like for yourself.

.

What I sensed, and what I am trying to describe here, was an accelerating transition in workforce education from a higher education-centric model to a learner-workplace-centric model.

In a world where higher education institutions have dominated, controlled, and driven the conversation about quality, content, access, and results; the balance of power is shifting away from that more monolithic tendency to a far more disaggregated power structure where good information, metrics, and results that can be validated against third party standards are the "coin of the realm".