On 06/19/2021, in computer science, creativity, design, digital audio, digital learning, digital video, engineering, programming, technologies for your home, tools, vendors, by Daniel Christian
60 Cool Home Offices and Workstations Setup, Vol. 4 — fromhongkiat.com
A PERFECT DAY (1909)
Words and Music by Carrie Jacobs-Bond (1862-1946)
When you come to the end of a perfect day,
And you sit alone with your thought,
While the chimes ring out with a carol gay,
For the joy that the day has brought,
Do you think what the end of a perfect day
Can mean to tired heart,
When the sun goes down with a flaming ray,
And the dear hearts have to part?
Well, this is the end of a perfect day,
Near the end of a journey, too,
But it leaves a thought that is big and strong,
With a wish that is kind and true.
For mem'ry has painted this perfect day
With colors that never fade,
And we find at the end of a perfect day,
The soul of a friend we've made.
---
From DSC:
Here's our dad's version of it…which is nicely accompanied by our mom.
---
On 06/17/2021, in adjunct faculty, assessment, colleges, community colleges, faculty, higher education, ideas, instructional design, law schools, learning, learning ecosystem, Learning Experience Design, Learning from the Living [Class] Room, liberal arts, pedagogy, podcasting, teaching & learning, United States, universities, vendors, writing, by Daniel Christian
From DSC:
You might be interested in reviewing one or more of the items out at Faculty Focus Live Podcasts.
Some example podcasts:
Episode 11: Assessing Online Student Learning: How You Can Gauge Activities and Writing Through Online Assessment
Episode 9: Live with Wendy Trevor: Overcoming Student Distaste for Collaborative Group Work Online
Episode 8: Establishing and Revisiting Our Teaching Philosophies and Teaching Personas
Episode 7: Finding the Missing Piece: How to Help Your Students Who Are Struggling with Online Learning
On 06/16/2021, in Alternatives, colleges, experimentation, face-to-face, higher education, learning, learning ecosystem, learning hubs & pods, United States, universities, by Daniel Christian
Combining Online Courses With In-Person Supports, 'Hybrid Colleges' Unite — from by Rebecca Koenig
Excerpt:
Over the past decade, brick-and-mortar outposts have popped up across the U.S. to offer students who take online college courses a physical space to study and interact. In Denver, there's a suite in an office complex. In Austin, there's an airy hall that resembles a co-working facility. In Philadelphia, there's room in a modern high-rise.
Calling themselves "hybrid colleges," these mini campus centers have set big goals for themselves, such as bringing college within reach for people historically left out of higher education.
Now, more than a dozen of these nonprofits are strengthening their bonds and committing to shared goals by creating the Hybrid College Network.
Also see:
On 06/16/2021, in business side of he, change, changing business models, colleges, community colleges, cost of getting a degree, dangers of the status quo, faculty, future of higher education, higher education, leadership, new business models, online learning, pace of change, strategy, United States, universities, by Daniel Christian
For College Finances, There's No 'Return to Normal' — from chronicle.com by Mark S. LeClair
The critical problems facing higher education won't end with the pandemic.
Excerpt:
Higher ed is in trouble. It faces a demographic crunch in 2026, when smaller high-school graduating classes will mean greater competition for students. That will lead to tuition discounting and underenrolled classes for many colleges. And yet that demographic crisis is only one of many significant challenges the sector faces. As noted by Forbes in its annual review of college and university financials, approximately 20 percent of all institutions now warrant a "D" ranking (its lowest). Many are under serious financial strain and may not survive.
The Forbes financial analyses have been warning of a worsening situation for years. The added stresses from the Covid-19 pandemic will further aggravate the untenable circumstances facing hundreds of institutions. There is now a very short window within which we must carry out significant reforms.
On 06/16/2021, in 21st century, computer science, Daniel S. Christian, emerging technologies, engineering, Europe, future, global / globalization, platforms, policy, political science, programming, robotics, society, the downsides of technology, by Daniel Christian
Watch a Drone Swarm Fly Through a Fake Forest Without Crashing — from wired.com by Max Levy
Each copter doesn't just track where the others are. It constantly predicts where they'll go.
From DSC:
I'm not too crazy about this drone swarm…in fact, the more I thought about it, I find it quite alarming and nerve-racking. It doesn't take much imagination to think what the militaries of the world are already doing with this kind of thing. And our son is now in the Marines. So forgive me if I'm a bit biased here…but I can't help but wondering what the role/impact of foot soldiers will be in the next war? I hope we don't have one. 
Anway, just because we can…
EDUCAUSE QuickPoll Results: Artificial Intelligence Use in Higher Education — from educause.edu by Christopher Brooks
Despite the visibility and energy surrounding artificial intelligence, higher education is taking measured steps toward incorporating this technology.
Excerpt:
We are on the verge of peak hype about how artificial intelligence (AI) can (and will) transform our lives. No fewer than seven emerging AI technologies were prominently featured on "The Gartner Hype Cycle for Emerging Technologies, 2020." Several technologies on EDUCAUSE's "The Top 10 Strategic Technologies for 2020" explicitly incorporate or are reliant on AI. And while AI might seem to be a technology in search of a campus, some promising applications have been emerging in domains such as teaching and learning, student success, and accessibility. But how widespread is the use of AI in higher education today? In this QuickPoll, we operationalized Elana Zeide's categories of AI applications in higher education to better understand how and how widely AI is being used for institutional tasks, student success and support tasks, and instructional tasks.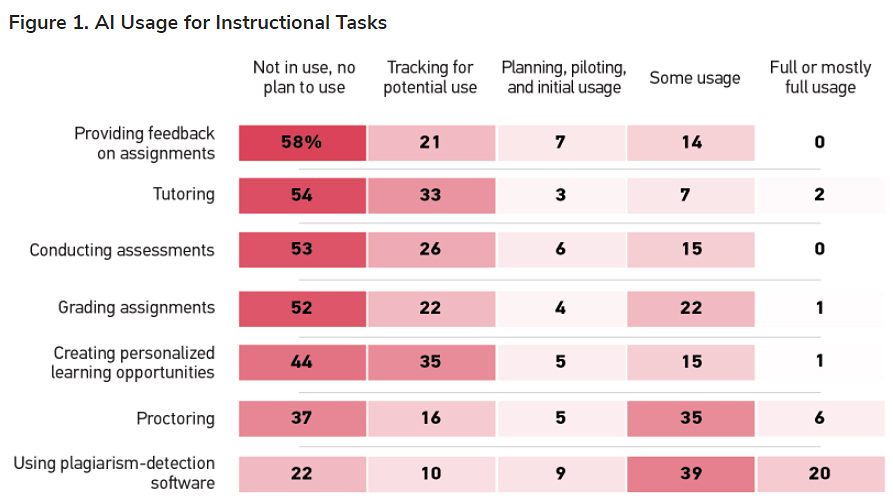 AI is not going to replace instructors anytime soon. 
On 06/16/2021, in career development, future, parents, participation, society, United States, vocational / trades, workplace, youth, by Daniel Christian
The Future of Career Technical Education (CTE): What Educators Need to Know — from techlearning.com by Ray Bendici
Career technical education is gaining expanded interest and funding support in the wake of the pandemic
Excerpt:
Career technical education (CTE) is currently receiving increased attention as it is expected to play a key role in the recovery from the pandemic. New skills, approaches, and funding introduced over the past year are helping to drive expansion of programs as many employers continue to struggle to find qualified workers.
Shortly after his confirmation, U.S. Secretary of Education Miguel Cardona posted an open letter to U.S. students and their families in regard to his plan for education. In it, he suggests that a heavy focus on CTE will be an essential part of what's next in education.
On 06/16/2021, in 21st century, 24x7x365 access, analytics, Artificial Intelligence / Machine Learning / Deep Learning, business, change, corporate / business world, data mining, emerging technologies, pace of change, trends, by Daniel Christian
10 AI tech trends data scientists should know — from by Lisa Morgan
The rising environmental and monetary costs of deep learning are catching enterprises' attention, as are new AI techniques like graph neural networks and contrastive learning.
Excerpt:
AI adoption is accelerating across industries, driven by a combination of concrete results, high expectations and a lot of money. Among the many new AI concepts and techniques launching almost daily, 10 AI tech trends in particular grab data scientists' attention.
On 06/16/2021, in 21st century, A/V -- audio/visual, Augmented Reality (AR), business, corporate / business world, corporate universities / corporate training, future, immersion, learning, learning ecosystem, Learning Experience Design, learning preferences, Mixed Reality (MR), tools, training / L&D, Virtual Reality (VR) / worlds / learning, workplace, XR - extended reality, by Daniel Christian
Accenture Extended Reality (XR)
Immersive learning for the future workforce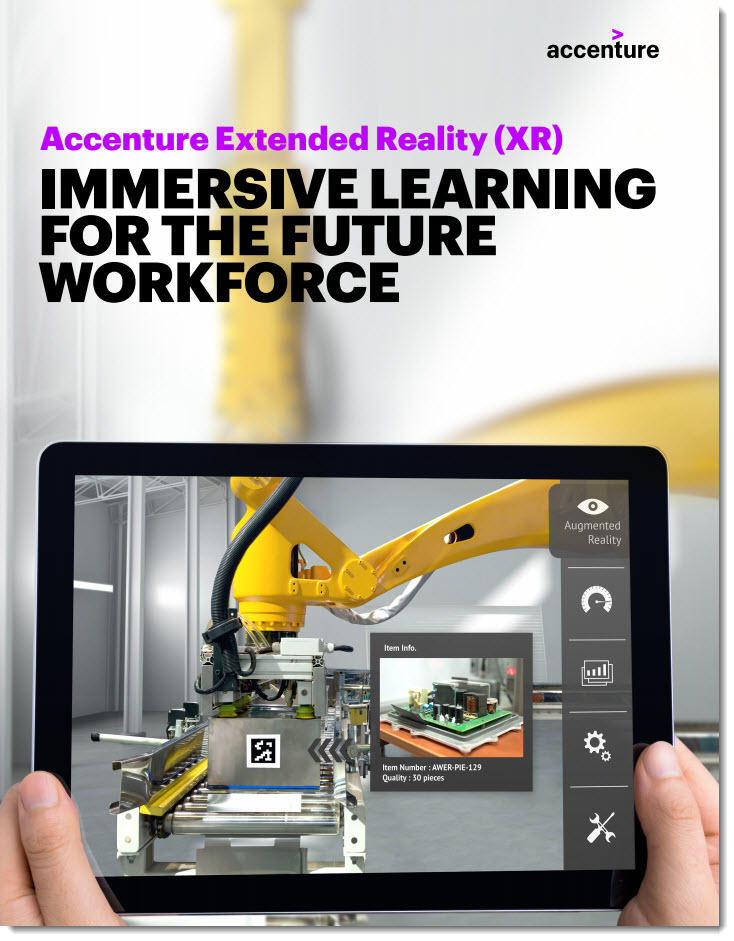 On 06/15/2021, in 21st century, business, career development, change, collaboration, corporate / business world, disruption, future, game-changing environment, law schools, Microsoft, society, sociology, technology (general), tools, trends, United States, using teams, vendors, videoconferencing, web-based collaboration, workplace, by Daniel Christian
The Next Great Disruption Is Hybrid Work—Are We Ready? — from Microsoft
"Over the past year, no area has undergone more rapid transformation than the way we work. Employee expectations are changing, and we will need to define productivity much more broadly — inclusive of collaboration, learning, and wellbeing to drive career advancement for every worker, including frontline and knowledge workers, as well as for new graduates and those who are in the workforce today. All this needs to be done with flexibility in when, where, and how people work."

Satya Nadella, CEO at Microsoft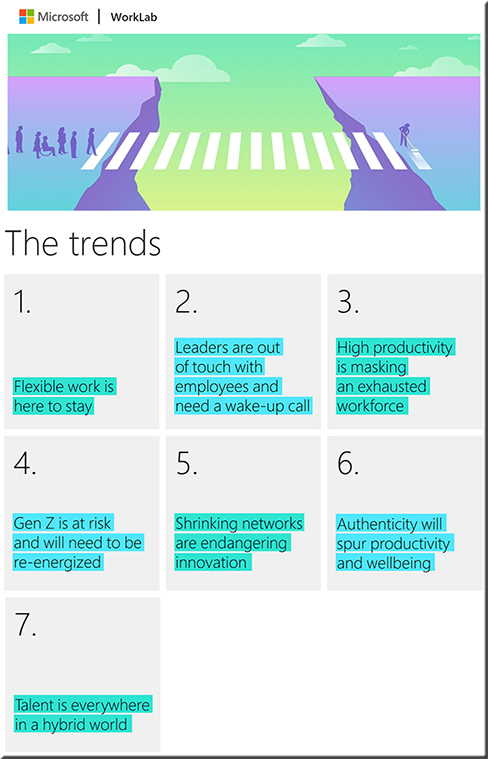 Also see:
What executives are saying about the future of hybrid work — from mckinsey.com by Andrea Alexander, Rich Cracknell, Aaron De Smet, Meredith Langstaff, Mihir Mysore, and Dan Ravid.
What's next for consumers, workers, and companies in the post-COVID-19 recovery — from mckinsey.com by Susan Lund, Anu Madgavkar, Jan Mischke, and Jaana Remes
For mothers in the workplace, a year (and counting) like no other — from mckinsey.com by Jess Huang, Alexis Krivkovich, Ishanaa Rambachan, and Lareina Yee