On 10/13/2014, in augmented reality, convergence, digital audio, digital storytelling, digital video, interactivity, Media/film, Mobile technologies, multimedia, new media literacies, online media, platforms, second screen apps, Smart/Connected TV, story, storytelling, user experience (UX), visualizing information, wearables, by Daniel Christian
The amazing ways new tech shapes storytelling — from stuff.tv by Stephen Graves
Excerpt:
From the moment some singer-poet livened up his verse performances with a musical instrument, technology has changed entertainment. The printing press, theatrical lighting, the cinema, radio, cinematic sound – they've all either impacted on existing storytelling forms, or created whole new ones.
In recent years, the arrival of digital formats and non-linear editing changed TV. Existing TV formats like drama benefited from the same level of technical polish as films; and at the same time, the ability to shoot and edit large amounts of footage quickly and cheaply created a whole new form of storytelling – reality TV.
…
Streaming media's one thing – but the biggest tech leap in years is, of course, your smartphone. Texting during films may infuriate but whipping your phone out in the cinema may become an integral part of the story: the 2013 film App used a second-screen app to display extra layers of narrative, synced to the film's soundtrack. There are books that use second-screen apps: last year's Night Film lets you scan tags in the physical book to unlock extra content, including mocked-up websites and trailers.
Also see:
On 09/28/2014, in art, communications, convergence, creativity, digital storytelling, innovation, Media/film, more choice more control, multimedia, platforms, play, story, storytelling, transmedia, by Daniel Christian
It's Not Film. It's Not TV. It's Convergence. Here's What It's All About. –– from indiewire.com by Paula Bernstein
A new wave of creators is blurring the lines of storytelling to span multiple platforms. Here, a handful of those creators from this year's New York Film Festival Convergence program explain what convergence means to them.
Comment from DSC:
If this trend continues, I would guess that it would affect education as well.  That is, students no longer want to be passive consumers, but active participants.  Hmmm…sounds very familiar to me.  Aren't we already there (i.e., active learning, project-based learning, makerspaces, and more)?
Also see:
On 03/26/2014, in content repositories, convergence, Daniel S. Christian, digital learning, ideas, innovation, learning ecosystem, learning from the living [class] room, library / librarians, mirroring and/or multiple devices, MOOCs -- Massive Open Online Courses, online learning, personalized/customized learning, second screen apps, streams of content, vision, by Daniel Christian
New York Public Library partners with Zola to offer algorithmic book recommendations — from gigaom.com by Laura Hazard Owen
The New York Public Library will offer book recommendations to readers through its website via a new partnership with NYC-based startup Zola Books.
Excerpt:
Visitors to the New York Public Library's website will have a new way to decide what to read next: The library is partnering with New York-based startup Zola Books to offer algorithm-based recommendations to readers. The technology comes from Bookish, the book discovery site that Zola acquired earlier this year.
From DSC:
If the New York Public Library can do this with books, why can't a smart TV-based service offer this sort of functionality for educationally-related materials?  (Or a second screen-based application?) What if MOOCs integrated this sort of recommendation engine and then accessed/delivered the digitally-based content to you? Some serious personalized/customized micro-learning.

On 01/21/2014, in 24x7x365 access, A/V -- audio/visual, attention, content development, convergence, creativity, design, digital audio, digital textbooks, educational games / serious games, emerging technologies, engagement / engaging students, Europe, experimentation, innovation, learning from the living [class] room, multimedia, story, storytelling, television, transmedia, UK, user experience (UX), Using teams, by Daniel Christian
Mesmerizing fairy tale on the power of transmedia storytelling — from frametales.com by DRAFTFCB Madrid and posted by Filip Coertjens; with thanks to the Scoop on this from Laura Fleming (@NMHS_lms)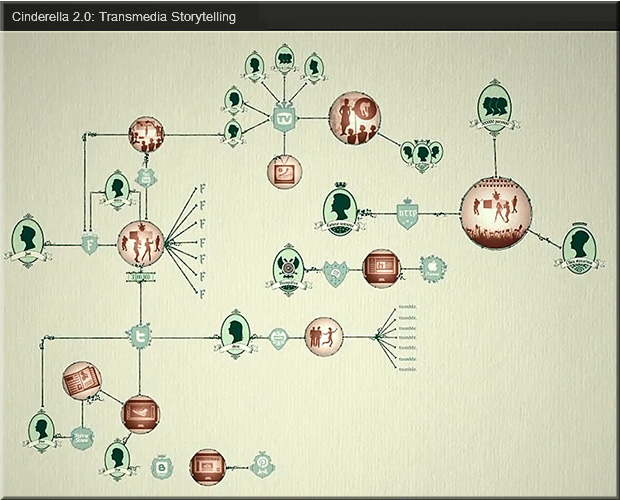 BBC iWonder: Introducing Interactive Guides — from bbc.co.uk by Andrew Pipes
See this piece as an example of what they've come up with.
Interactive guides on three screens
The BBC article also pointed to a bit older,
but very creative piece from the NYT entitled:
Snow Fall
Transmedia Story Stream: Don't just read a book–play it! — from bleedingcool.com by Dan Wickline; with thanks to Digital Rocking Chair for the Scoop on this
Excerpt:
Instead of downloading a static book, Transmedia Story Stream allows readers to log into story worlds filled with fans, activities, and extended narrative that can include video, audio, casual video games or live gatherings. And just like in a video game, the book will award fans for participating in the story. Fans can earn points and badges, collect digital goodies to share, earn money for spreading word of mouth, participate in a live chat with an author or illustrator right in the book or win a phone call with a character in a story.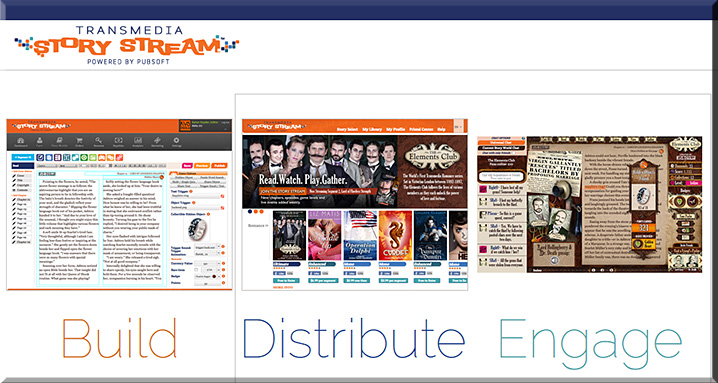 Also see:
On 01/17/2014, in 21st century, collaboration, communications, content development, convergence, creativity, digital audio, digital learning, digital storytelling, digital video, educational games / serious games, emerging technologies, engagement / engaging students, experimentation, future, Google, innovation, interactivity, multimedia, new business models, new media literacies, online media, participation, publishing, reading, transmedia, UK, United States, Using teams, by Daniel Christian
HarperCollins, Google's Niantic Labs, 20th Century Fox collaborate w/ bestselling author on next gen cross-media project, Endgame — from corporate.harpercollins.com, w/ thanks to @myweb2learn for the resource
Excerpt of Press Release (emphasis DSC):
ENDGAME is a fully integrated, multimedia experience that will combine a trilogy of young adult novels, fifteen original e-book novellas, YouTube videos, search and image results, mapping coordinates, social media, and interactive gaming in one revolutionary creative project. Each book in the ENDGAME trilogy will feature an interactive puzzle comprised of clues and riddles throughout the text.
…
"We are excited to work with James Frey and Full Fathom Five on this groundbreaking series," said Brian Murray, President and CEO, HarperCollins Publishers. "This is a spectacular story that embodies the future of publishing—great content, interactivity and a multimedia experience."  
…
Google's Niantic Labs is developing a location-based augmented reality game that will bring ENDGAME to life in the real world.  The game builds on the success of "Ingress," which defined a new category of entertainment that marries video games with the physical world.  The mobile experience will allow players around the world to join in the battle to unlock the mysteries and secrets of ENDGAME.  Google Niantic will also be publishing six ENDGAME novellas exclusively at the Google Play store.  The game is expected to launch on Android and iOS devices in late 2014.
"James has a great vision for telling stories in an integrated way across books, film, social media, and mobile games," John Hanke, VP of Product, Niantic Labs at Google, said. "We are delighted to bring our technology and expertise to bear on a project that is helping to define the future of entertainment."
From DSC:
If successful, I'd love to see some applications of this sort of experiment applied towards education/learning — i.e. towards K-12, higher ed, and the corporate training/L&D departments.  The experiment emphasizes where I think successful learning is also going — towards the use of TEAM-based content creation and delivery.