---
From DSC:
Don't rule out tvOS for some powerful learning experiences / new affordances.  The convergence of the television, the telephone, and the computer continues…and is now coming into your home. Trainers, faculty members, teachers, developers, and others will want to keep an eye on this space. The opportunities are enormous, especially as second screen-based apps and new forms of human computer interfaces (HCI) unfold.
The following items come to my mind:
Online-based communities of practice. Virtual reality, virtual tutoring. Intelligent systems. Artificial intelligence. Global learning. 24×7, lifelong learning. Career development. Flipping the classroom. Homeschooling.  Learning hubs. Online learning. Virtual schools. Webinars on steroids.

With the reach of these powerful technologies (that continue to develop), I would recommend trying to stay informed on what's happening in the world of tvOS-based apps in the future. Towards that end, below are some items that might help.

---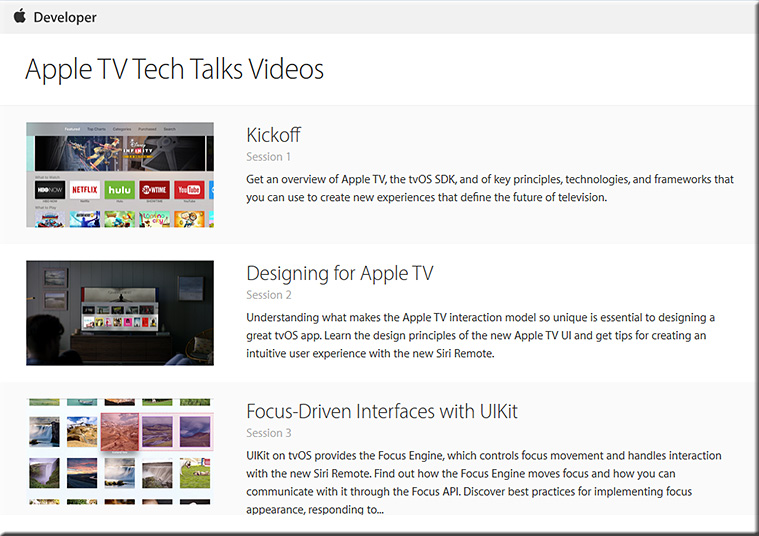 Apple releases Apple TV Tech Talks video series for building better tvOS apps — by AppleInsider Staff
Excerpt:
Apple on Wednesday released to developers a series of videos focusing on Apple TV and its tvOS operating system, offering a detailed look at the underlying SDK, resources and best practices associated with coding for the platform.
Also see:
Addendum on 2/26/16:
Apple Adds Multiple New App Categories to tvOS App Store — from macrumors.com by Juli Clover
Excerpt:
[On 2/25/16] Apple updated the tvOS App Store to add several new app categories to make it easier for Apple TV 4 owners to find content on their devices. As outlined by AfterPad, a site that showcases Apple TV apps, the new categories are rolling out to Apple TV users and may not be available to everyone just yet. Some users may only see the new categories under Purchased Apps until the rollout is complete.