---
From DSC:
The articles below illustrate the continued convergence of multiple technologies and means of communication. For example, what we consider "TV" is changing rapidly. As this space changes, I'm looking for new opportunities and affordances that would open up exciting new approaches and avenues for educationally-related learning experiences.
---
Hootsuite and Tagboard team up to power social TV workflow — from adweek.com by Kimberlee Morrison
Excerpt (emphasis DSC):
More and more TV viewers are engaging with second screen devices while they watch broadcasts. A new partnership between Hootsuite and Tagboard hopes to bridge the gap between television and second screen social experiences.
Tagboard is a social media aggregation and curation platform that allows users to manage incoming social media posts for display, either on television broadcasts, or on screens at live events, and Hootsuite is a social media campaign management program. Their partnership enables integration for mutual users for real-time engagement.
Capture social content on display and TV with Hootsuite and Tagboard — from blog.hootsuite.com
Excerpt:
Adding social content to live TV broadcasts and sports games is a proven way to capture and keep your audience's attention.
But the process isn't that easy. For one, digital teams need to ensure that they review each piece of content (to keep it safe for the big screen), and this can create complicated and slow social media workflows.
To help streamline this process, Hootsuite has integrated with Tagboard, an innovative social media display tool, to provide an easy way to capture social content and incorporate it into on-air broadcasts, live event screens, or on digital platforms.
With the Tagboard app for Hootsuite, your team can put relevant and timely social content on air within seconds—when it matters most to the viewer.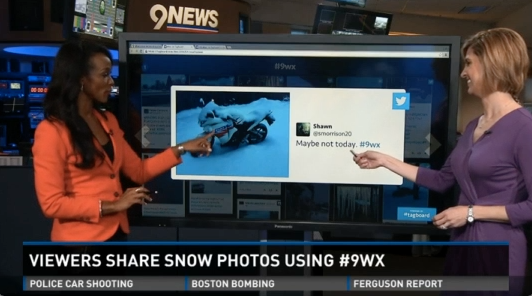 Introducing the Tagboard App for Hootsuite — from blog.tagboard.com
Social TV is easier than ever with Tagboard's new app for Hootsuite