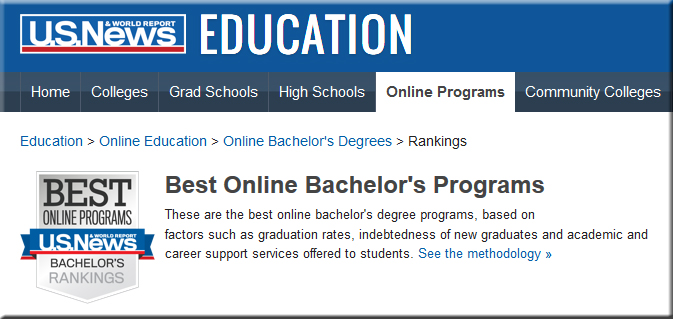 Excerpt:
U.S. News assessed schools based on four general categories. Here is a look at each category and its weight in the current rankings formula. All weights are unchanged from 2015.
Student engagement (40 percent): Quality bachelor's degree programs promote participation in courses, allowing students opportunities to readily interact with their instructors and classmates, as is possible in a campus-based setting. In turn, instructors not only are accessible and responsive, but they also are tasked with helping to create an experience rewarding enough that students stay enrolled and complete their degrees in a reasonable amount of time.
Faculty credentials and training (20 percent): Strong online programs employ instructors with academic credentials that mirror those of instructors for campus-based programs, and they have the resources to train these instructors on how to teach distance learners.
Student services and technology (20 percent): Programs that incorporate diverse online learning technologies allow greater flexibility for students to take classes from a distance. Outside of classes, strong support structures provide learning assistance, career guidance and financial aid resources commensurate with quality campus-based programs.
Peer reputation (20 percent): A survey of high-ranking academic officials helps account for intangible factors affecting program quality that are not captured by statistics. Also, degrees from programs that are well respected by academics may be held in higher regard among employers.
From DSC:
I'm not a huge fan of college/university ranking systems and programs. However, I post this in order to say "Congratulations!" to these programs on the work they have been doing — the faculty, staff, administration, and students. Nice work to you all!
These programs most certainly are helping students prepare for the future that these students will be inheriting. Students will need to be able to learn online — that will be a key ingredient/component in their learning ecosystems. In fact, it should be a requirement for every single college graduate in this country to take at least 1 course online. Many states are already doing this type of thing with high school graduation requirements — requiring students to take at least 1 online course in order to graduate from high school. If we truly cared about our students and their futures, this would be a requirement within higher education as well.