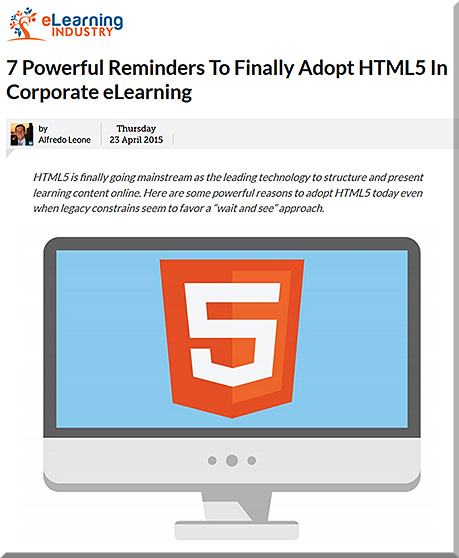 7 powerful reminders to finally adopt HTML5 in corporate eLearning  — from elearningindustry.com by Alfredo Leone
Excerpt:
Mobility, ubiquity and portability are key requirements for any type of learning as the market fully embraces to the demand of learners to access knowledge when and where is needed. Learners today expect access to relevant and useful information on various types of mobile devices connected via networks of ever cheaper and faster bandwidth.
This trend toward multi-device and multi-access learning is solidifying day after day, making responsive content design one of the most critical components of any production process for online training material. The premise today is for learning to "follow" the person and not the other way around.
In this dynamic online learning scenario, HTML5 is finally going mainstream as the leading technology to structure and present learning content online. Here are some powerful reasons to adopt HTML5 today even when legacy constrains seem to favor a "wait and see" approach:
———–
Also see:
2015 Business eLearning Trends Infographic — from elearninginfographics.com

Addendum on 4/28/15:
How soon is now for the mobile web? — from visionmobile.com by Matt Asay
Excerpt:
That's one primary takeaway from VisionMobile's "How Can HTML5 Compete With Native?" report. As report author Dimitris Michalakos concludes, "The question is no longer *whether* HTML5 can produce quality apps, but *how* easy it is to create quality web apps." Given that "HTML5 is like driving a car without a dashboard," the key is to deliver better dashboards, or tools, to make it easier to build great web apps.