Automated, creative & dispersed: The future of work in the 21st century — from The Economist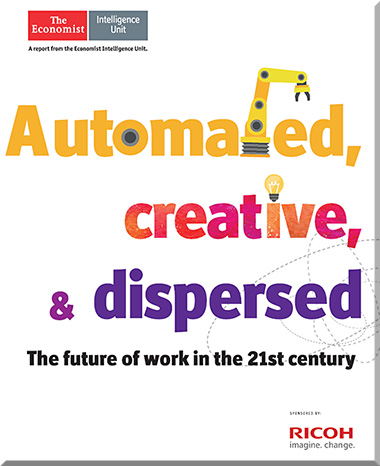 Date Published:
May 20th 2015
Excerpt:
The key findings are as follows:
In the next decade-and-a-half, digital technology will dissolve the concept of work as we know it.
The growing use and sophistication of automation will shift the emphasis of human employment towards creativity and social skills.
This new reality of work will require a new, more nurturing approach to management.
Contents
About the research
Executive summary
Introduction
Your workplace is… everywhere
The hospital of the future
Creative and social skills will dominate the automated world
The bank of the future
Well-being and employee development top the management agenda
The university of the future
The government of the future
Conclusion
Appendix: Survey results

This requires university workers to develop new skills, she says. Ms Shutt predicts that in the future lecturers will be encouraging more of their students to take work placements or even launch their own start-ups, and developing relationships that give industry a greater input
into the direction of research. "We need to develop skills in interaction with business and in preparing students for the work world."