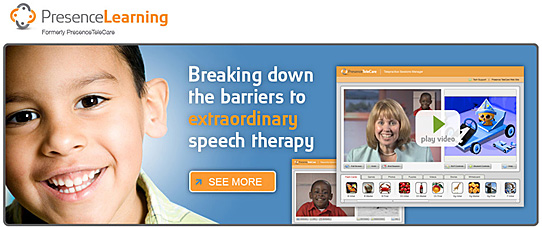 Excerpt:
Our mission is to make telepractice practical and affordable while providing an extraordinary therapy experience. The PresenceLearning solution includes the latest video-conferencing tools, engaging games and evidence-based activities, and time-saving collaboration and practice management tools.  See videos of how it works
Also:
PresenceLearning Wins 2012 BESSIE Award
Live online speech therapy service recognized in Special Education Website category
SAN FRANCISCO, April 19, 2012 – PresenceLearning (www.presencelearning.com), the leading provider of live online speech therapy services to K-12 students, was recently named a winner in the Multi-Level: Special Education Website category of The ComputED Gazette's 18th Annual Best Educational Software Awards (BESSIE Awards). The awards program targets innovative and content-rich programs and websites that provide parents and teachers with the technology to foster educational excellence.