2023 Top 10 IT Issues: Foundation Models — from educause.edu
Excerpt:
Recent times have brought about a Great Rethink that is upending previous models of management and working. Higher education is no exception. In 2023, institutional and technology leaders are ready for a new approach.
The EDUCAUSE 2023 Top 10 IT Issues help describe the foundation models that colleges and universities will develop next year and beyond, acting on what was learned in the pandemic and framed by the three building blocks of leadership, data, and work and learning.
See where things are headed in 2023 and beyond.
.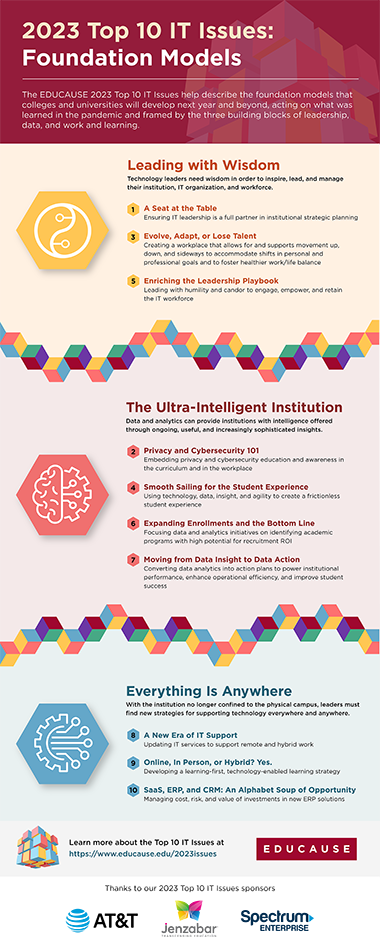 .
From DSC:
At this point in time, I'd find your visionary, innovative, tech-savvy leaders out there — and not just for IT-related positions but for Presidents, Provosts, CFO's, Heads of HR, and similar levels of positions (and ideally on the Boards as well.) Such people need to be at the table when strategies are hammered out.
For example, if your institution didn't get seriously into online learning long before Covid19 hit, I'd clear house and go back to the drawing board on your leadership.
Also, data won't save higher ed. New directions/pathways might. But I'm doubtful that new sources of data will — no matter how they are sliced and diced. That sort of thing is too much at the fringe of things — and not at the heart of what's being offered. The marketplace will eventually dictate to higher ed which directions institutions of traditional higher education need to go in. Or perhaps I should say that this is already starting to occur.
If alternatives to institutions of traditional higher education continue to grow in acceptance and usage — and don't involve current institutions of higher ed — those sorts of institutions may already be too late. If more corporations fully develop their own training programs, pathways, and credentials, there may be even fewer students to go around.
A final thought: Cheaper forms of online-based learning for the liberal arts may be what actually saves the liberal arts in the long run.
---
Also relevant/see:
---