From DSC:
Per Wikipedia, this is a 1910 Model T that was photographed in Salt Lake City: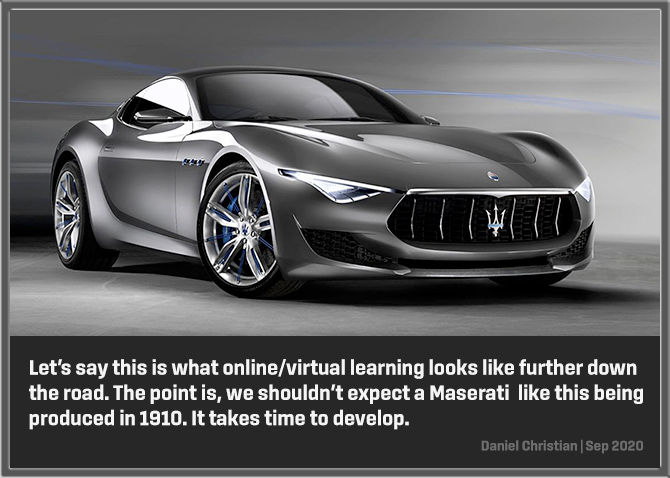 From DSC:
The Ford Model T didn't start out looking like a Maserati Gran Turismo from 2021! Inventions take time to develop…to be improved…for new and further innovations and experiments to take place.
Thinking of this in terms of online-based learning, please don't think we've reached the end of the road for online-based learning. 
The truth is, we've barely begun our journey.
---
Two last thoughts here
---
1 ) It took *teams* of people to get us to the point of producing a Maserati like this. It will take *teams* of people to produce the Maserati of online-based learning.
2) In terms of online-based learning, it's hard to say how close to the Maserati that we have come because I/we don't know how far things will go. But this I do know: We have come a looooonnnnnggggg ways from the late 1990s! If that's what happened in the last 20 years — with many denying the value of online-based learning — what might the next 5, 10, or 20 years look like when further interest, needs, investments, etc. are added? Then add to all of that the momentum from emerging technologies like 5G, Augmented Reality, Mixed Reality, Virtual Reality, Artificial Intelligence, bots, algorithms, and more!
---
From DSC:
To drive the point home, here's an addendum on late 9/29/20: