In case you missed it, WMU-Cooley's President and Board of Directors took a look at our tuition rates and made the decision to reduce them by 21 percent starting Fall 2020! https://t.co/FjC6hk4vnE pic.twitter.com/NkCMAzoomE

— WMU-Cooley Law School (@WMUcooleylaw) October 16, 2019
From DSC:
Regular readers of this blog will know that for years, I've made it one of my goals to try and raise awareness of the need for institutions of higher education to lower their tuitions! For example, Yohan Na and I designed the graphic below way back in 2009.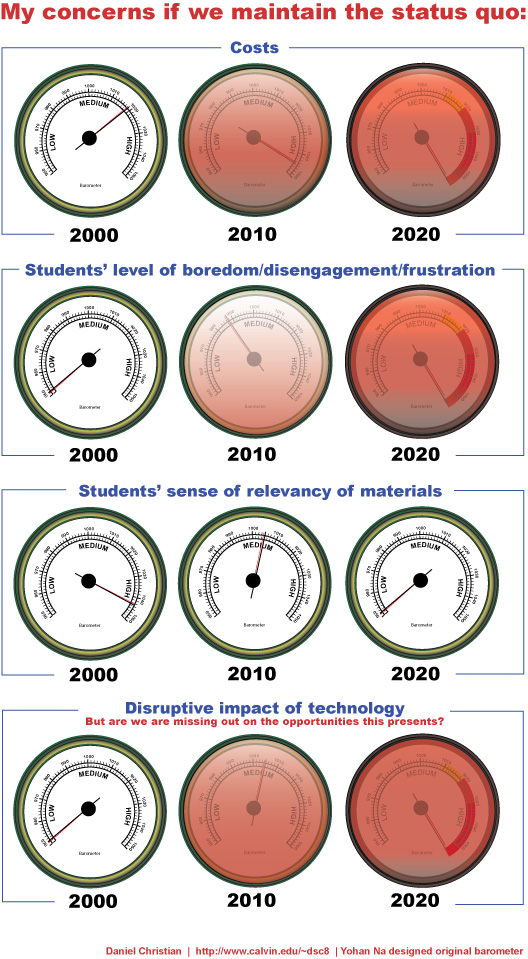 Through those years, I cringed when I kept hearing various Boards say, "We only increased our tuition by ___ % — the lowest percentage increase in our state." The direction was completely wrong! It needed to go down, not up. If you work in higher ed, I encourage you to find a way for that to happen at your own institution.
So I'm very pleased to report that the WMU-Thomas M. Cooley Law School — where I work — was able to reduce tuition by 21%!!! 
Don't get me wrong, some tough decisions were made to pave the way for that to occur. But this will be the case no matter which institution of higher education that you look at. An institution will have to make some tough choices to reduce their tuition. But it HAS to occur. We can't keep this upward trajectory going.
If we don't change this trajectory, we will continue to put enormous gorillas (of debt) on our graduates' backs! Such debt will take our graduates decades to pay off. 
We need to be aware of these invisible gorillas of debt. That is, our students move on…and we don't see them. But their gorillas remain.
---
---
Addendum on 10/18/19:
Victoria Vuletich, the assistant dean at the Grand Rapids, Michigan campus of Western Michigan University Cooley Law School, was interviewed by the State Bar of Michigan's Legal Talk Network to discuss what the law school experience is like for the current generation of students. 
---
---