From DSC:
Regarding the article below…why did it take Udacity needing to team up with Infosys to offer this type of program and curriculum? Where are the programs in institutions of traditional higher education on this?  Are similar programs being developed? If so, how quickly will they come to market? I sure hope that such program development is in progress..and perhaps it is. But the article below goes to show us that alternatives to traditional higher education seem to be more responsive to the new, exponential pace of change that we now find ourselves in.
We have to pick up the pace! To do this, we need to identify any obstacles to our institutions adapting to this new pace of change — and then address them immediately. I see our current methods of accreditation as one of the areas that we need to address. We've got to get solid programs to market much faster!

And for those folks in higher ed who say change isn't happening rapidly — that it's all a bunch of hype — you likely still have a job. But you need to go talk with some people who don't, or who've had their jobs recently impacted big time. Here are some suggestions of folks to talk with:
Taxi drivers who were impacted by Lyft and by Uber these last 5-10 years; they may still have their jobs, if they're lucky. But they've been impacted big time…and are likely driving for Lyft and/or Uber as well as their former employers; they're likely to have less bargaining power than they used to as the supply of drivers has skyrocketed. (By the way, the very existence of such organizations couldn't have happened without the smartphone and mobile-related technologies/telecommunications.)

Current managers and former employees at hotels/motels about the impacts on their industry by AirBnB over a similar time frame

Hiring managers at law firms who've cut back on hiring entry-level lawyers…work that's increasingly being done by software (example)
Employees who worked at brick and mortar retailers who have been crushed by Amazon.com's online-based presence (in not that long of time, by the way). For example, below is what our local Sears store looks like these days…go find an employee who used to work at Sears or a Sears automotive-related store: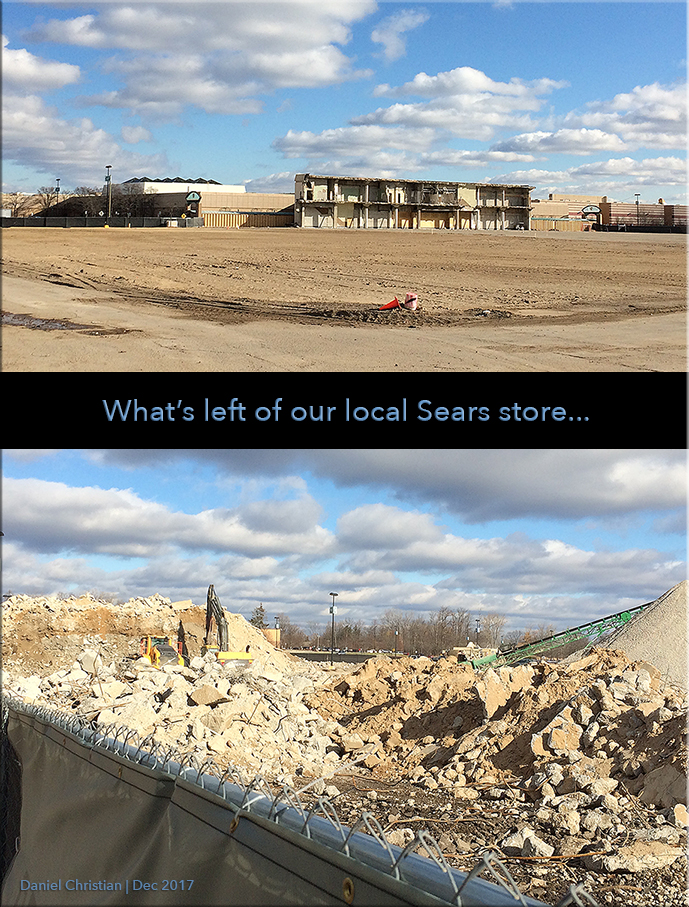 This picture is for those who say there is no disruption.
You call this hype?!
The above example list — that's admittedly woefully incomplete — doesn't include the folks displaced by technology over the last several decades, such as:
Former bank tellers who lost their jobs to ATMs

Checkout clerks at the grocery stores who lost their jobs to self-service stations

Check-in agents at the airports who lost their jobs to self-service stations

Etc., etc., etc.
Institutions of traditional higher education
need to pick up the pace — big time!
---
Infosys and Udacity team up to train 500 engineers in autonomous technologies — from by Leah Brown
Infosys' COO Ravi Kumar explains how these individuals can apply what they learn to other industries.
Excerpt (emphasis DSC):
Infosys, a global technology consulting firm, recently partnered with online learning platform Udacity to create a connected service that provides training for autonomous vehicles, and other services for B2B providers of autonomous vehicles.
TechRepublic's Dan Patterson met with Infosys' COO Ravi Kumar to discuss how autonomous technology can help create new industries.
Autonomous technology is going to be an emerging technology of the future, Kumar said. So Infosys and Udacity came together and developed a plan to train 500 engineers on autonomous technologies, and teach them how to apply it to other industries.
Per Wikipedia:
Udacity is a for-profit educational organization founded by Sebastian Thrun, David Stavens, and Mike Sokolsky offering massive open online courses (MOOCs). According to Thrun, the origin of the name Udacity comes from the company's desire to be "audacious for you, the student." While it originally focused on offering university-style courses, it now focuses more on vocational courses for professionals.
---
But times are changing. Artificial intelligence (AI) and robotics are facilitating the automation of a growing number of "doing" tasks. Today's AI-enabled, information-rich tools are increasingly able to handle jobs that in the past have been exclusively done by people—think tax returns, language translations, accounting, even some kinds of surgery. These shifts will produce massive disruptions to employment and hold enormous implications for you as a business leader. (mckinsey.com)
---