Amazon's new bricks-&-mortar bookstore nails what the web couldn't — from hackernoon.com by Pat Ryan
or
A title from DSC:
How Amazon uses its vast data resources to reinvent the bookstore
Excerpt (emphasis DSC):
Amazon's First Foray into Physical Retail — While Utilitarian — Takes Discovery to New Levels
As a long time city dweller living in a neighborhood full of history, I had mixed feelings about the arrival of Amazon's first bricks-and-mortar bookstore in a city neighborhood (the first four are located in malls). Like most of my neighbors around Chicago's Southport Corridor, I prefer the charm of owner operated boutiques. Yet as a tech entrepreneur who holds Amazon founder Jeff Bezos in the highest esteem, I was excited to see how Amazon would reimagine the traditional bookstore given their customer obsession and their treasure trove of user data. Here's what I discovered…
…
The Bottom Line:
I will still go to Amazon.com for the job of ordering a book that I already know that I want (and to the local Barnes and Noble if I need it today). But when I need to discover a book for gifts (Father's Day is coming up soon enough) or for my own interest, nothing that I have seen compares to Amazon Books. We had an amazing experience and discovered more books in 20 minutes than we had in the past month or two.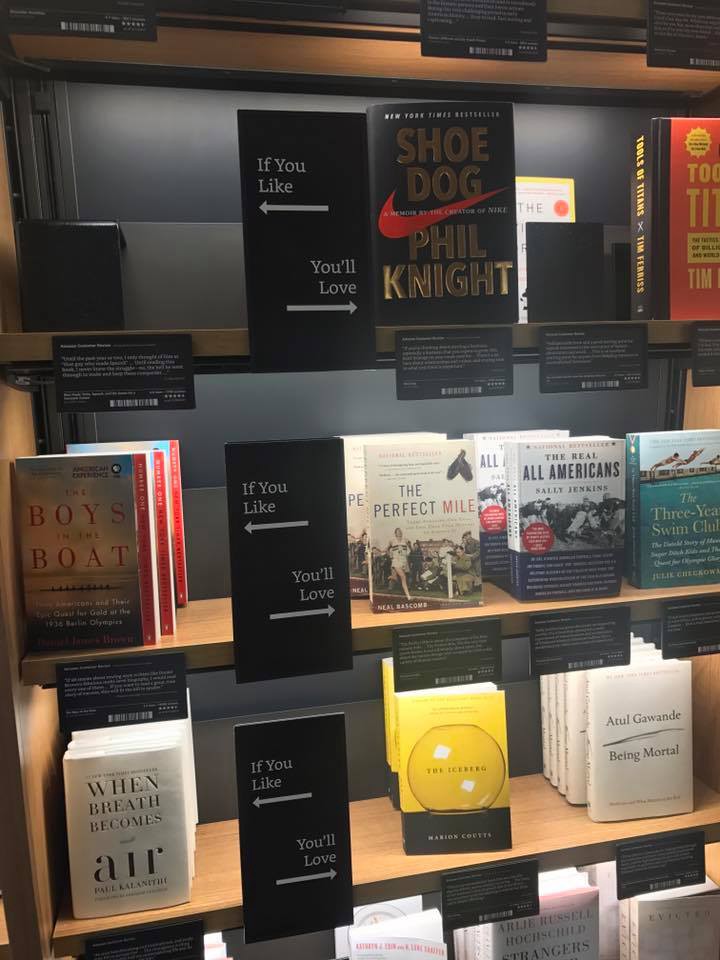 The physical manifestation of the "if you like…then you'll love…"
The ultra metric combining insights from disparate sources seems more compelling than standard best seller lists