Everything announced at Facebook's F8 conference.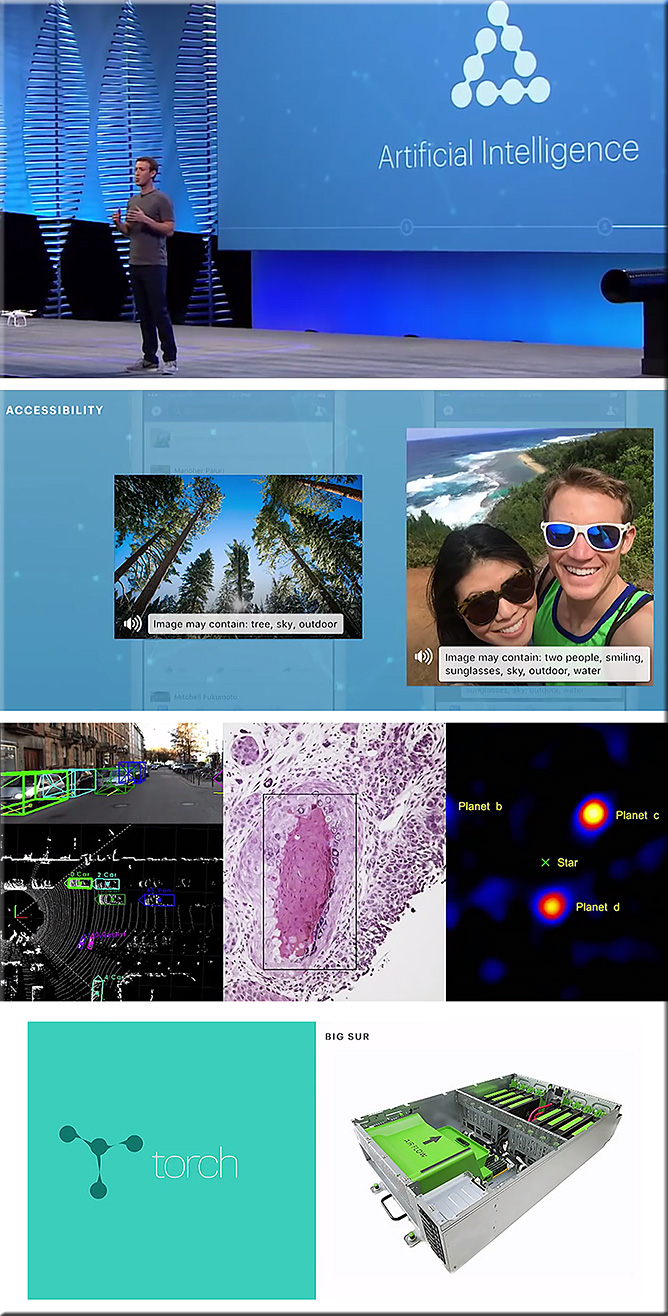 Everything Facebook announced at F8 2016 — from thenextweb.com by Natt Garun
Excerpt:
Two days of Facebook's F8 Conference have come and gone, so here's a look back at all the things you may have missed from the event. To learn more about each topic, click the links below for full stories.
The 5 Biggest Things Facebook Announced This Week — from time.com by Victor Luckerson
Messaging bots, live video in drones and 360-degree cameras
Excerpt:
In a wide-ranging keynote April 12, CEO Mark Zuckerberg laid out the company's 10-year plan to "Give everyone the power to share anything with anyone." To do so, Facebook plans to move far beyond its original role as a social network. The firm aims to launch new virtual reality projects, beam Internet across the world using drones and unleash complex artificial-intelligence bots that can fulfill our every digital need.
Before all that can happen, Facebook has to deal with the here and now of improving its current products. On that front, the company made several announcements that will reshape the way people and brands use Facebook and its constellation of apps this year.
Here's a breakdown of Facebook's biggest F8 announcements.
How Facebook's Social VR Could Be The Killer App For Virtual Reality — from fastcompany.com by
It's going to take time, but Facebook is committed to developing realistic and satisfying social experiences in VR.
Excerpt:
When Facebook bought Oculus VR in 2014 for $2 billion, many observers wondered what the world's largest social networking company wanted with a virtual reality company whose then-unreleased system was pretty much all about single-user experiences. Today at F8, Facebook's annual developers conference in San Francisco, the company showed off some of the most fleshed-out examples of how it sees VR as a rich social tool. During his F8 keynote address, CTO Mike Schroepfer talked at length about what Facebook explicitly calls "social VR."
Facebook Shows Us What It Means to Be 'Social' in Virtual Reality (Video) — from recode.net by Kurt Wagner
Excerpt:
One of the key knocks on virtual reality, the gamer-heavy industry Facebook is betting big on, is that wearing a headset intended to block out the real world in favor of a virtual one isn't a very social activity. Facebook, an inherently social company, thinks it can change that.
At its F8 developer conference on Wednesday Facebook demoed what it calls "social VR," which is exactly what it sounds like: Connecting two or more real people in a virtual world.
Oculus Demos VR Selfie Sticks and 360 Photo Spheres — from vrscout.com by Jonathan Nafarrete
Excerpt:
During the second day keynote of Facebook's F8 Developer Conference, Oculus showed off an entirely new way to get social in VR.
On stage, Facebook's CTO Mike Schroepfer showed how 360-degree photos can instantly be shared with a friend in VR, with 360 photos appearing as handheld spheres. You can virtually grab the floating sphere and smash it against your face, you will then be instantly teleported into the content of the spherical photo.
Oculus Social VR Full Demo – Facebook F8 Conference 2016
Has Facebook achieved what AOL could have a generation ago? — from medium.com by Gary Vaynerchuk
Excerpt:
[On 4/12/16], Facebook opened up Instant Articles to all publishers. If you don't know, Instant Articles are Facebook's new way to natively load articles within the app using an adapted RSS feed. These native articles, which have a lightning bolt in the top right corner, load in half a second?—?10x faster than if user was to click out to a website. From what I've seen so far, they really do load instantaneously and have a great layout and user experience. And if you're paying attention, you'll understand that this is their third push for native media consumption: first photos, then videos, and now written content.
…
However, as of [4/13/16], Instant Articles become available to anybody with a Facebook page and a blog. This is a key opportunity for small blogs and publications to get ahead of the game and really understand how best to use the new product.
…
Has Facebook been able to achieve what AOL could have a generation ago? By that I mean: Has Facebook become a layer on top of the Internet itself?