Excerpts:
If Daniel Nadler is right, a generation of college graduates with well-paid positions as junior researchers and analysts in the banking industry should be worried about their jobs. Very worried.
Mr Nadler's start-up, staffed with ex-Google engineers and backed partly by money from Google's venture capital arm, is trying to put them out of work.
…
The threat to jobs stretches beyond the white-collar world. Advances in artificial intelligence (AI) also make possible more versatile robots capable of taking over many types of manual work. "It's going to decimate jobs at the low end," predicts Jerry Kaplan, a Silicon Valley entrepreneur who teaches a class about AI at Stanford University. Like others working in the field, he says he is surprised by the speed at which the new technologies are moving out of the research labs.
From DSC:
After reading the above article — and seeing presentations about these trends (example) — I have some major questions to ask:
What changes do those of us working within higher education need to make due to these shifts? How should we modify our curricula? Which skills need to be reinforced/developed?


What changes do Learning & Development groups and Training Departments need to make within the corporate world?

How should we be developing our K-12 students to deal with such a volatile workplace?

What changes do adult learners need to make to stay marketable/employable? How can they reinvent themselves (and know what that reinvention should look like)?


How can each of us know if our job is next on the chopping block and if it is, what should we do about it?

What kind of future do we want?
These changes are for real. The work of Erik Brynjolfsson and Andrew McAfee further addresses some of these trends and changes. See: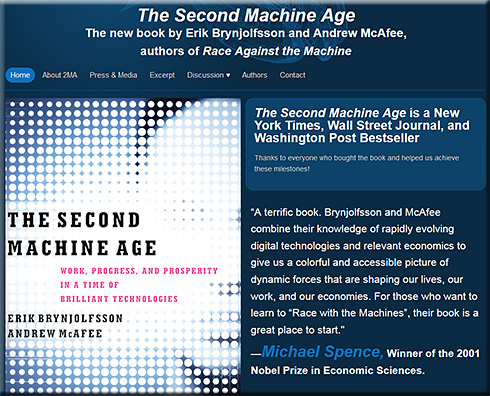 Addendum:
Also see:
Excerpt:
Microsoft cofounder Bill Gates isn't going to sugarcoat things: The increasing power of automation technology is going to put a lot of people out of work. Business Insider reports that Gates gave a talk at the American Enterprise Institute think tank in Washington, DC this week and said that both governments and businesses need to start preparing for a future where lots of people will be put out of work by software and robots.
Also see: