The future is now: 15 innovations to watch for — from chronicle.com by By Steven Mintz
Excerpt:
But the most important challenge involves a shift in the way students consume higher education. Instead of attending a single institution, students receive credit in multiple ways, including from early-college/dual-degree programs, community colleges, online providers, and multiple universities. Students are voting with their feet, embracing online courses and undermining core curricula, which served as a cash cow, by turning to alternate providers, and pursuing fewer majors that require study of a foreign language.
As a result, colleges must become more nimble, entrepreneurial, student-focused, and accountable for what students learn. I am a historian and far better at interpreting the past than forecasting the future. Nevertheless, I will go out on a limb and predict 15 innovations that will alter the face of higher education over the next 36 months…
.
Technology in the Future — from strategy-keys.com by David Willden
What will be the technology in the future?  According to the Global Trends 2030 report, the areas below should continue to be key technology drivers through 2030.  

.
.
.
A glimpse into the future of learning: An infographic — from knowledgeworks.org
Excerpt:
This infographic tells the big story of KnowledgeWorks' third forecast on the future of learning, Recombinant Education: Regenerating the Future of Learning.  Comprised of twelve key insights with accompanying graphics, it points the way toward a diverse learning ecosystem in which learning adapts to each child instead of each child trying to adapt to school.
.
Quantum boost for artificial intelligence — from nature.com by Devin Powell
Quantum computers able to learn could attack larger sets of data than classical computers.
Excerpt:
Quantum computers of the future will have the potential to give artificial intelligence a major boost, a series of studies suggests.
Futuring in the year 2100 by Glen Hiemstra, Futurist.com — by Futurist Glen Hiemstra
Glen Hiemstra, Founder of Futurist.com, presents a program on Futuring in the year 2100.  The presentation was a part of a series taking an early look at the 22nd Century, as a feature of the annual meeting of the World Future Society, Chicago, July 2013.  As part of the program Glen solicited input from other professional futurists, a sample of which are presented in the slide deck. [note: slide 34 was a video of Elon Musk receiving the Smithsonian American Ingenuity Award]
.
What is the future of technology in education? — from guardian.co.uk by Matt Britland
Forget devices, the future of education technology is all about the cloud and anywhere access. In the future, teaching and learning is going to be social, says Matt Britland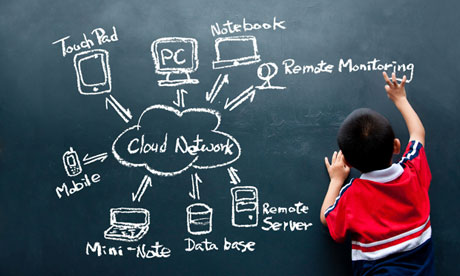 .
Schools need to embrace cloud technology to
prepare for the future of learning, says Matt Britland.
Photograph: Alamy
.