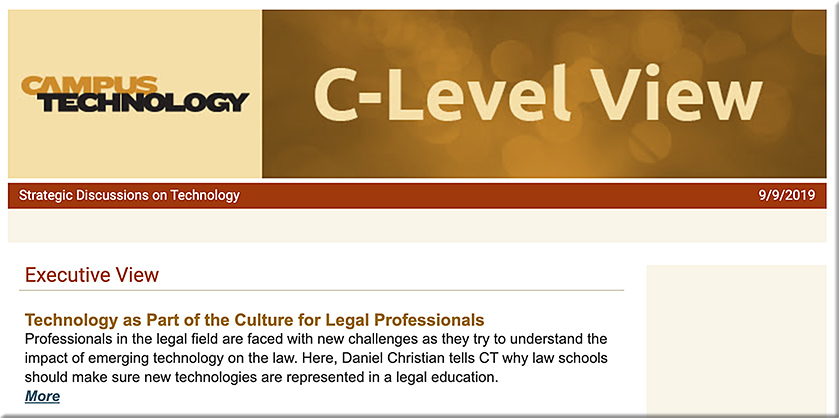 ---
Technology as Part of the Culture for Legal Professionals A Q&A with Daniel Christian — from campustechnology.com by Mary Grush and Daniel Christian
Excerpt (emphasis DSC):
Mary Grush: Why should new technologies be part of a legal education?
Daniel Christian: I think it's a critical point because our society, at least in the United States — and many other countries as well — is being faced with a dramatic influx of emerging technologies. Whether we are talking about artificial intelligence, blockchain, Bitcoin, chatbots, facial recognition, natural language processing, big data, the Internet of Things, advanced robotics — any of dozens of new technologies — this is the environment that we are increasingly living in, and being impacted by, day to day.
It is so important for our nation that legal professionals — lawyers, judges, attorney generals, state representatives, and legislators among them — be up to speed as much as possible on the technologies that surround us: What are the issues their clients and constituents face? It's important that legal professionals regularly pulse check the relevant landscapes to be sure that they are aware of the technologies that are coming down the pike. To help facilitate this habit, technology should be part of the culture for those who choose a career in law. (And what better time to help people start to build that habit than within the law schools of our nation?)
There is a real need for the legal realm to catch up with some of these emerging technologies, because right now, there aren't many options for people to pursue. If the lawyers, and the legislators, and the judges don't get up to speed, the "wild wests" out there will continue until they do.
---