Can online learning help higher ed reverse its tuition spiral? — from edsurge.com by Robert Ubell (Columnist)
Excerpt:
Classic economic theory predicts that when demand falls, so do prices. But when it comes to the price of college in the past few decades, it's been just the other way around.
As data from the National Student Clearinghouse Center shows, tuition has escalated even as enrollments fell.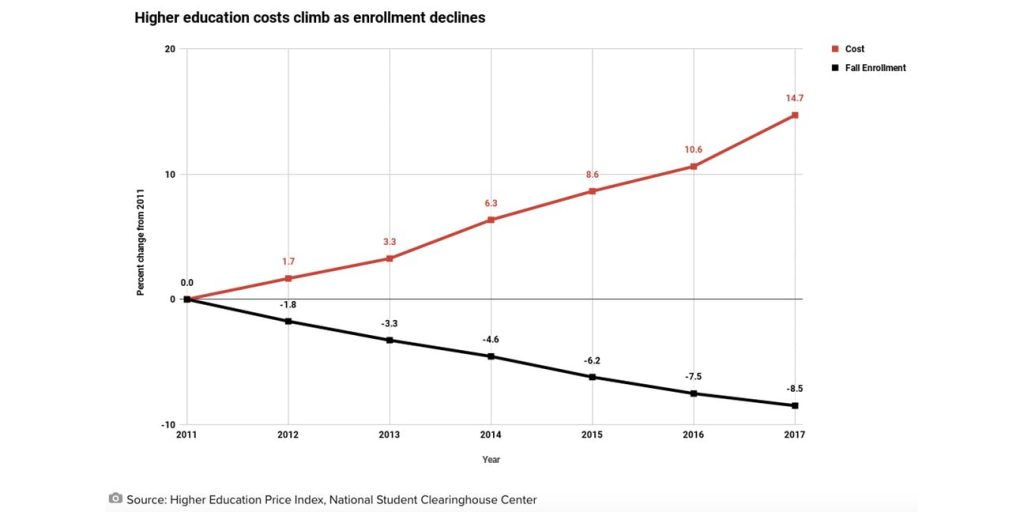 The dispiriting result is that half of all low-income high school graduates, cowed by sticker shock, don't even bother to fill-out applications to go to college. A report by the American Council on Education concludes: "The rapid price increases in recent years, especially in the public college sector, may have led many students—particularly low-income students—to think that college is out of reach financially."
Still, colleges that have devoted imagination and commitment show that even with the financial stranglehold in which most schools are locked, the spiral can actually be arrested.

College leaders need to recognize that prices have shot up too far. In the next budget cycle, as they face their treacherous spreadsheets—and before they add yet another percentage point to next year's tuition—they must act to roll back the perilous climb.