Paying for Personalized Learning — from thejournal.com by Dian Schaffhauser
Excerpt:
Just how much does it cost to set up a personalized learning plan for an entire school, and is it really sustainable? Could a typical school budget cover the expense — and what would happen if budget cuts had to be made? Those are the questions addressed in a new report out from LEAP Innovations and Afton Partners. LEAP works directly with schools to implement personalized learning; Afton focuses on financial and operational efficiency aspects of public school districts and charter schools.
A joint study examined six district and charter schools in Chicago Public Schools that have implemented personalized learning models over the last two years. All of the schools are part of LEAP's Breakthrough Schools initiative, which supports the launch of innovative school models.
…
For the schools in the study, introducing personalized learning models throughout the entire building required "modest investment to start." Start-up costs ranged from $338,000 to $780,000; on a per-pupil basis that was between $233 and $1,135. The models could be sustained "without ongoing grant funding on typical district budgets," even during severe budget cuts, Afton reported.
…
The report offered a series of recommendations on improving the cost effectiveness of personalized learning and scaling the personalized learning model. Among the advice:
Make sure principals understand the flexibilities regarding funding and other categories that are at their disposal;
Try piloting a compensation structure that supports the teacher-leader model;
Combine resources across a district for common unmet needs, such as adoption or development of a learning management system; and
Be strategic in the use of grant funding; for example, develop a five-year financial plan that shows how the models will remain sustainable even after the grant-funding expires.
Also see: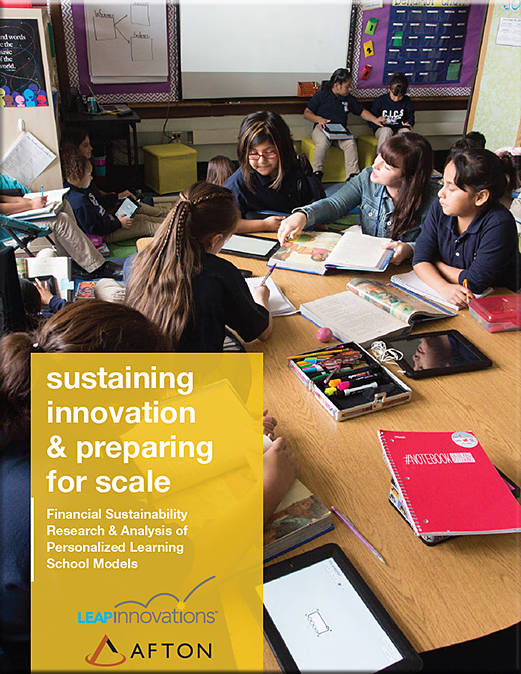 Excerpt:
This report represents an exciting beginning. For any innovation to take hold, it must be effective and sustainable. Already, we're seeing promising indicators of success: increases in scores on the Northwest Evaluation Association (NWEA) Measures of Academic Progress (MAP) test, taken by all Chicago Public Schools elementary students, in one Breakthrough Schools third-grade pilot classroom were striking. The school reports that reading attainment increased 51 percent in one year – growing from 35 percent of students meeting attainment benchmarks in 2015-2016 to 86 percent in 2016-2017. Their math results were equally impressive, reporting a 45 percent growth in student attainment – moving from 46 percent of students meeting attainment benchmarks to 91 percent within one school year. And as we outline here, not only can innovative school models be sustainable, but their innovative structures can make them so.